Payson, Arizona is a small and sweet town located within the Tonto National Forest that offers many things to check out. Payson is well known for its rodeos, being that it's the oldest running rodeo in the world, but today you'll learn about all of the other sights you can see and activities you can do in and around Payson, Arizona!
---
We started our morning before the sun rose, and were greeted by the beautiful sunrise along the highway. We had a busy day ahead of us, so we needed to hit the road early!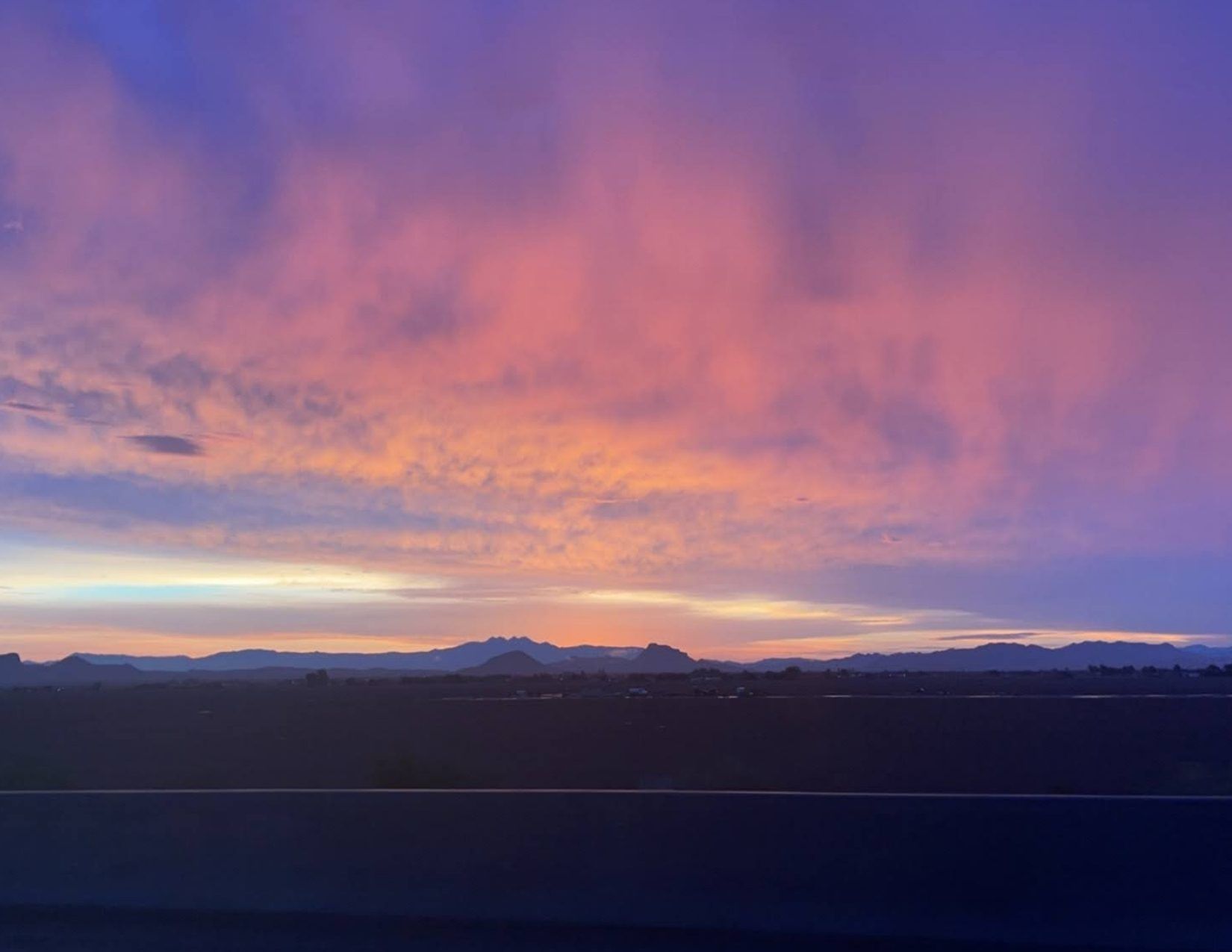 ---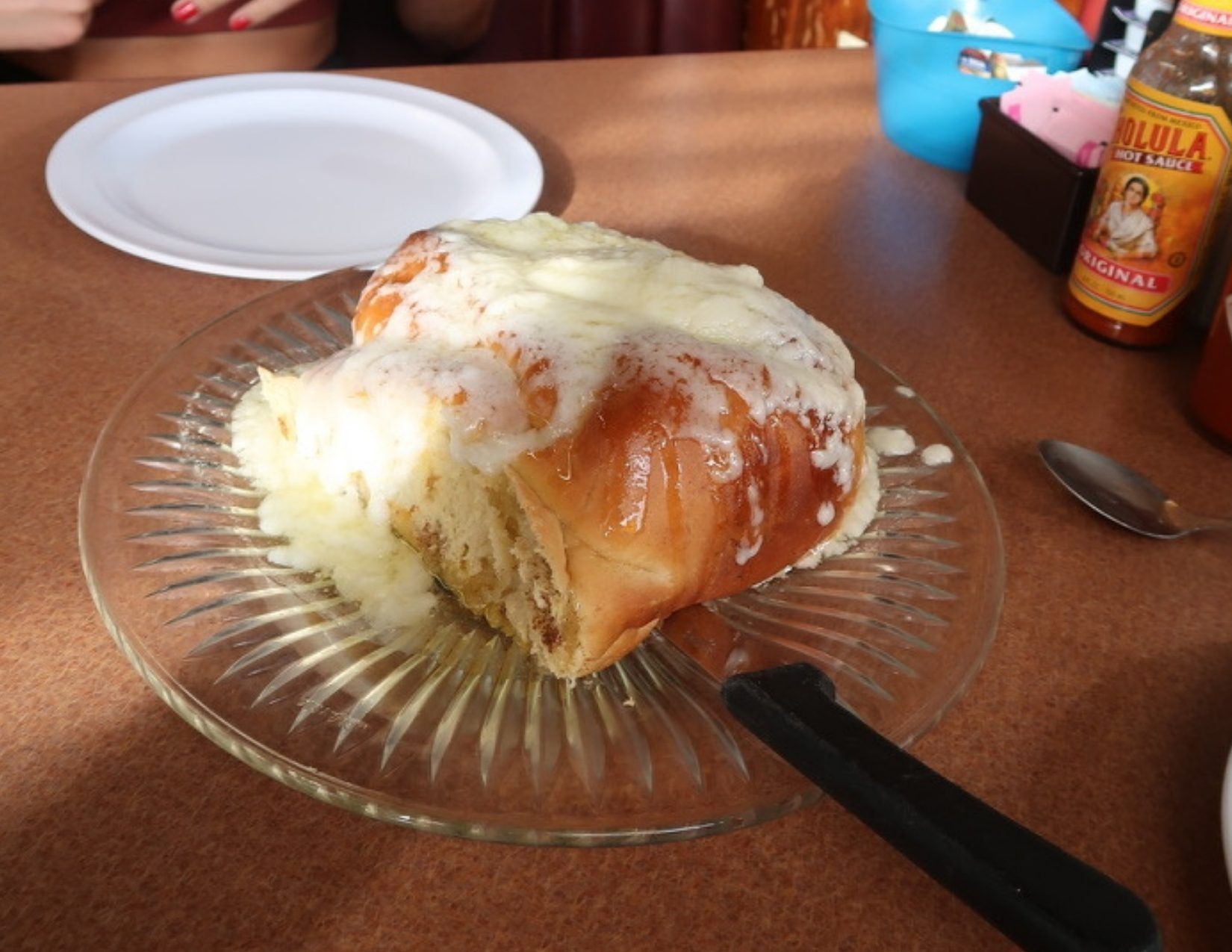 Stop #1: The Pinon Cafe, Payson
Before we set off on our day trip, we reached out to the Joy Club to see your favorite breakfast spot in Payson. The Pinon Cafe was the winner! And after visiting, I can totally see why.
We pulled up to The Pinion Cafe along the Beeline Highway just after 7:15 am and were greeted by a rustic southwestern style diner that had nearly every table full, inside and outside. As soon as we were seated, the waitress brought over coffee and menus for us.
We'd heard so many things about their famous giant cinnamon roll, so we immediately ordered one to share. This cinnamon roll was easily the best cinnamon roll I've tried. It was very rich with butter and cream cheese frosting. Along with that, we tried their Mini Breakfast, Power Cakes, and the Mogollon Monster. Their portions were huge and left us energized for the big day we had ahead of us.
Address: 1001 S Beeline Highway, Payson, AZ 85541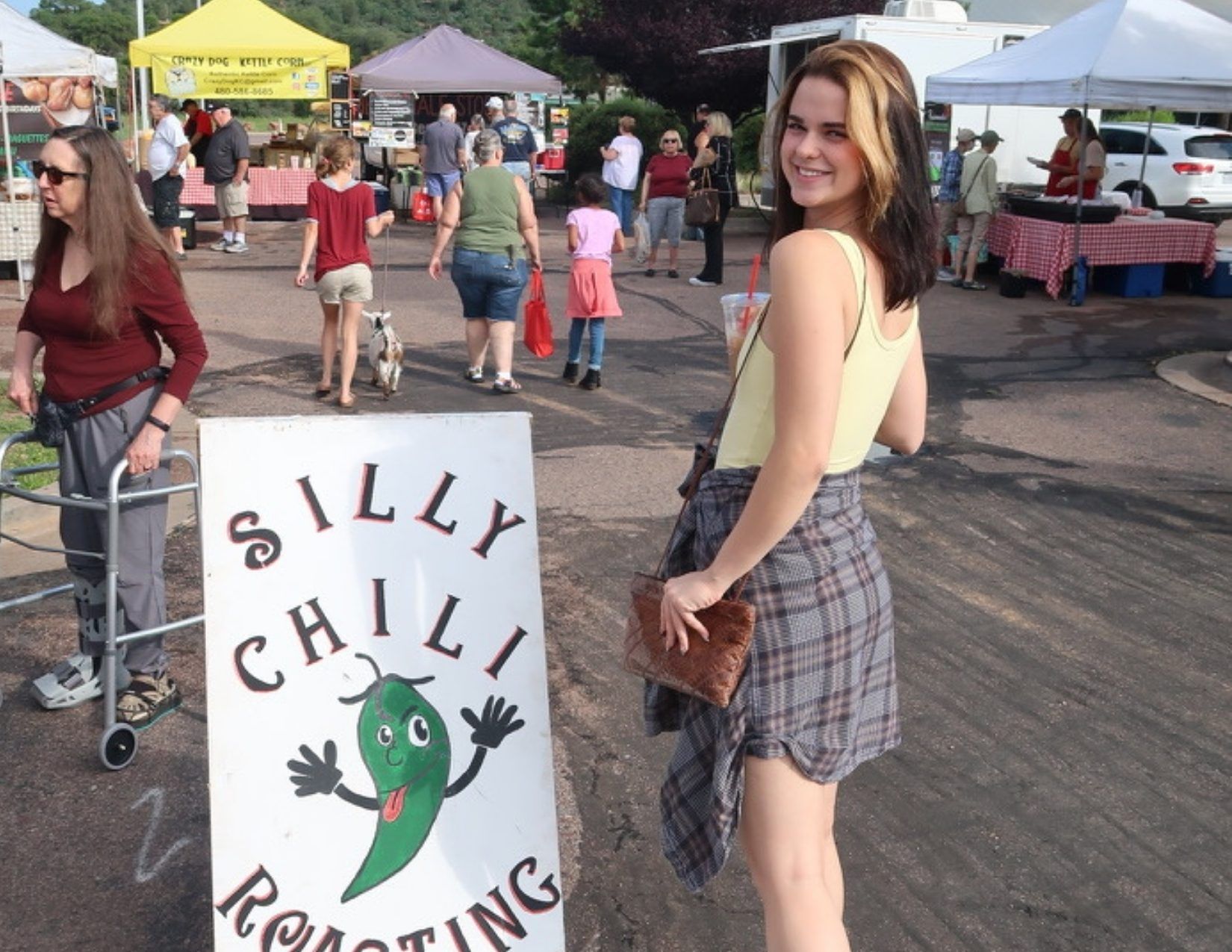 Stop #2: The Payson Farmer's Market
Right across the street from The Pinon Cafe, we found the Payson Farmer's Market. This farmers market is unique because the owners are very strict with which vendors they allow to sell. For instance, they don't allow any vendors from the valley. In fact, they are what's known as a Locavore, where the food sold here comes from within 100 miles away and is sold directly from the farm or food maker. This is with the exception of Joe Moody Alaskan Fish, who is an Arizona native that fishes in Alaska and sells his catches here in Payson!
Our favorite vendors were Silly Chili Roasting, who roasted their own chilis right in front of us, Boyd's Farm, which showcased 112 different jams and jellies, the Redneck Princess, who specializes in super moisturizing lotion for your feet and hands, and Emmie Spalding Leather Jewelry, who makes her own leather jewelry!
Check out Lacy rocking her new leather earrings from Emmie Spalding Leather Jewelry!
Address: 816 S Beeline Highway, Payson, AZ 85541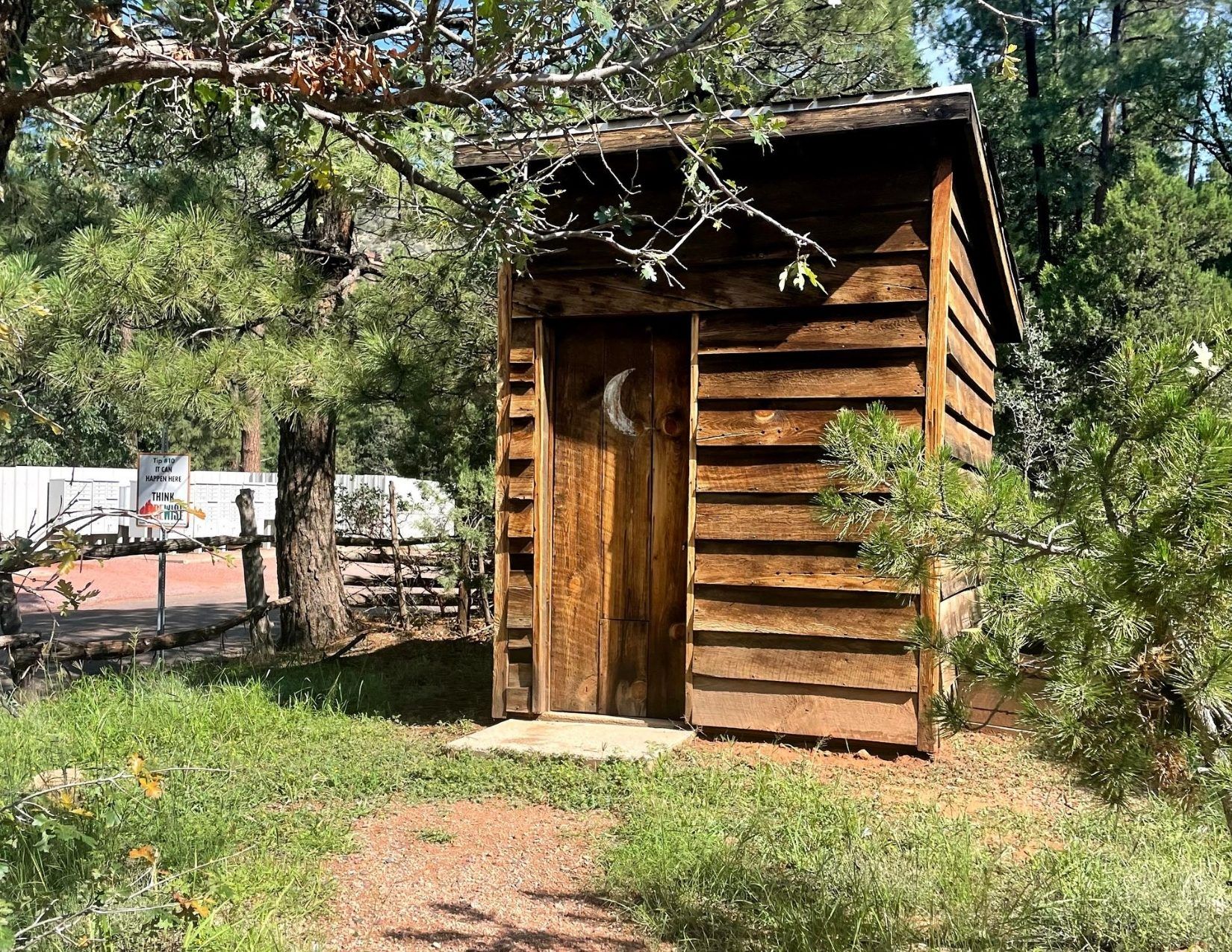 Stop #3: Strawberry, Arizona
Next up, we had originally planned on stopping at the Tonto Natural Bridge right as it opened for 9 am, however they had a delayed opening for 10:30 am due to the monsoon that happened the day before.
To pass the time, we kept on driving towards Strawberry, Arizona to walk around town. We saw a sign for "The Oldest Standing Schoolhouse in Arizona" and decided to check it out! As you pull up to the schoolhouse, you'll see the old school constructed by logs from the Mogollon Rim and an outhouse that looked just like the one from Shrek.
‌Address: 5090 North Walnut Drive, Pine, Arizona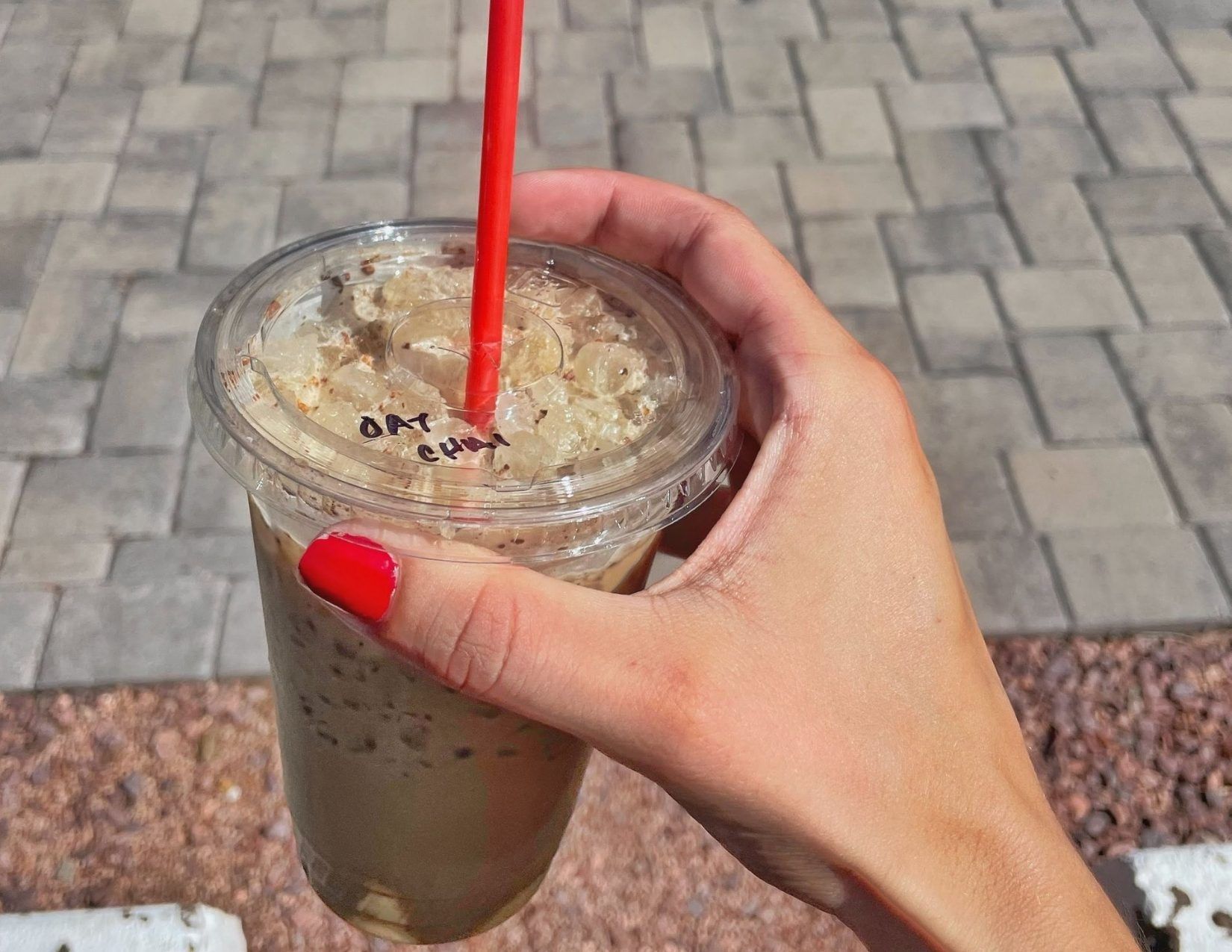 Stop #4: Windmill Coffee at The Strawberry Inn
After we admired the Oldest Standing Schoolhouse in Arizona, we drove to the center of Strawberry for a little pick-me-up at Windmill Coffee located on the property of The Strawberry Inn. Not only are their drinks delicious, but a portion of their profits go towards funding operational expenses at the House of Hope.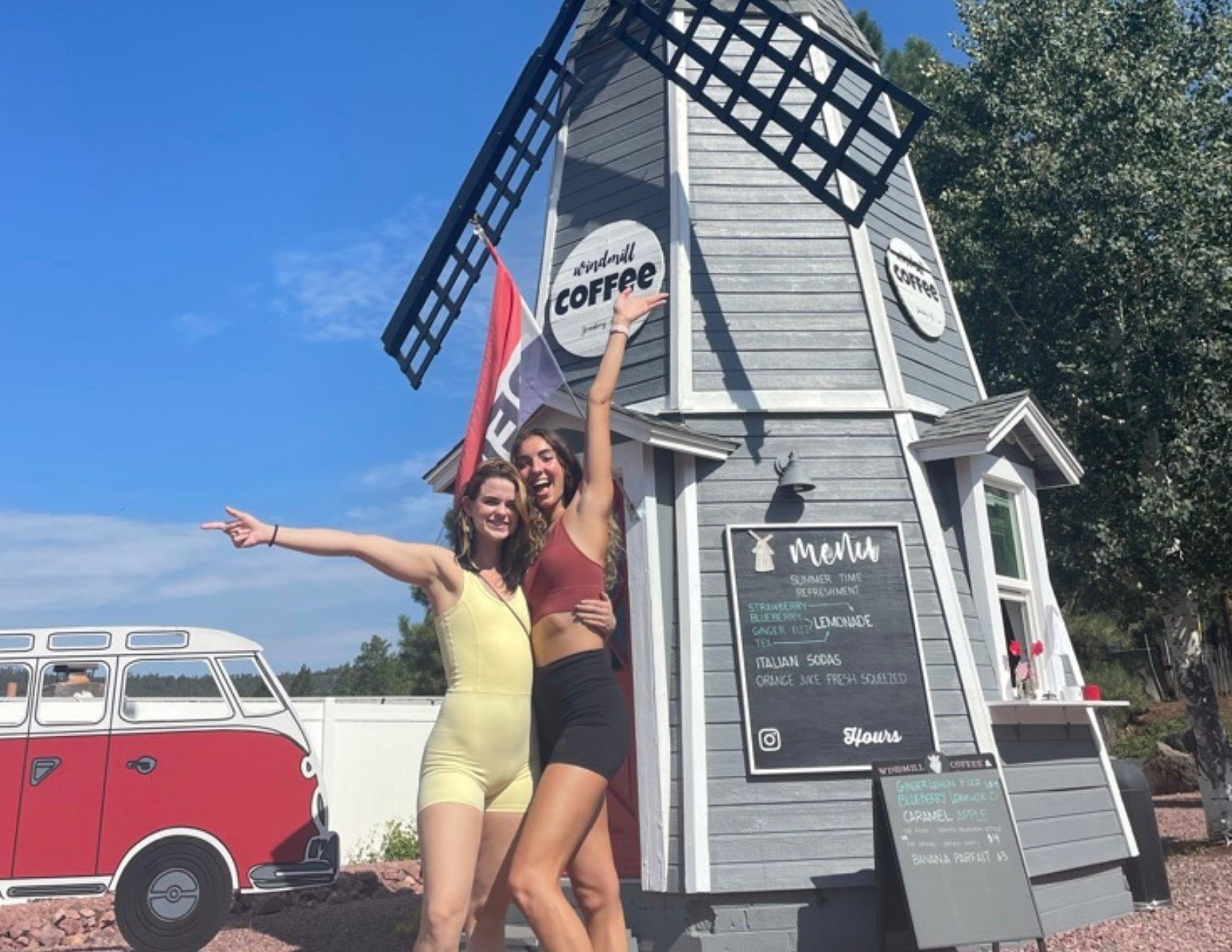 While sipping on delicious chai, we mosied on over to the Little Free Library that serves as a "take one, leave one" community book share. I decided to pick up a romance novel called Beneath a Marble Sky, I can't wait to start it!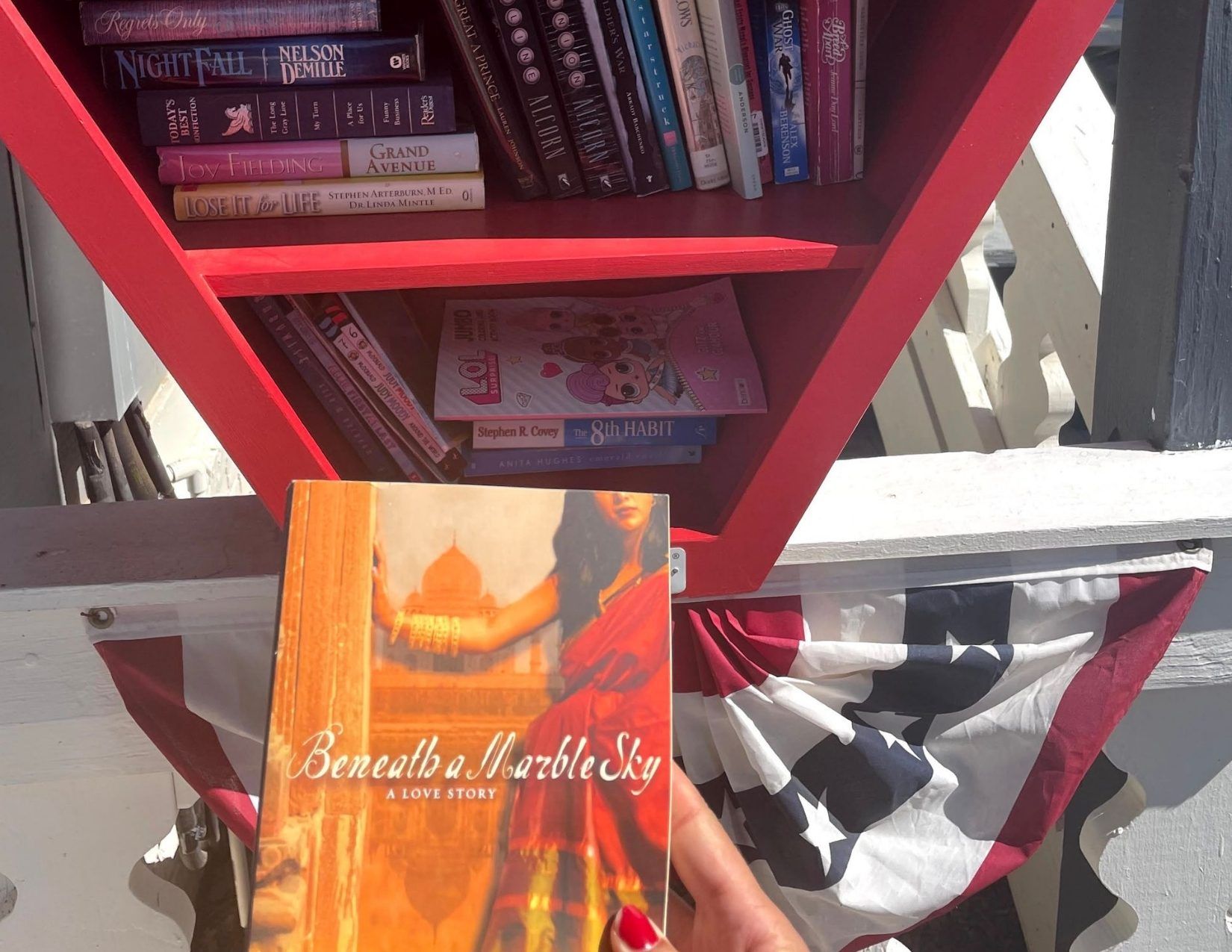 Last but not least, they had games of ladder ball and giant Jenga set up to play outside of the Strawberry Inn and Windmill Coffee. I feel like I could easily spend an afternoon just hanging out at the Inn!
Address: 5073 Arizona Highway 87, Strawberry, AZ 85544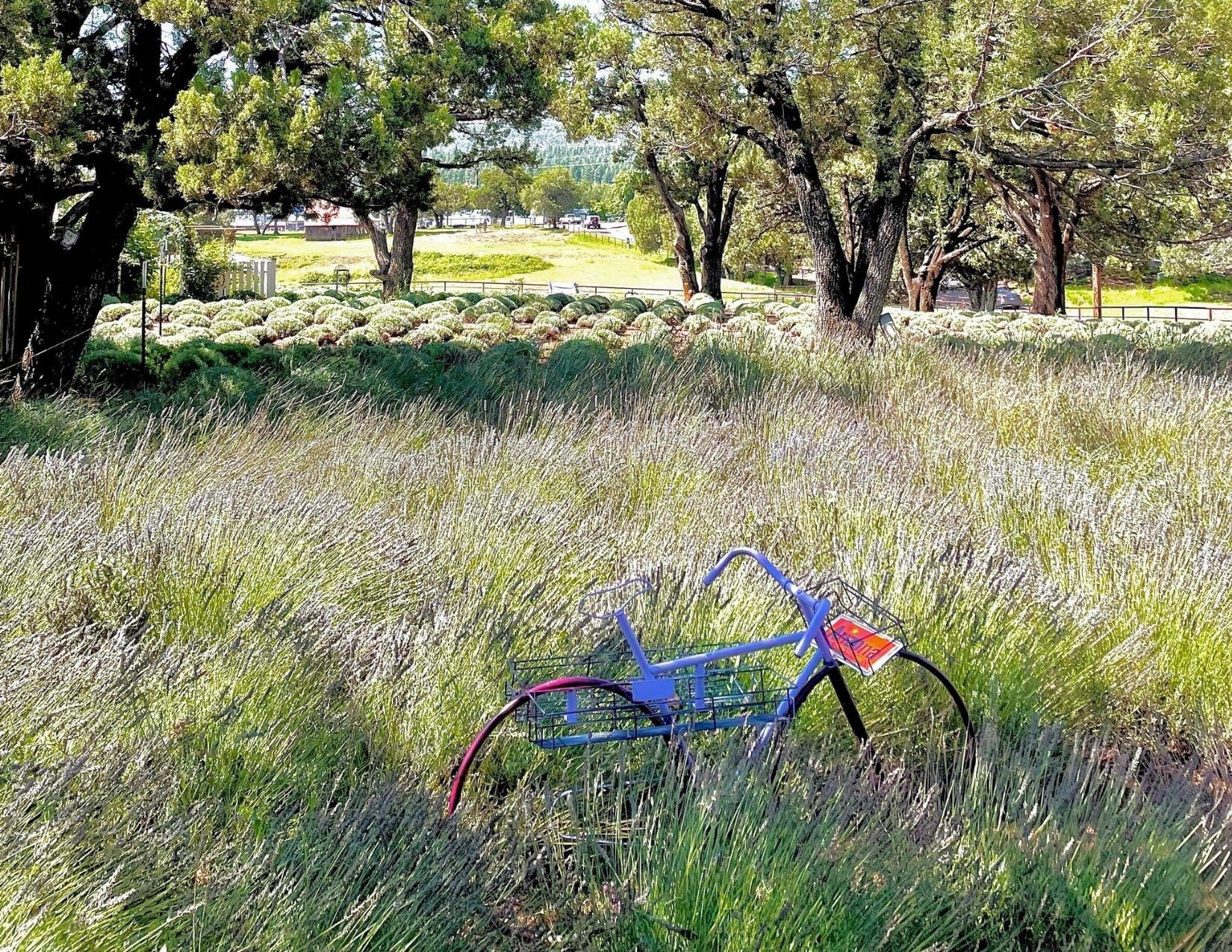 Stop #5: Pine Creek Lavender Farm Store and Farm Shop
We still had some time to kill before the Tonto Natural Bridge opened, so we decided to stop at the Pine Creek Lavender Farm Store and Shop, located just up the road from the Strawberry Inn, in Pine, Arizona. As we walked up to the little shop, we were instantly welcomed by the relaxing scent of their lavender crop! Their shop was small and cute and showcased self-care products infused with lavender, perfect for a small gift. They even offer cooking classes throughout the year to help you learn how to cook with lavender, I know I'll be signing up for one soon!
The lavender farm was very tranquil, with views of the mountains in the distance and the fields of lavender. This was easily the most peaceful place I've visited in Arizona!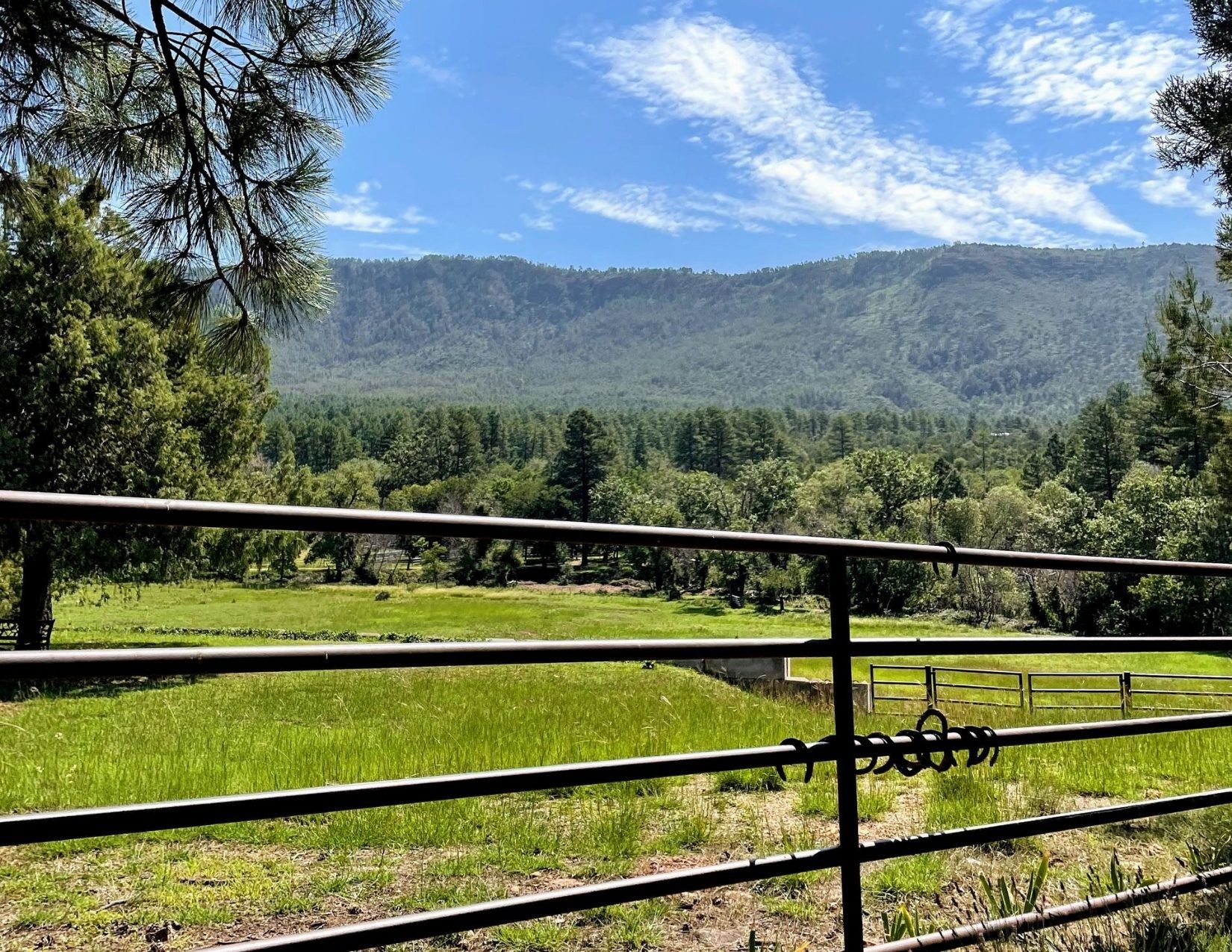 Address: 4223 North Pine Creek Canyon Road, Pine, AZ 85544
Stop #6: Tonto Natural Bridge State Park
We finally made it to the Tonto Natural Bridge State Park! Tonto Natural Bridge is the largest natural travertine bridge in the world, with a height of 183 feet, a width of 150 feet, and a tunnel of 393 feet. The hiking trails here are short and sweet but allow you to get up close to the bridge from multiple different viewpoints to really let you take in the massiveness and beauty of the bridge. We took the Waterfall Trail and the Gowan Trail. The Anna Mae Trail was unfortunately closed due to the monsoon from the day before.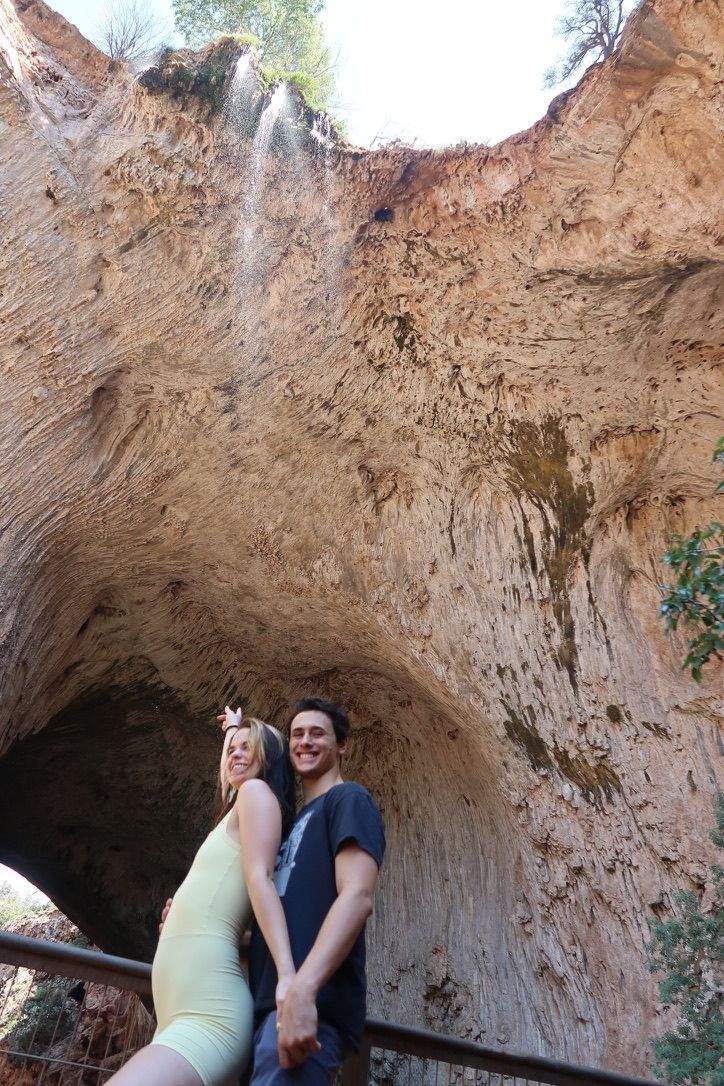 The Waterfall Trail
The Waterfall Trail was a super quick hike that's only 300 feet long trail and takes about 5 minutes to get to the end. This trail leads you to a small waterfall off of a cliff. This trail isn't accessible for everyone since it has steep stairs throughout most of the trail.
The Gowan Trail
The Gowan Trail takes you to the base of the bridge and is about a half-mile long, down and back. At the bottom, you will find an observation deck that brings you right under the bridge. If you're lucky, you may encounter a waterfall off of the bridge! Though this hike is short, it is very steep and has sections with stairs so it isn't accessible for everyone.
Address: USFS Road 583A, Payson, AZ 85541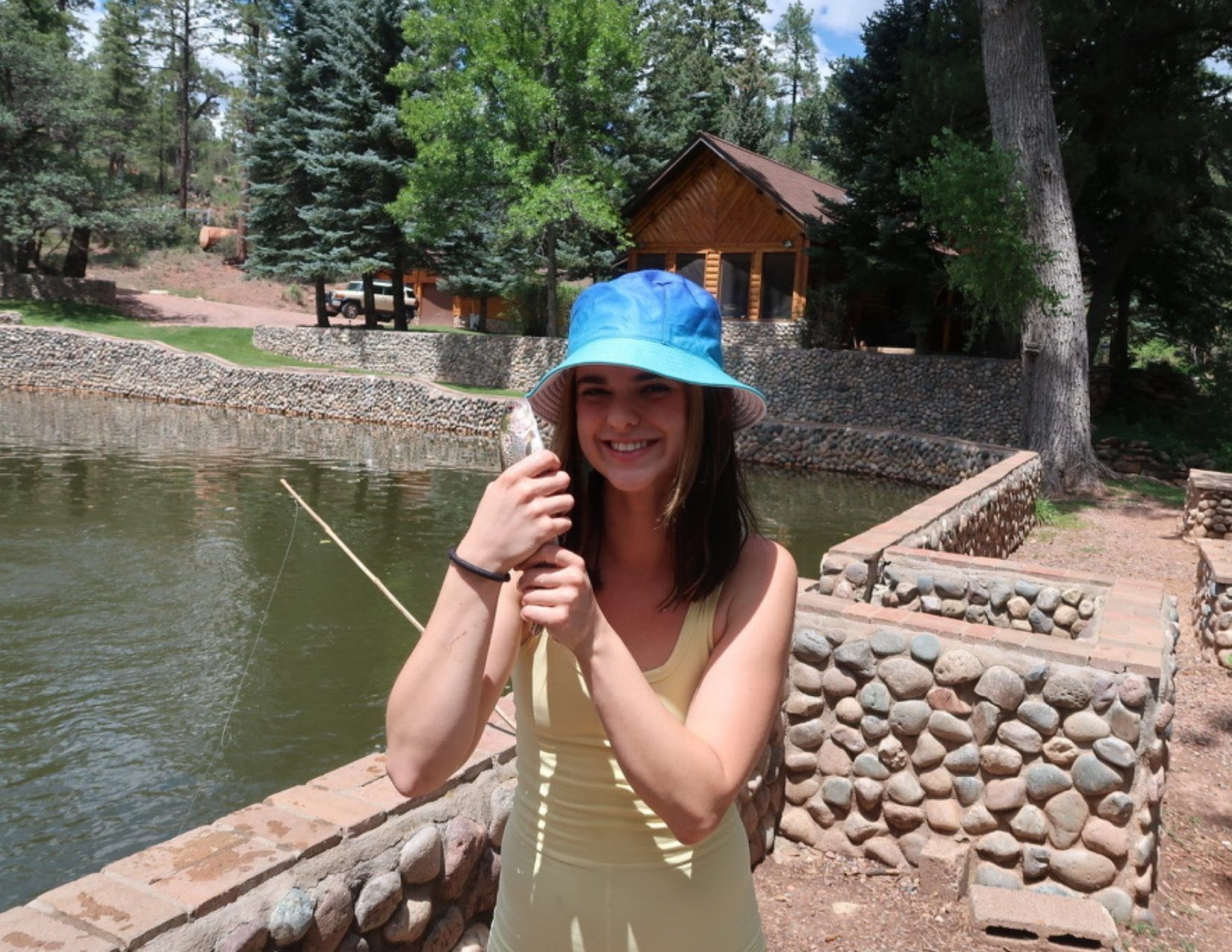 Stop #7: Rancho Tonto Catch a Trout
Our second to last stop was at Rancho Tonto Catch a Trout, located in Payson, Arizona. At Rancho Tonto Catch a Trout, you can use their fishing poles and bait (for free) and fish for rainbow trout in their pond! If you catch a fish, you pay $1 per inch + $1 (no catch and release). After you're satisfied with your catches, you can grill them up using the barbeque grills and picnic tables they provide or package them up to take them with you (packaging and ice included with the cost of the fish).
This activity is perfect for a date or an outing with the family! Their property is secluded below the Mogollon Rim, so you'll be engulfed by tall trees and feel as if you're on your own stay-cation, without leaving our beautiful home of Arizona.
Address: 2097 Forest Service Road, Payson, AZ 85541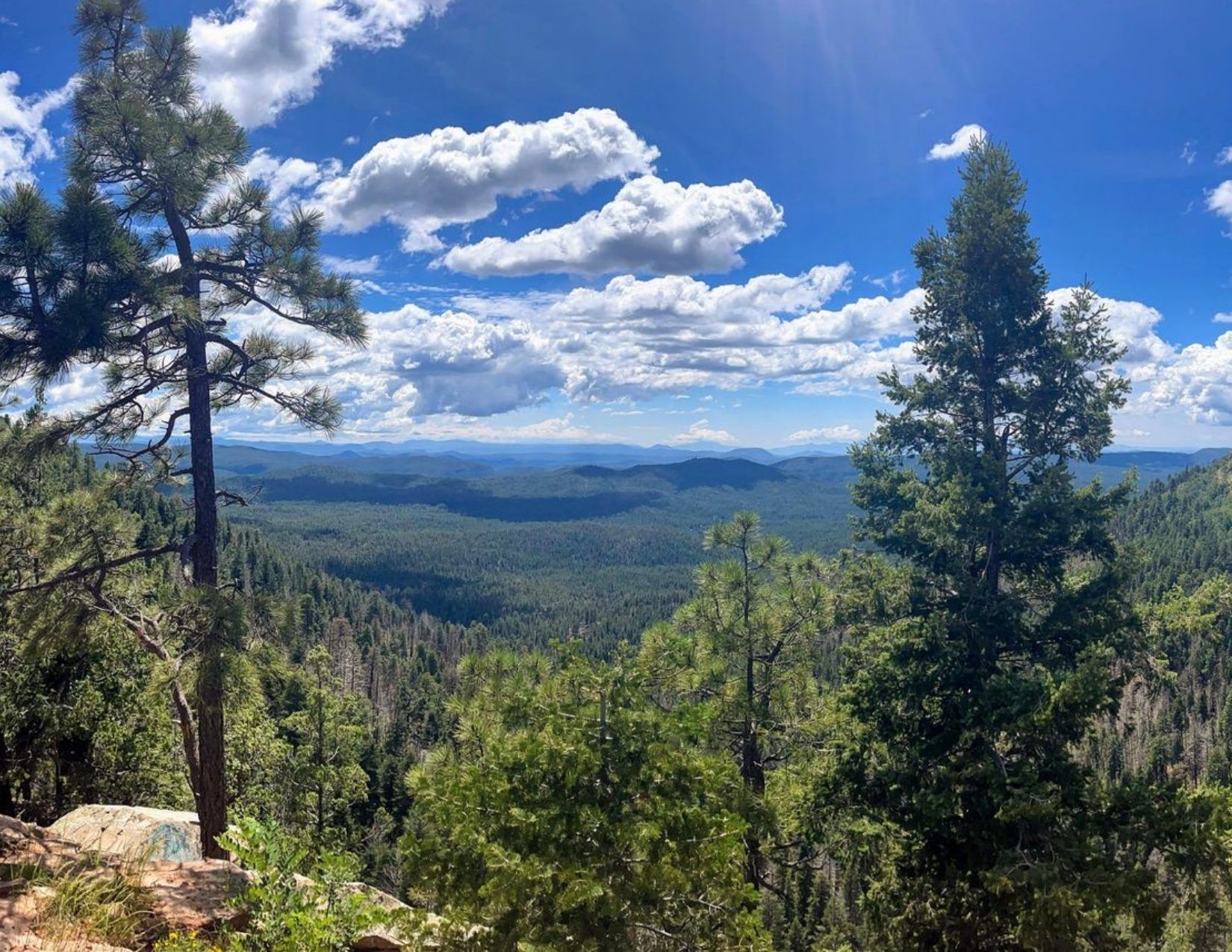 Stop #8: The Mogollon Rim
Located throughout central Arizona and New Mexico, the Mogollon Rim extends over 200 miles and has a depth of over 2,000 feet. Most people come to admire the expansive view, but there are also hiking and horseback riding trails to help you experience more of the rim!
Our plan was to visit the rim and walk around the edge, but after learning about the horseback trails, I definitely want to revisit and see more of the rim that way!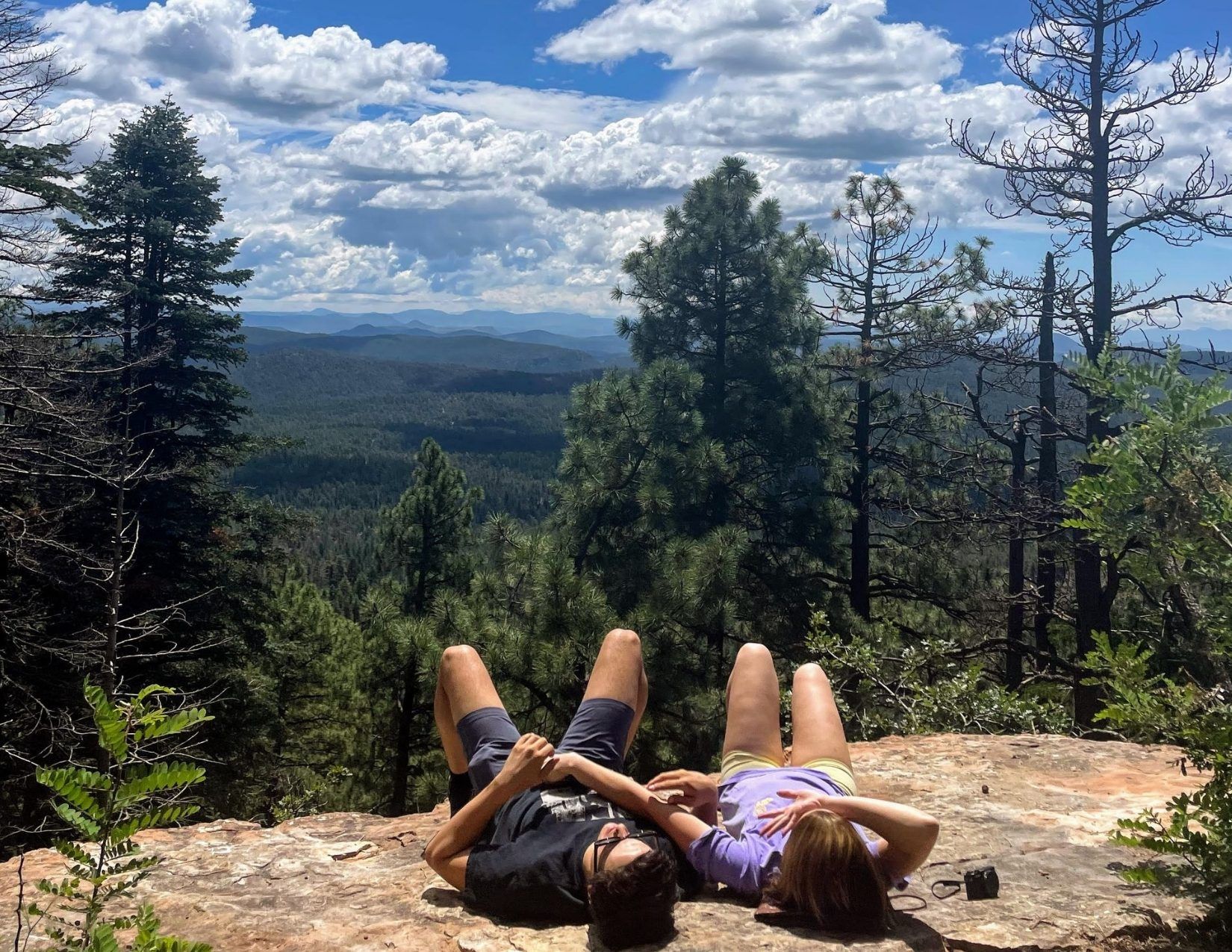 The Mogollon Rim was breathtaking in every way possible. No matter which direction you looked out, you could see miles into the distance. On a clear day, you can even see the Four Peaks!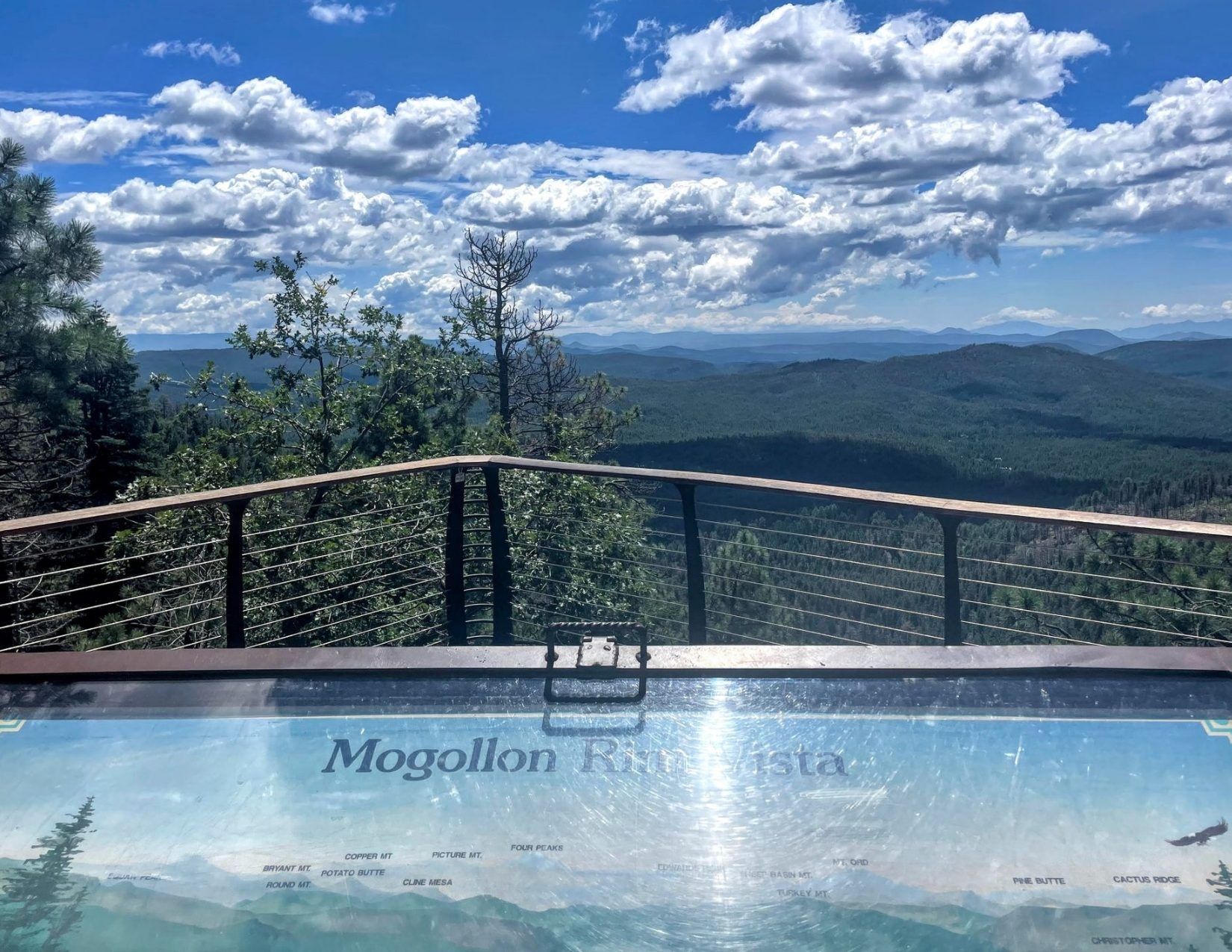 Address for the Mogollon Rim Information Center: ‌‌Rim Road, Payson, AZ 85541
---
‌I hope you enjoyed our blog and gained some inspiration for a day trip to Payson, Strawberry, and Pine, Arizona! Don't forget to tag us in your adventures on Instagram and give us a follow on TikTok, @wildjoyexperiences :)