Arizona is the place to be for water sports and activities during the summer as it is home to 128 lakes and 5 rivers. We are even known for "America's Best Lake Town for Water Sports", as voted by Men's Journal!
We created this blog post to help adventure enthusiasts like yourself get outside and stay active even during our intense summer heat. If you love jet skiing, paddle boarding, scuba diving, surfing, or obstacle courses, then this is the blog for you. Turn this list into your ultimate summer bucket list to have the best summer yet!
Here is a list of our 10 favorite water sports and activities to help stay cool throughout Arizona during the summer!
Top 10 Water Sports and Activities During the Summer in Arizona
1. Jet Ski under the London Bridge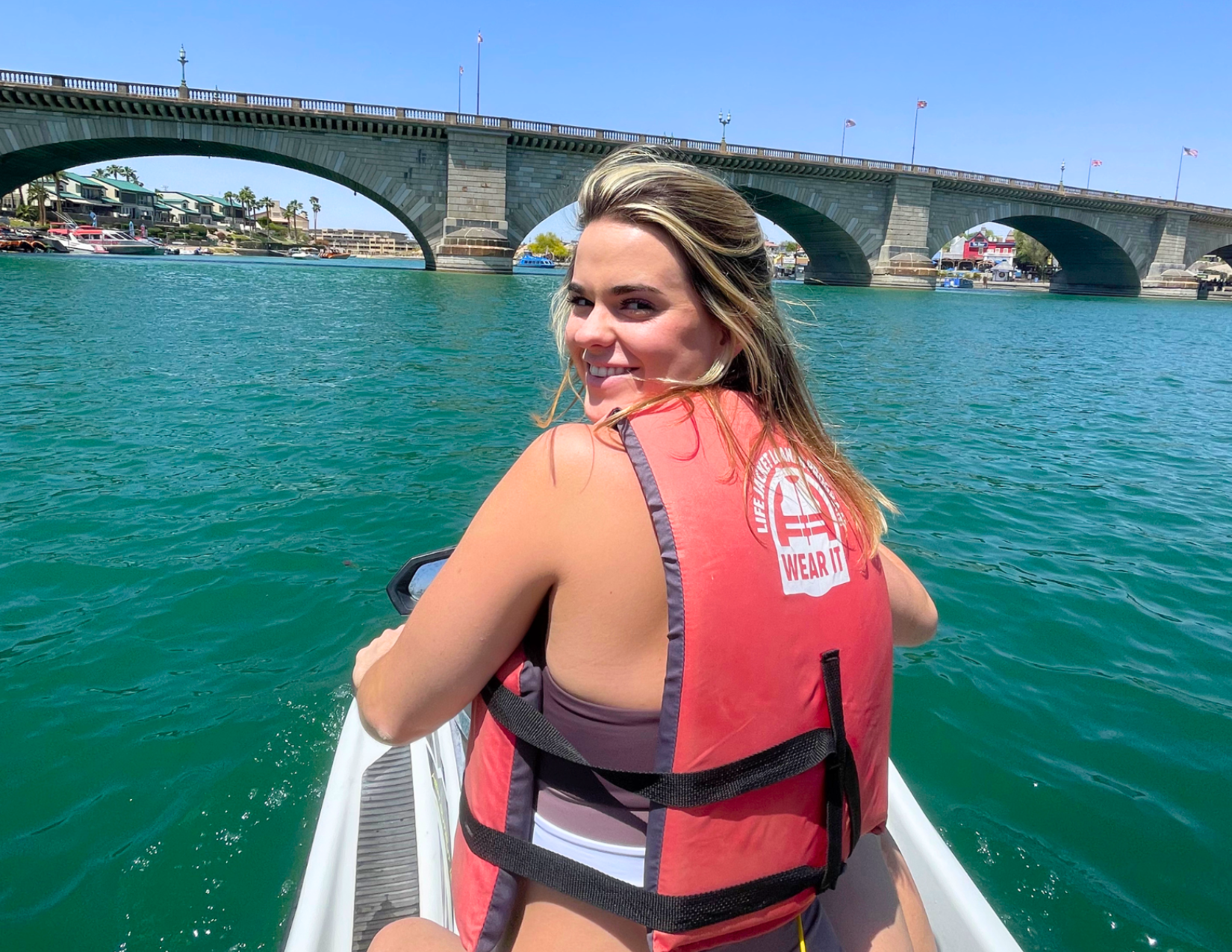 Lake Havasu City was named "America's Best Lake Town for Water Sports" by Men's Journal a few years back and we couldn't agree more. Jet skiing on Lake Havasu in northwestern Arizona is one of our favorite summer activities because there are over 60 miles of navigable waterways to explore! We love renting from Beach Shack Rentals because they are located right on the lake so it is super convenient. If jet skiing isn't your thing, you can also go canoeing, stand up paddle boarding, scuba diving, wake boarding, and water surfing!
Nearest city: Lake Havasu City
Cost: $177 for one hour on the lake, included gas, tax, and life vests for the both of us.
2. Real-life Wipeout Obstacle Course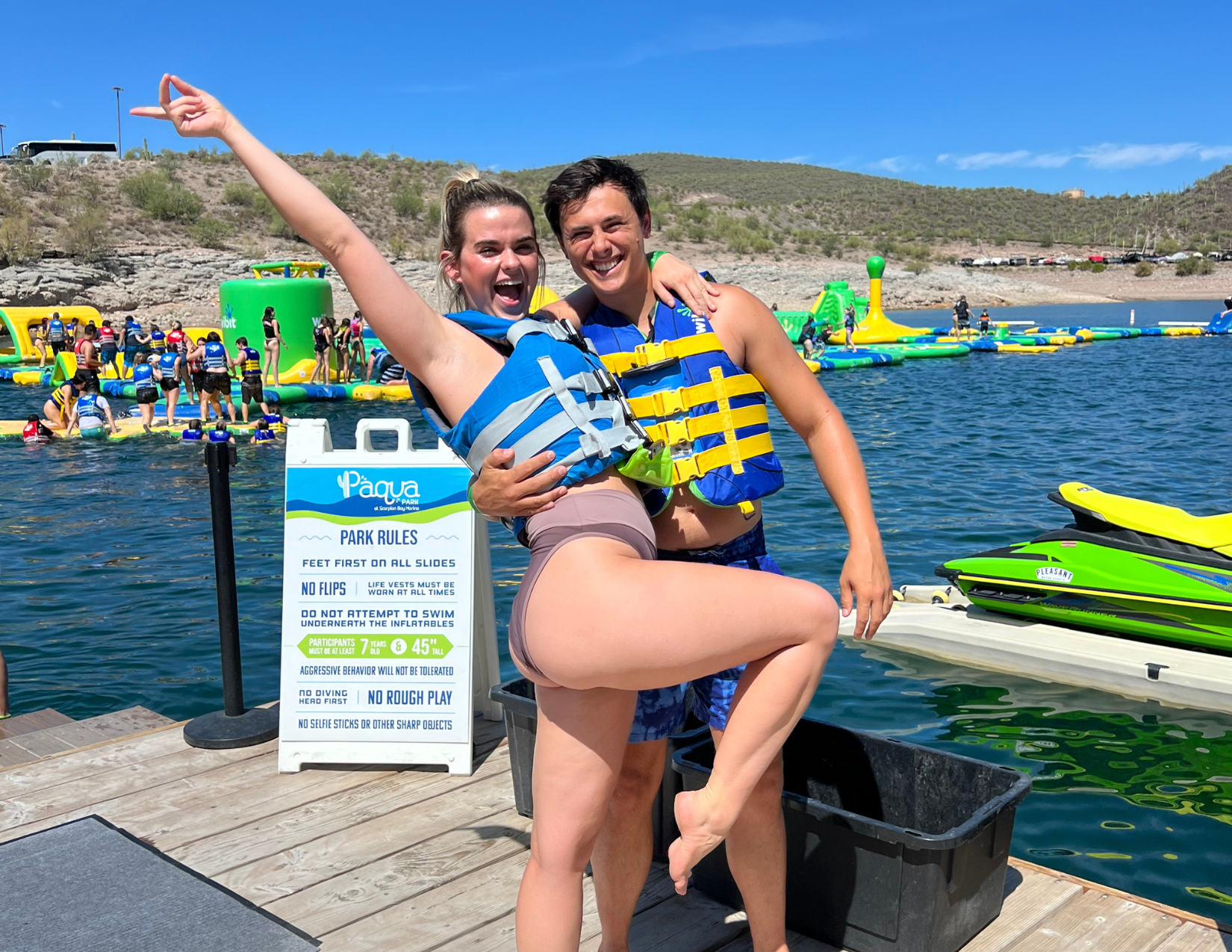 Paqua Park at Scorpion Bay is one of our favorite things to do over the summer. Simply put, this activity is like competing in Wipe-Out because you are running through an obstacle course over Lake Pleasant. This is a great date idea or day trip with a group of friends!
Nearest city: Peoria, Arizona
Cost: $25 per person
3. Kayak to Emerald Cove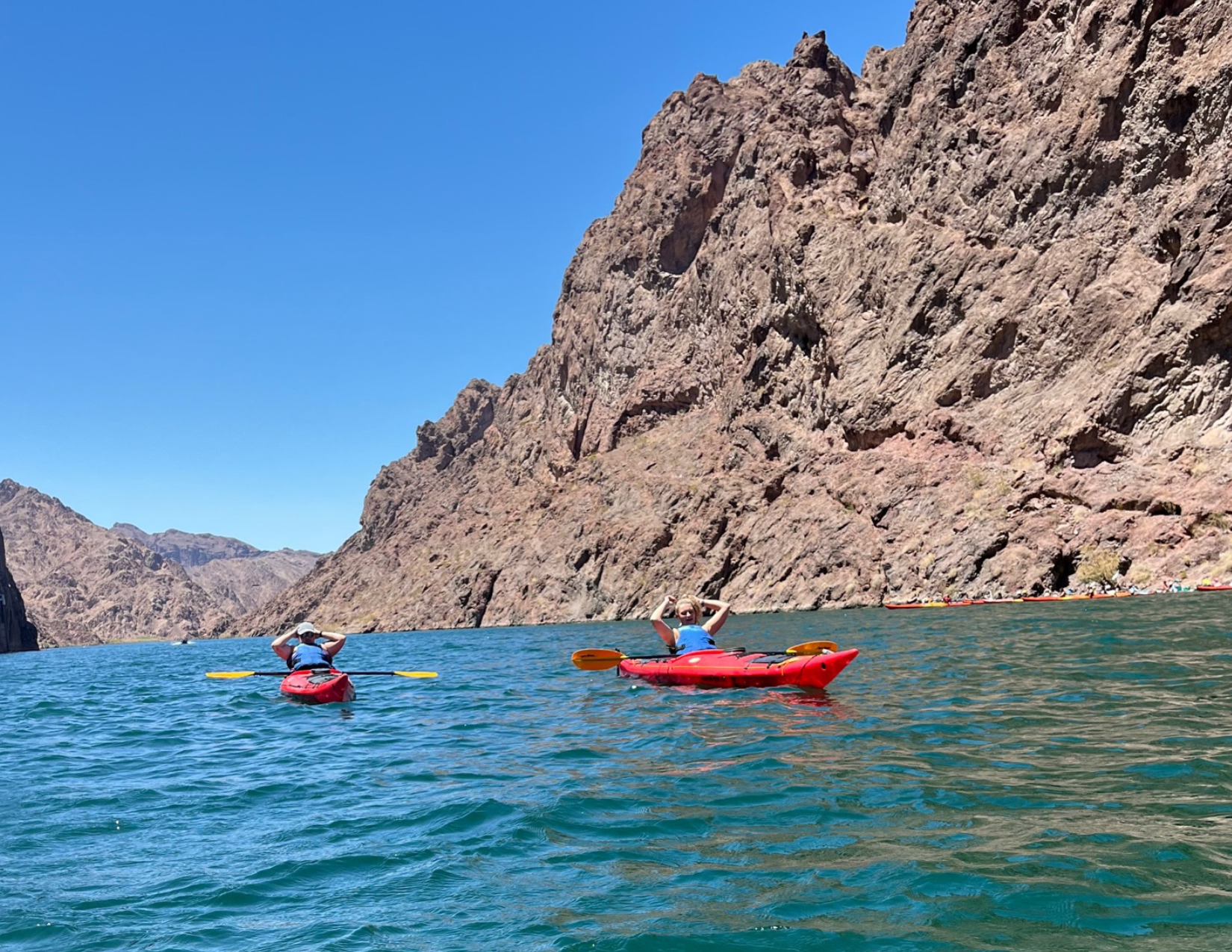 This hidden gem is a kayaker's dream - you will paddle through a cave to discover these incredible emerald green and blue waters on the Colorado River. We suggest spending at least one night in a nearby town such as Boulder City, Nevada or Kingman, Arizona since it takes around 4 hours to reach Emerald Cove from Phoenix. The kayaking adventure is 2 miles each way which will take roughly 4 hours.
Nearest city: Kingman, Arizona
Cost: $25 daily pass to park at Willow Beach in the Lake Mead Recreation Area + cost to rent kayaks
4. Go Surfing in Mesa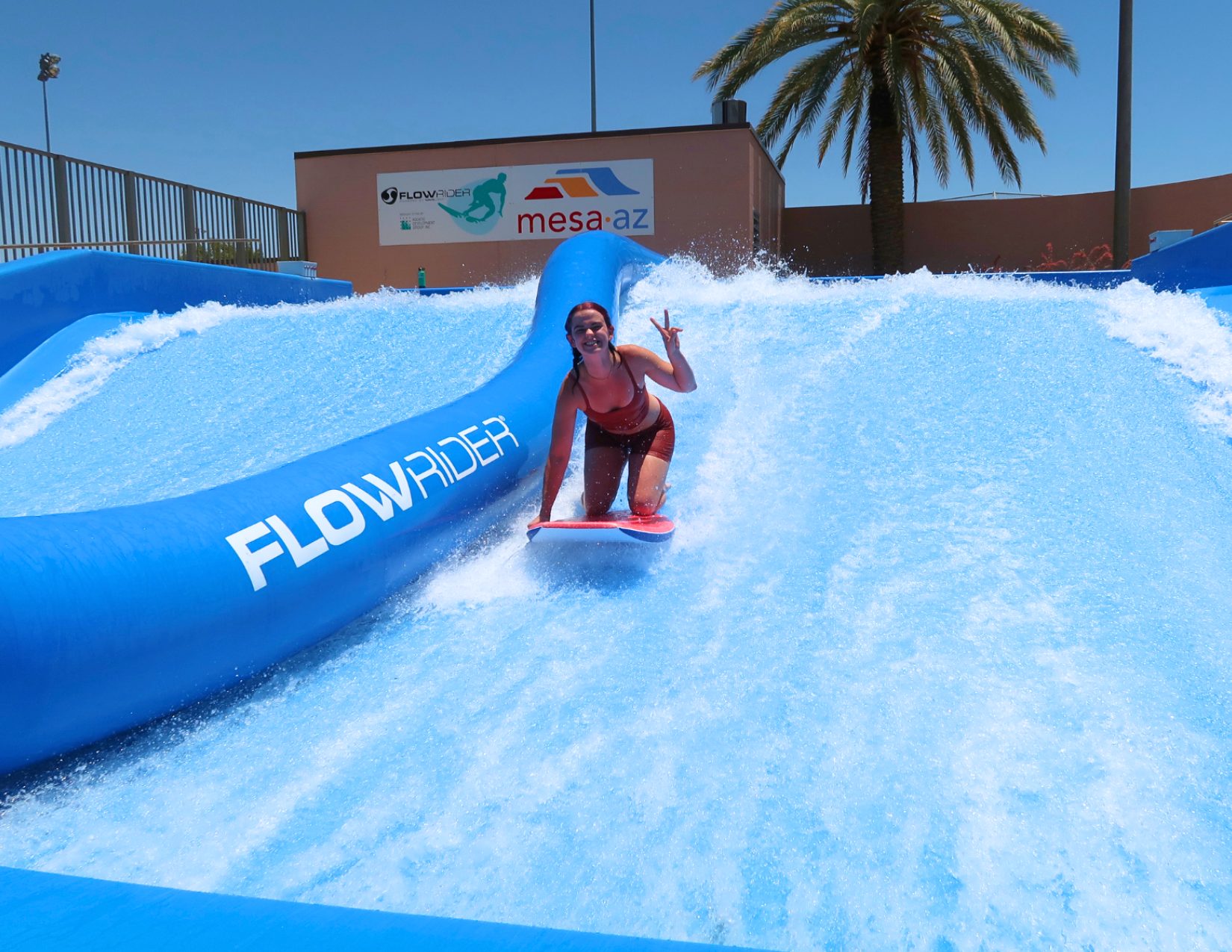 With the help of FlowRider at the Rhodes Aquatic Complex in Mesa, you can learn how to surf in the middle of the desert! Go casually with friends or join their Flow League to compete.
Nearest city: Mesa, Arizona
Cost: $14 per hour
5. Have a Peaceful Day on the Lake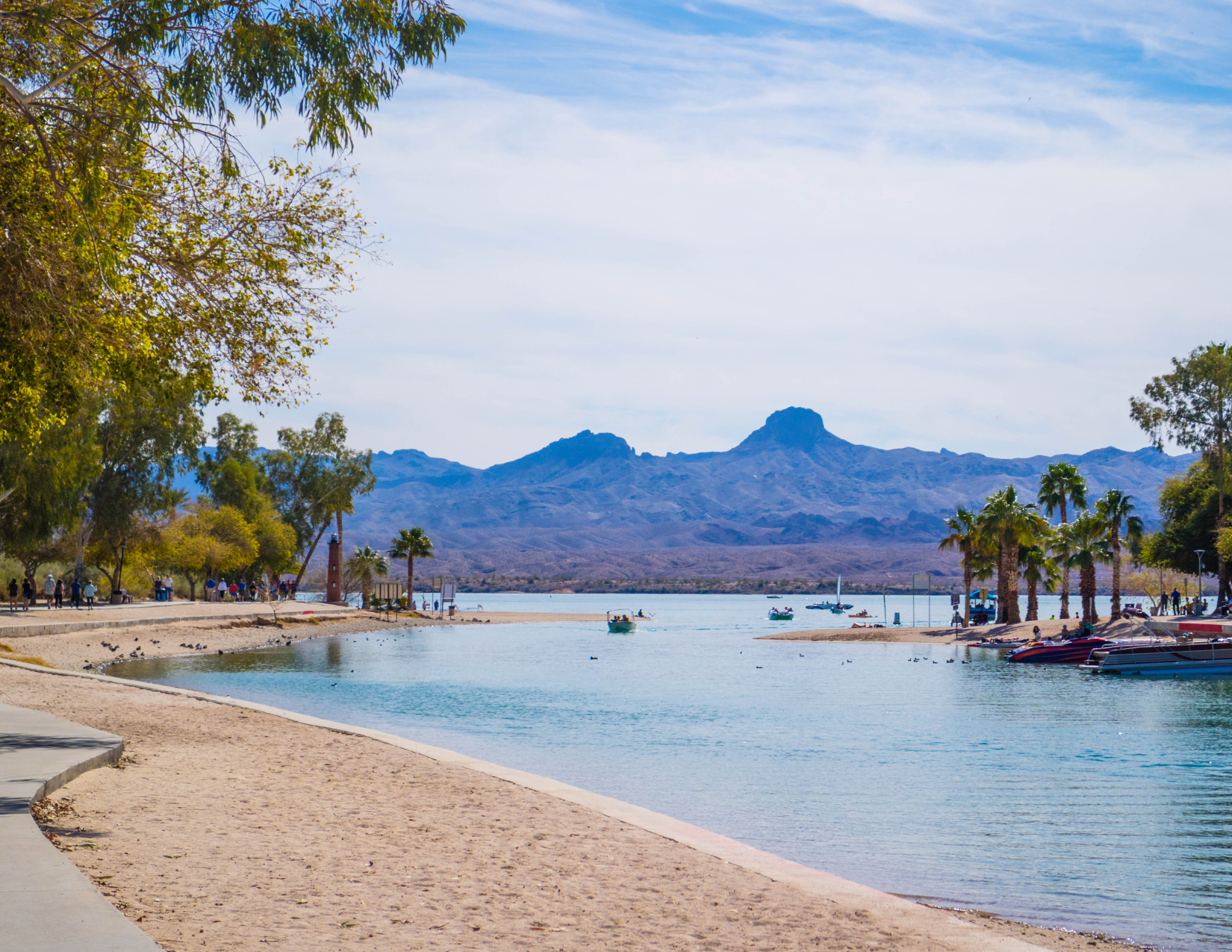 At Cattail Cove State Park, you can enjoy the peaceful water by fishing, swimming, camping, or even relaxing at the beach. This is the perfect spot if you want to get away from the craziness and have time to yourself and your family.
Nearest city: Lake Havasu City, Arizona
Cost: $10 per day Monday - Thursday, $15 per day Friday - Sunday
6. Go Kayaking or Paddle Boarding on the Colorado River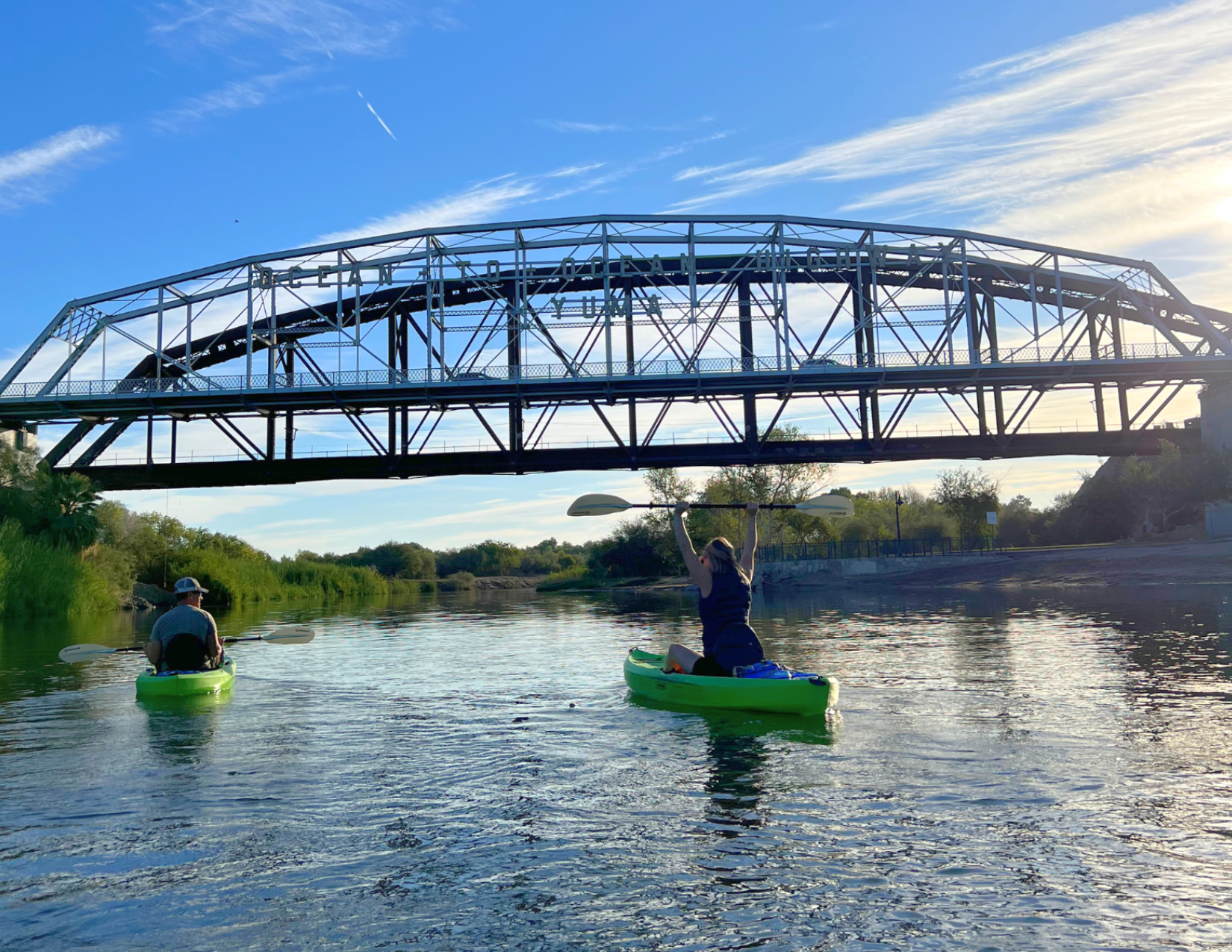 Plan a day trip to the cute and quaint city of Yuma, Arizona to explore the Colorado River by kayaking or paddle boarding. We love renting from 3:10 Kayak and Paddle Board Rentals. Their prices are super affordable and they even deliver them to your launch point. Our tip: start at Gateway Park! Click this link to learn more about our experience.
Nearest city: Yuma, Arizona
Cost: $25 for 2 hours
7. Salt River Tubing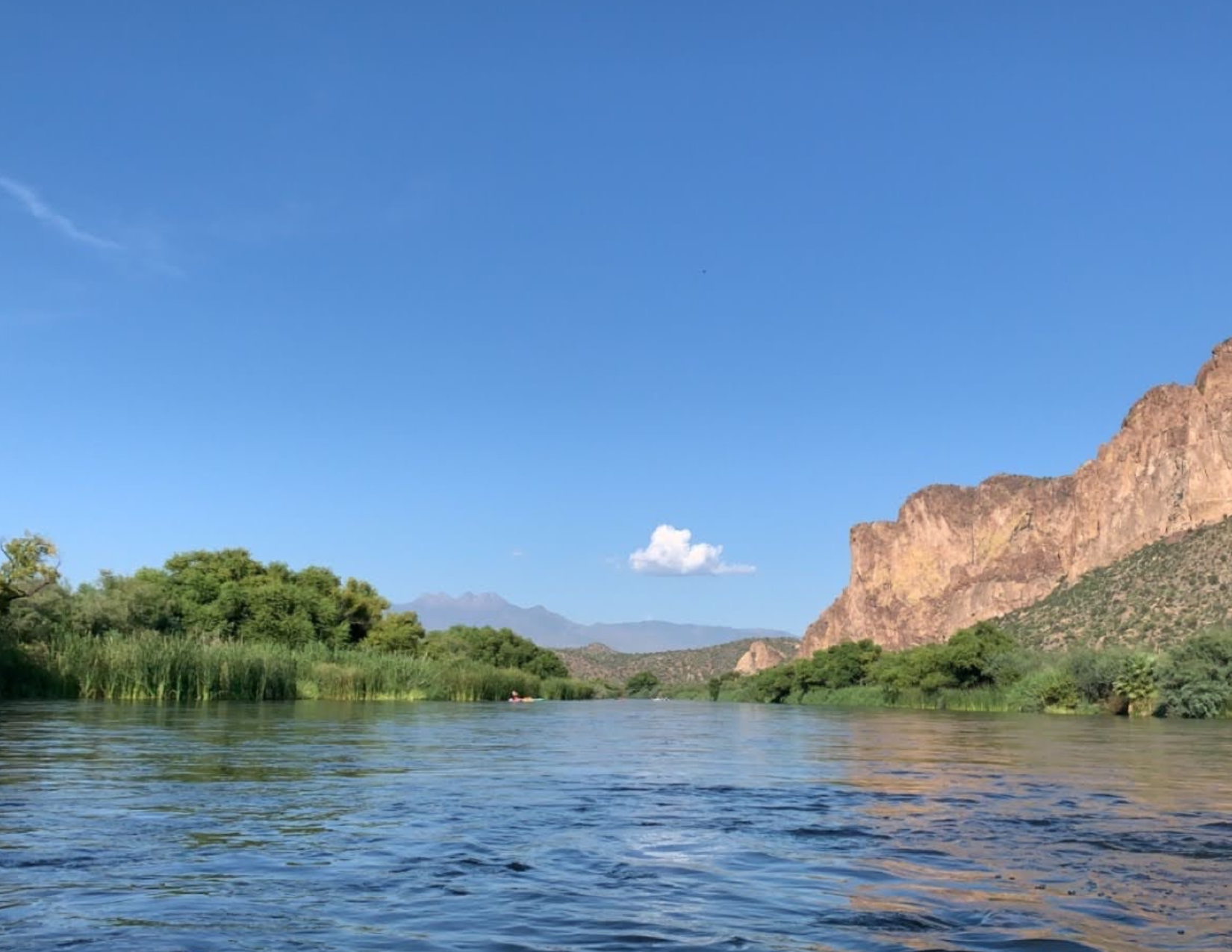 Tubing down the Salt River in Arizona is a must-do activity whether you live in Arizona or are visiting! This is a real life lazy river, and you'll even encounter a few small rapids towards the end that make for an adrenaline inducing experience. Make sure to wear sunscreen, reapply, and pack lots of water!
Nearest city: Mesa, Arizona
Cost: $25 for tube rental, includes shuttle pass
8. Scuba Dive in Lake Pleasant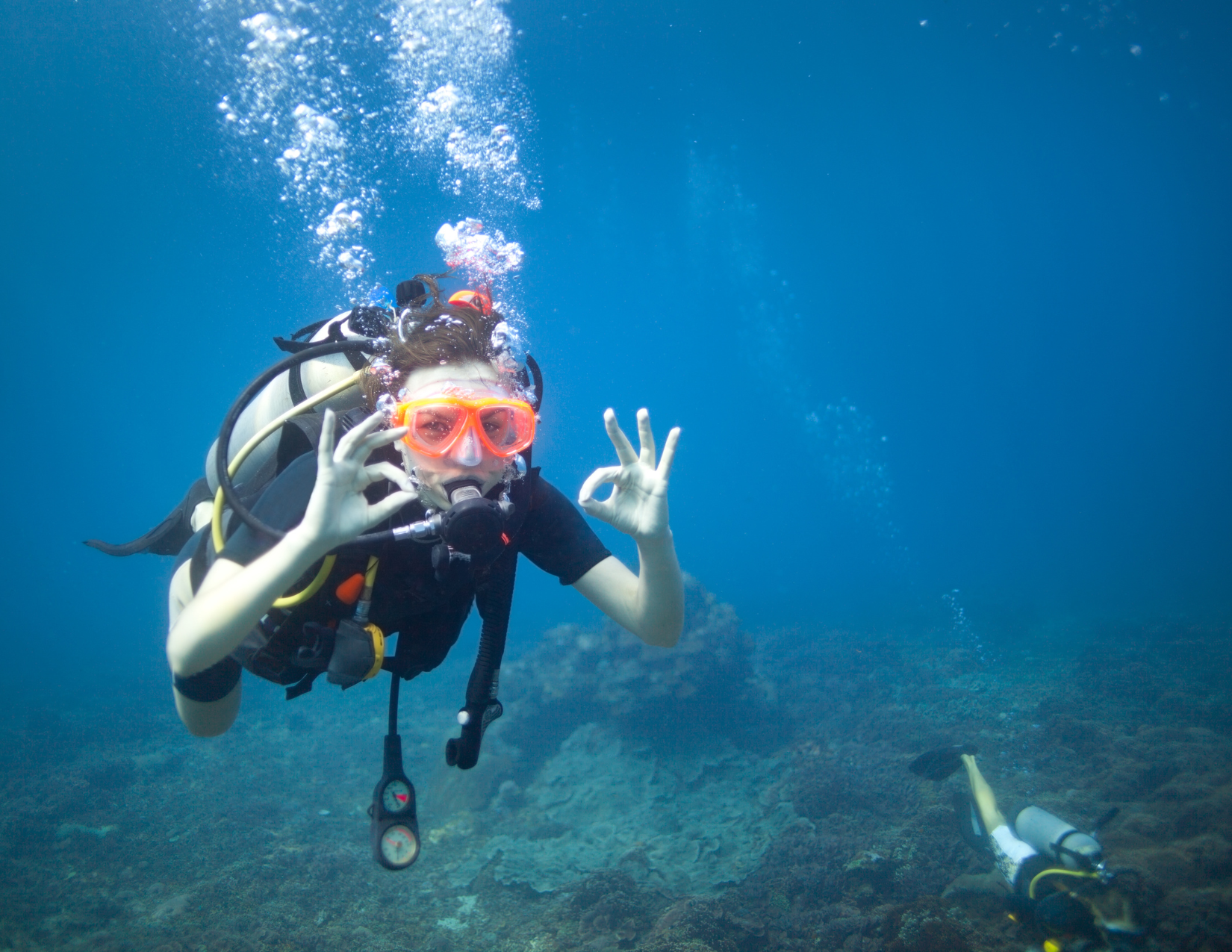 Did you know you can go scuba diving in Arizona? Lake Pleasant is just under an hour drive north of Phoenix and is a well-known destination for scuba.  In fact, Lake Pleasant is known for some of the best scuba diving you can do outside of the ocean, in the whole United States! Some great spots to explore while diving at Lake Pleasant are Scorpion Bay, Spring Canyon Landing (aka Sunrise Cove), and Vista Point.
Nearest city: Peoria, Arizona
Cost: $7 entry per vehicle
9. Waterslides at Arizona Grand Resort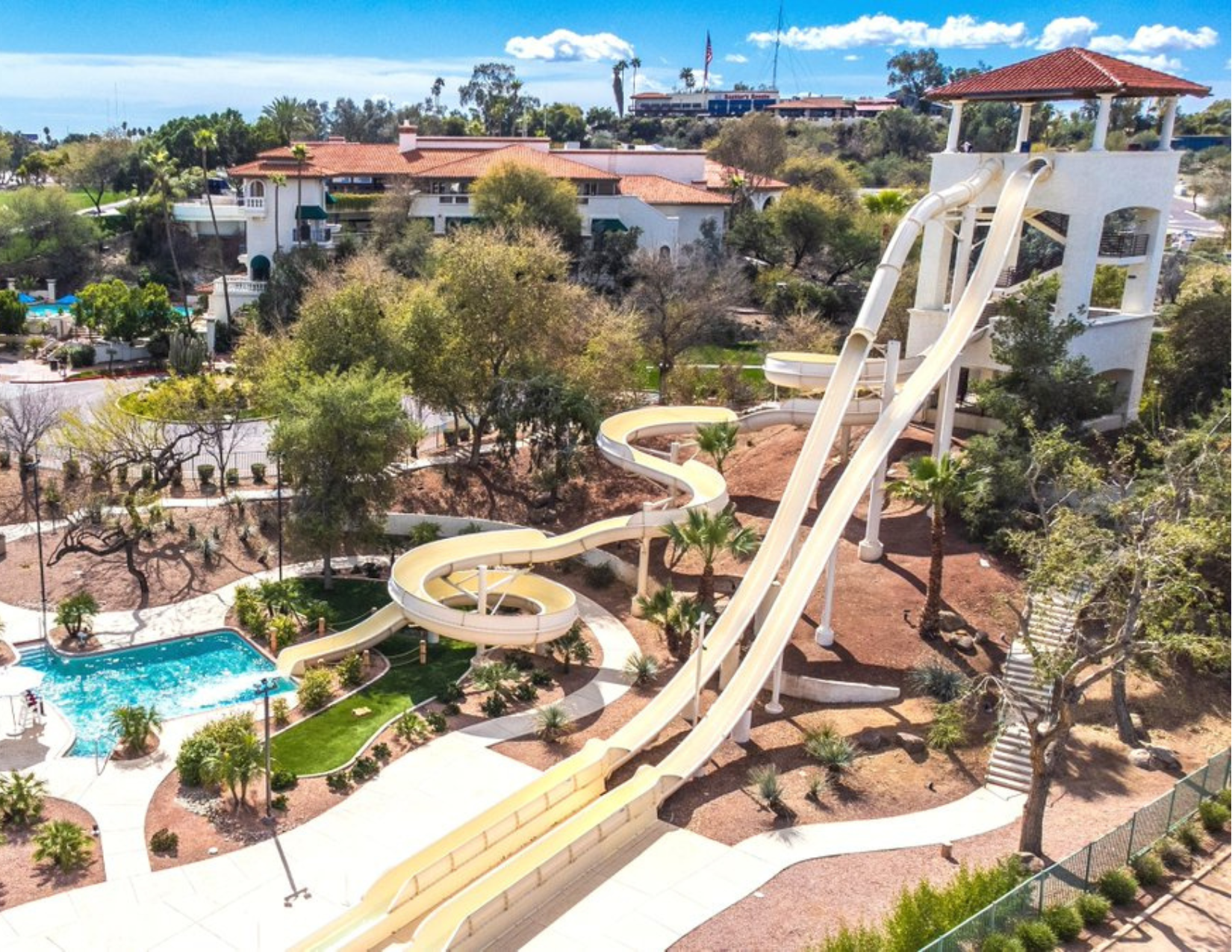 The waterpark at the Arizona Grand Resort is voted one of the top 10 water parks in the whole country! This waterpark features a lazy river, 8-story water slide, wave pool, giant hot tub, and cabanas. We recommend making it a staycation and spending a night at the hotel for complimentary resort day passes!
Nearest city: Phoenix, Arizona
Cost: $60-65 per person
10. Swimming at Patagonia Lake State Park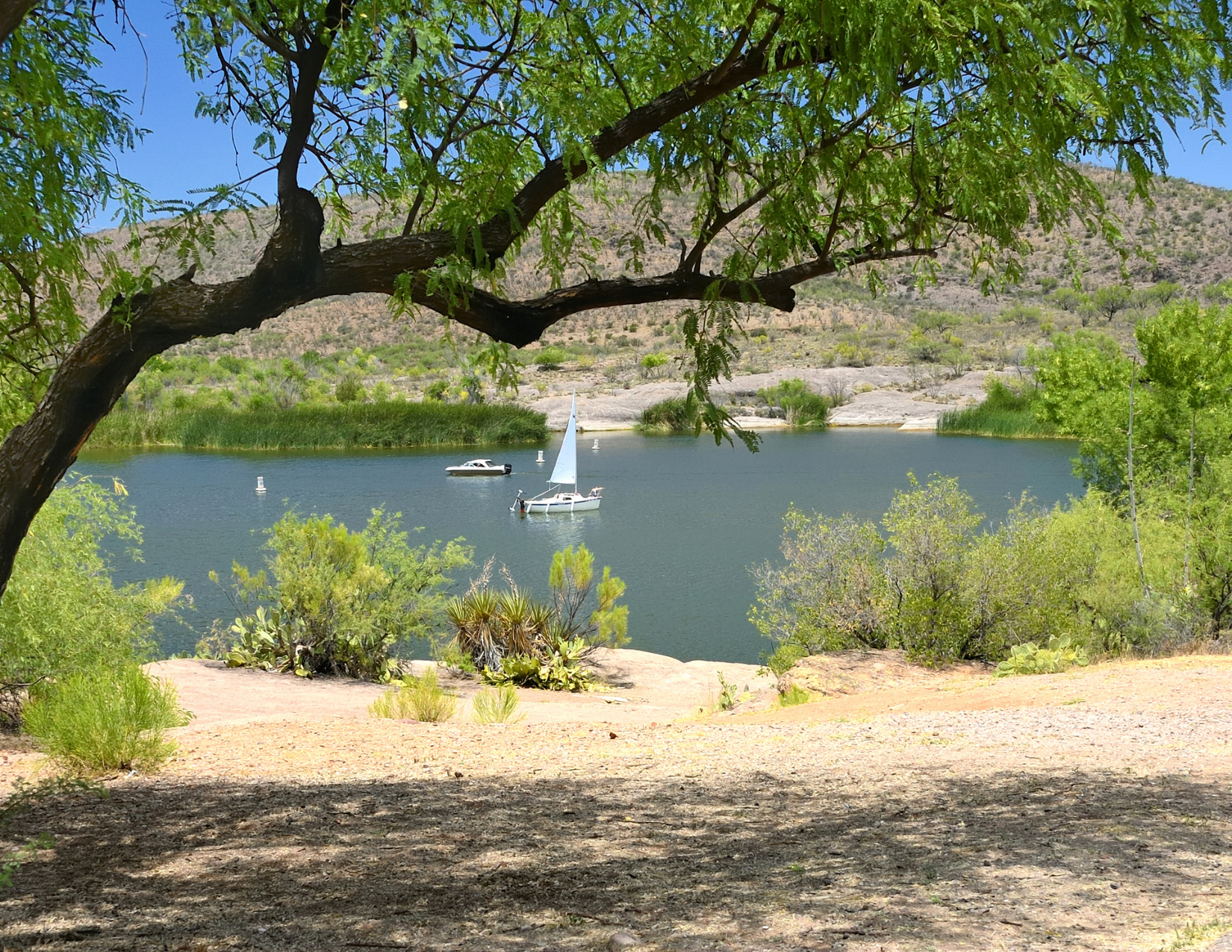 Located three hours south of Phoenix and just over an hour south of Tucson, Patagonia Lake State Park makes for the perfect beach day. The lake has clear waters and is normally a lot less busy than other lakes in the state! If you're looking for an adventurous day at the lake, Arizona Boat Rentals offers lessons for wake surfing, wakeboarding, and flyboarding lessons and rentals. There is so much to do at Patagonia Lake, you'll already be planning your next trip before you leave!
Nearest city: Patagonia, Arizona
Cost: $15-20 per vehicle
---
With so many activities to help stay cool during the summer in Arizona, you can see why we love living here! There are so many different lakes to explore and take advantage of. You don't even need to own a boat to have fun!
When you try out one of these summer activities, tag us on Instagram or TikTok, @wildjoyexperiences, so we can be apart of your day!
Xoxo
- The Wildjoy Team