Kingman and Oatman, Arizona are located in the northwest part of Arizona, near Bullhead City, Nevada. These cities are great to hit on the same day trip since they both lie along the famous Route 66! The city of Kingman is known as the "heart of Route 66" while Oatman is a ghost town that used to be mined for gold!
In this day trip guide, you'll learn about all of the unique stops along Route 66 between Kingman and Oatman, Arizona, including the Fish Bowl Springs!
---
On the Road to Oatman
Departing from Phoenix, this road trip will take just over three hours to reach Kingman, Arizona and another hour to reach Oatman. I suggest stopping in Oatman first, leaving Kingman for the way back for dinner. To help you plan out your road trip, we headed out on our journey around 9am, reached Oatman around 2pm, and ended up in Kingman around 5pm - just in time for dinner and the sunset.
On your journey to Kingman and Oatman, you must stop in Wickenburg at Tastee Freez for the best dipped cones you'll ever try! Tastee Freez is located on East Wickenburg Way, in the heart of Historic Downtown Wickenburg.
Just after you head back on the road after enjoying your ice cream, Joshua trees will begin to populate both sides of the highway. This was so unexpected! About two and a half hours later, you'll find yourself on the iconic Route 66. Once on this route, keep your eyes out for an old gas station called Cool Springs Station, located on the outskirts of Kingman. Cool Springs Station started out as just a gas station when it was built in the 1920's, and later on it was transformed into a cafe and bar with cabins! Nowadays, the gas station is no longer in service but you can still enjoy their gift shop.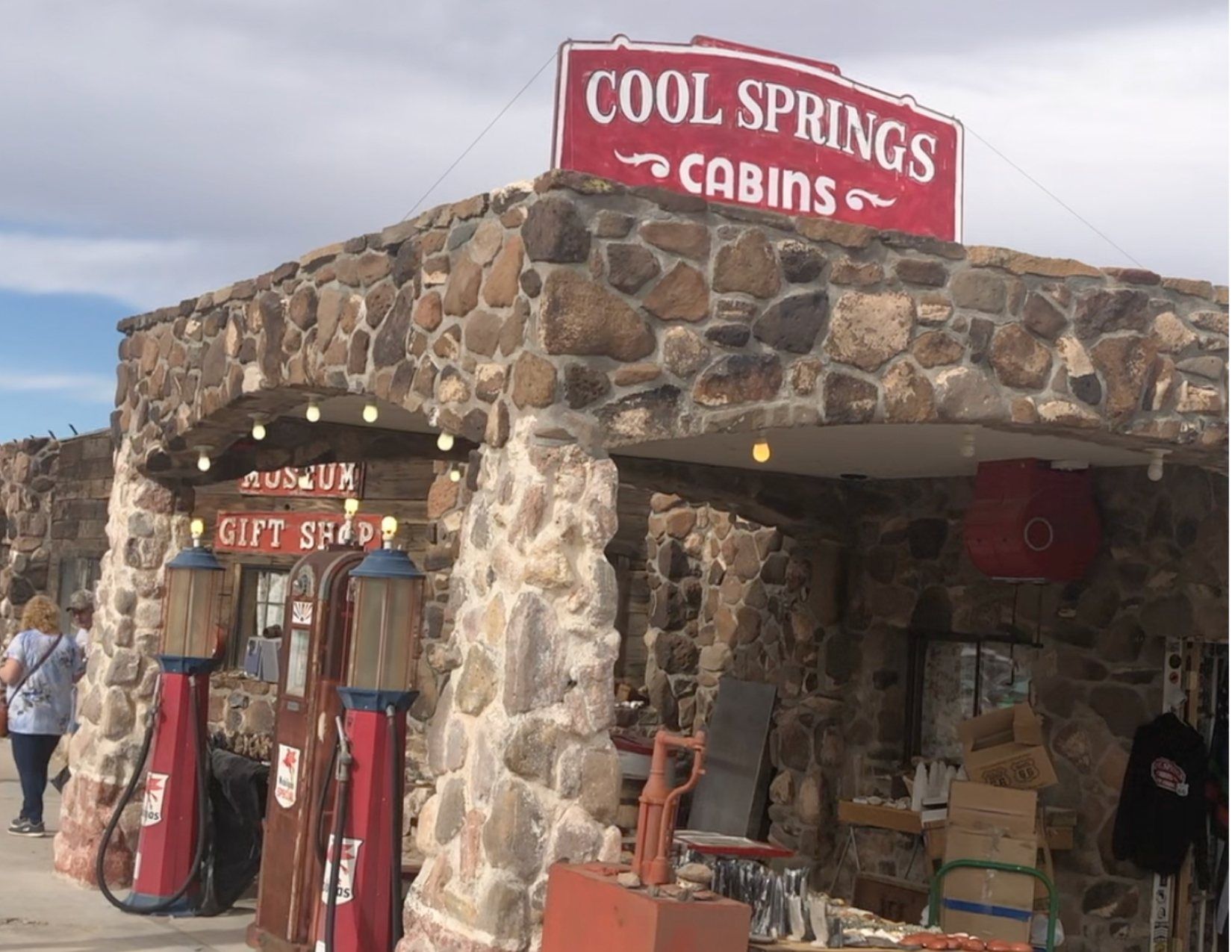 At Cool Springs Station, we met Hornfeather, who is a jeweler that specializes in carving horns into earrings and braceletes. Hornfeather offers free lessons on making his copper rings - you have to take advantage of this! He mentioned how he has over 200 apprentices who have turned his craft into their own hobby. His jewelry starts at $5 and increases in price with the technicallity - so worth it!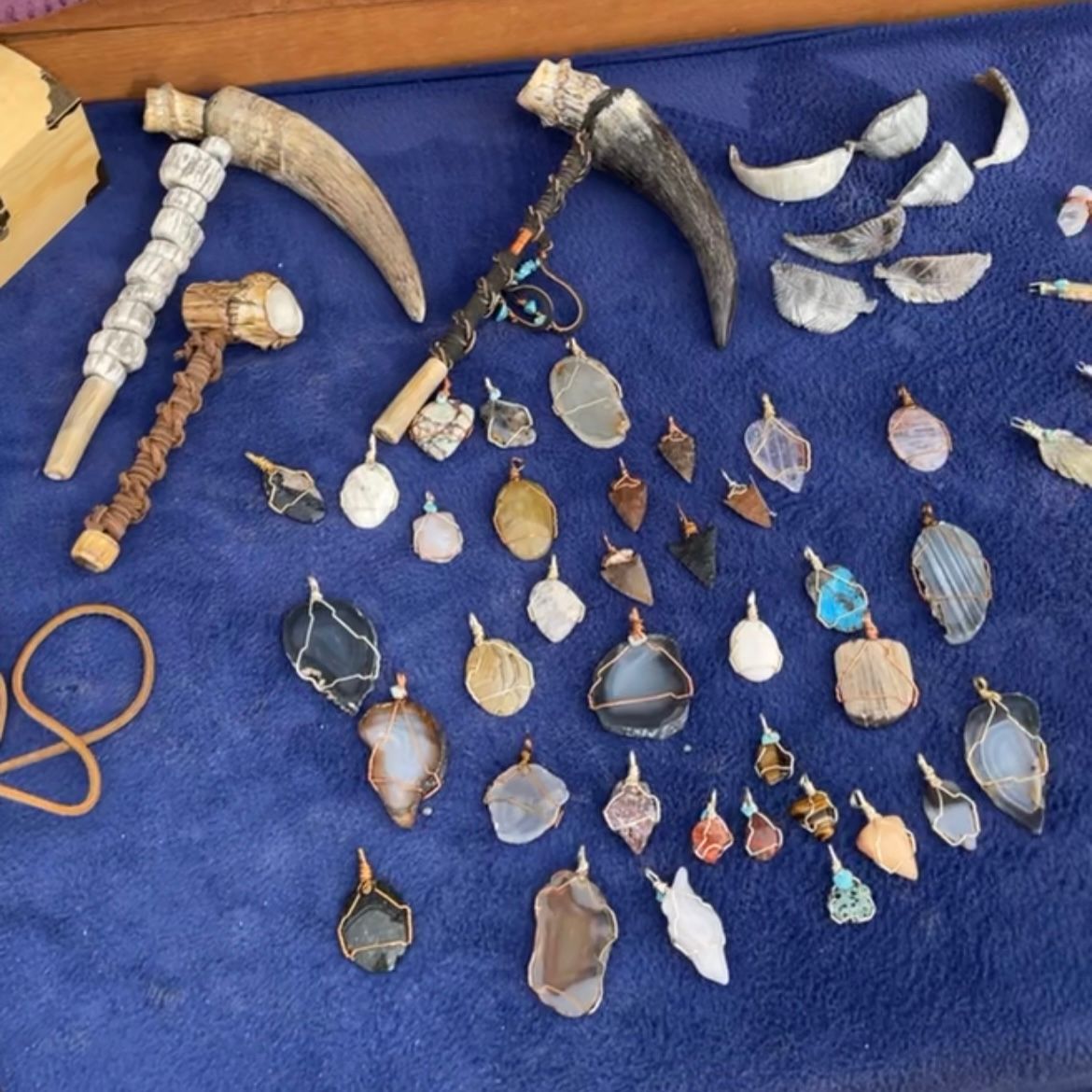 Location of Cool Springs Station: 8275 W Oatman Rd, Kingman, AZ 86413
Fish Bowl Springs
After stopping at Cool Springs Station, continue west on Route 66 as you round windy turns. You'll notice on the side of the road there are mile markers. Around mile marker 30, there will be stairs carved out of the mountain, and there is a small area where you can pull over on the left side of the road! Head up the stairs, and at the top will be a small spring that has gold fish in it! This spring was the highlight of our day trip because it is such a unique find! It really makes me wonder - how did those goldfish get there and what are they surviving on?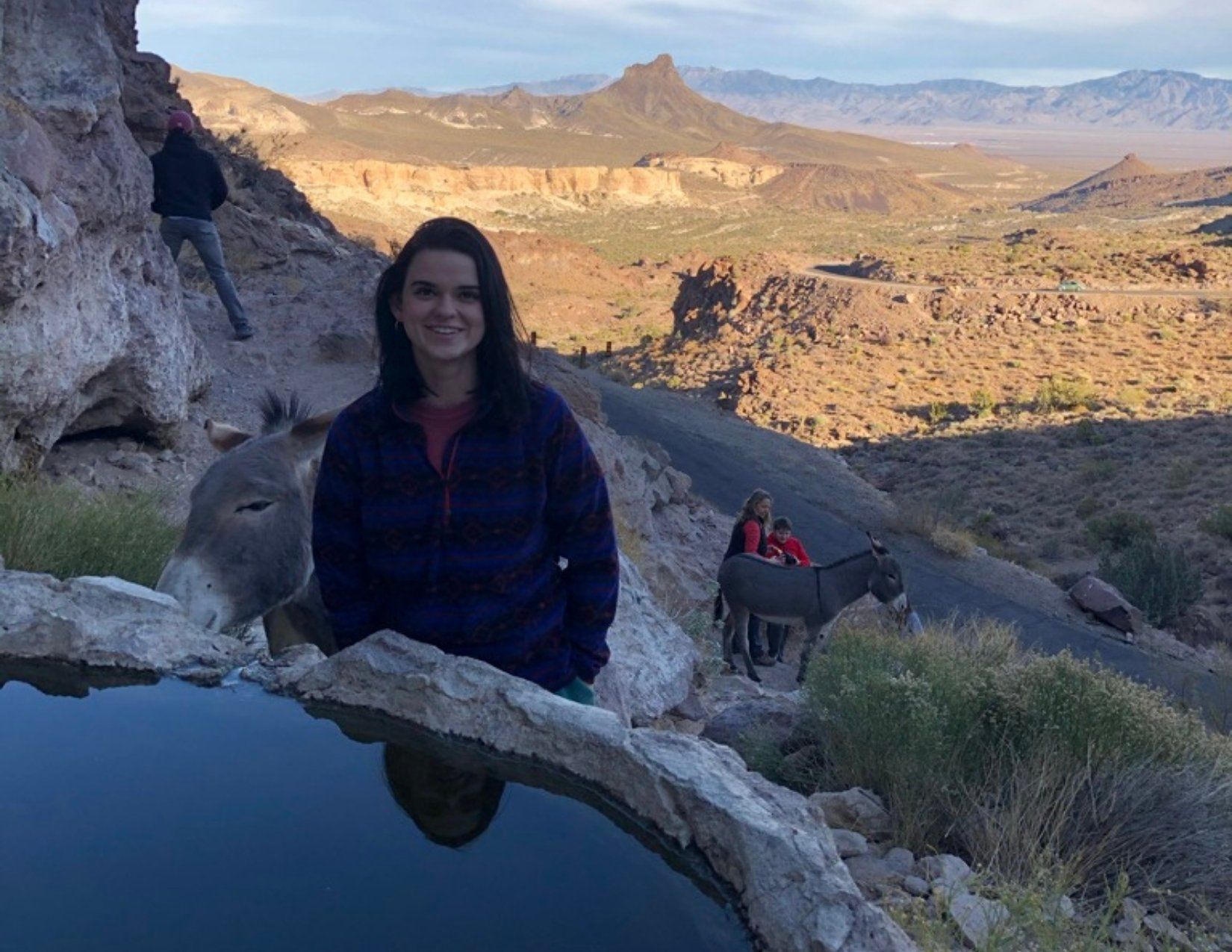 Location of Fish Bowl Springs: 35.039, -114.357
Oatman, Arizona
From the Fish Bowl Springs, Oatman is only a 15 minute drive further down Route 66! There are so many fun and unique things to do once you reach Oatman.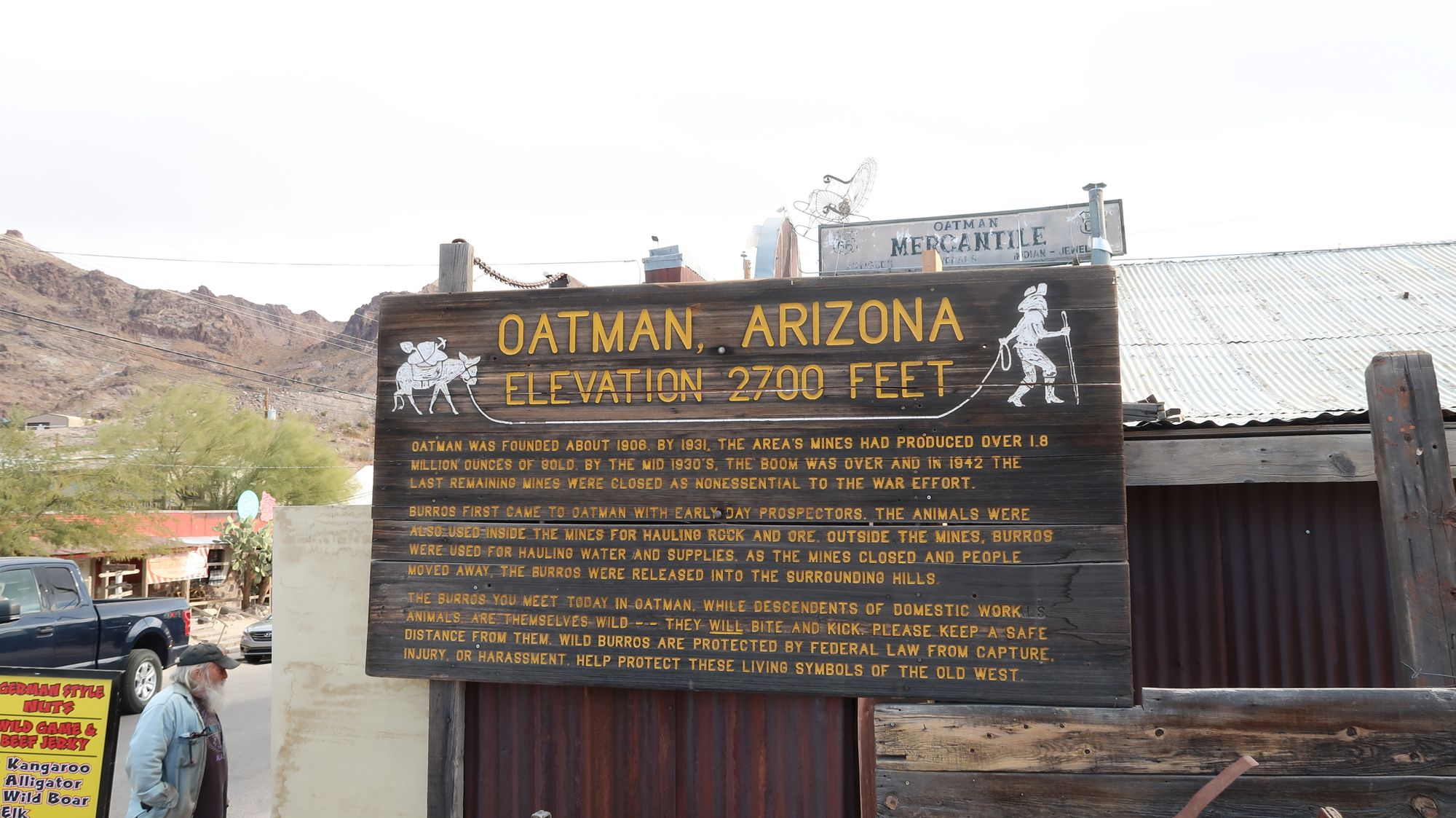 Upon arriving, we decided to walk around all of the little shops before we settled on our first activity. Our first stop was the Oatman Hotel which was covered in dollar bills from the floor to ceiling! At the Oatman Hotel, you can have a drink at their bar, a bite to eat at their restaurant, or get a souvenir from the gift shop on the second level. Be aware, there is a ghost named Oatie that has been hauting this hotel since 1930 and can be heard playing the bagpipes.
Attached to the Oatman Hotel is the Olive Oatman Ice Cream Parlor where they had ice cream and pretzels. I was tempted to have an ice cream cone, but it was a little chilly for a cold treat in my opinion!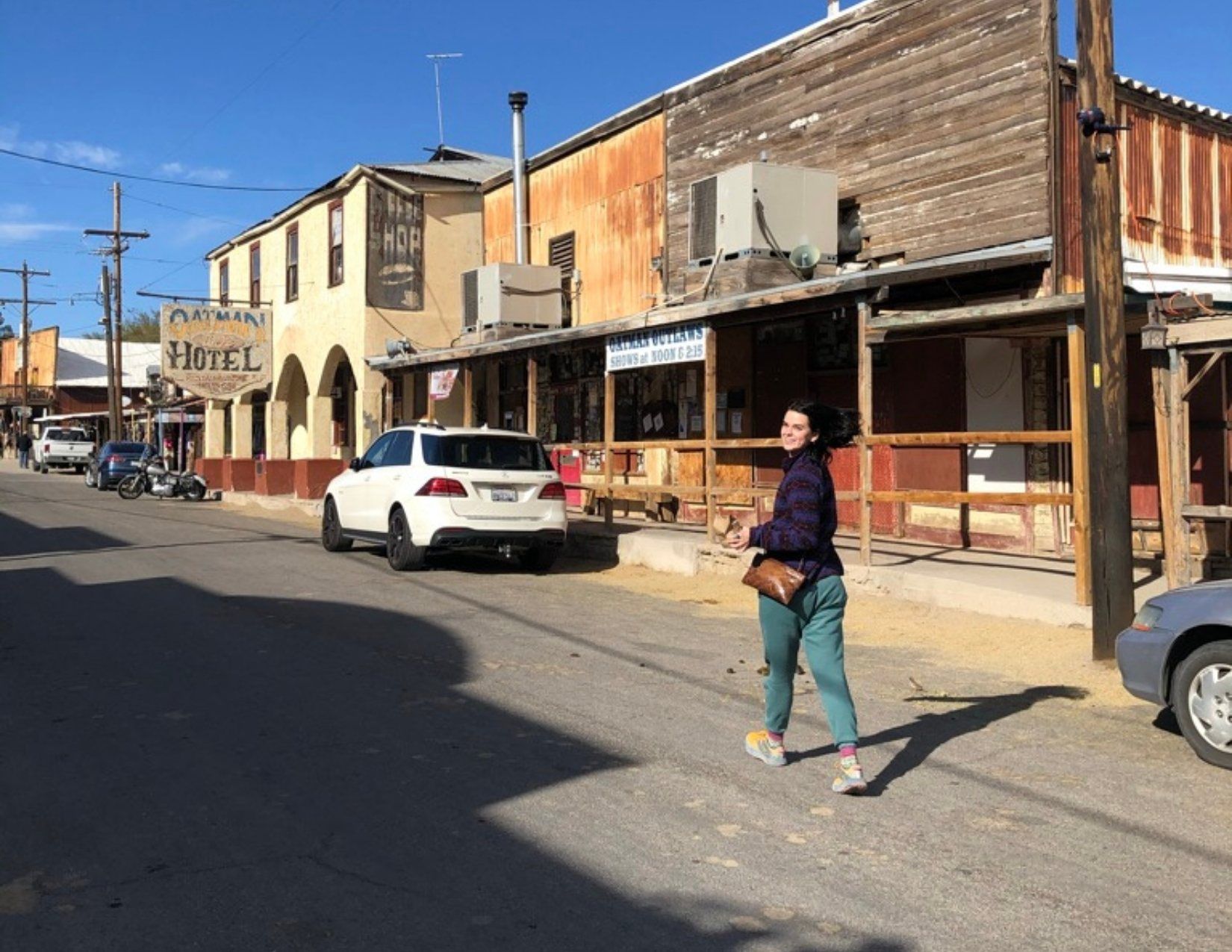 As we continued our stroll through the ghost town, we encountered over a dozen burros! They were mostly minding their own business, apart from being fed by the tourists. We decided to join in on the fun, and purchased a bag of feed pellets for one dollar. The burros ate right out of my hand!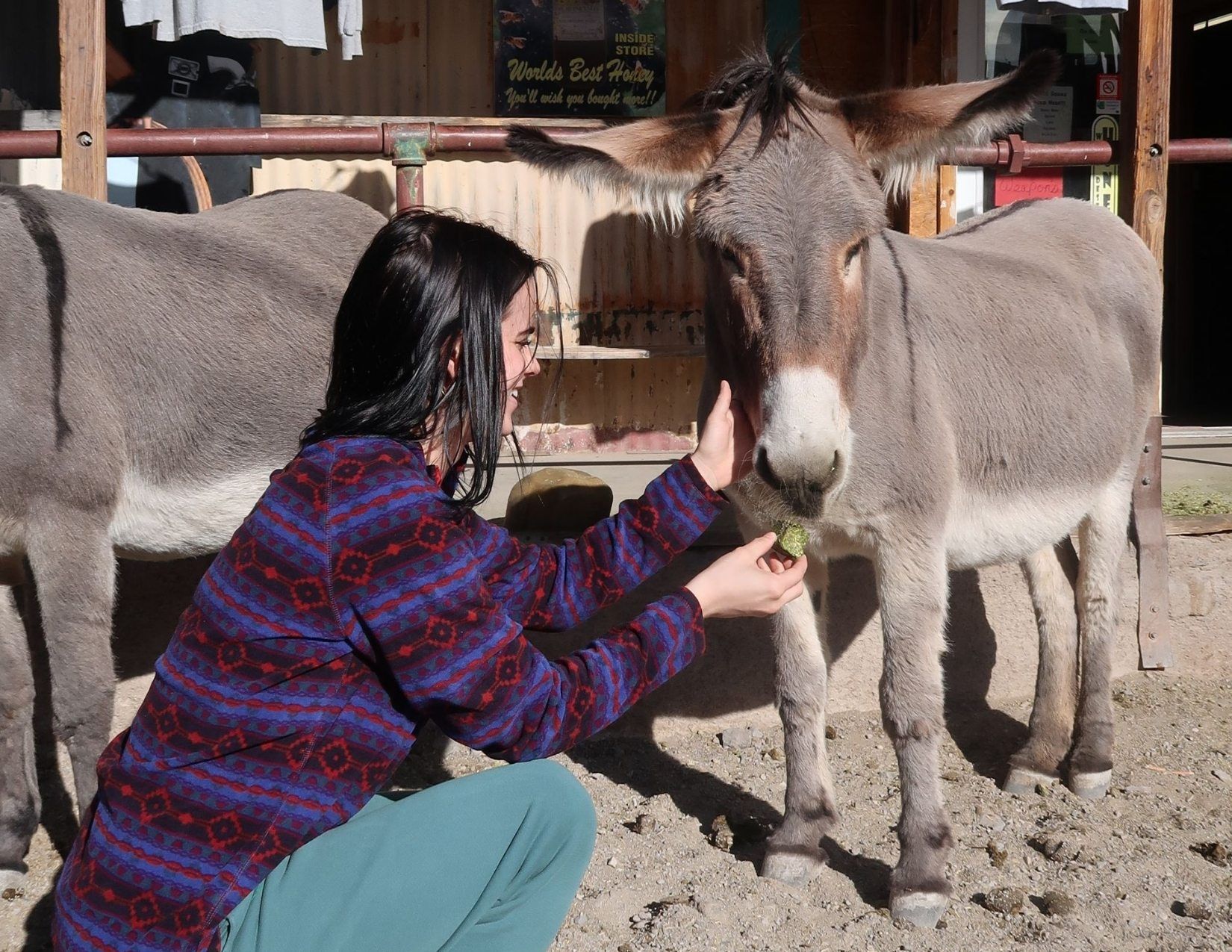 As we headed back up to our car, we stopped at Kickin' Axe to try our chance at making a bullseye with an axe, tomahawk and hachet! Joe, the instructor, was the kindest man and gave us great tips on how to throw an axe. We weren't skilled enough to make a bullseye but we got close! After we conquered axe throwing, we stopped at the Coffee Can to replenish our thirst. Joe was going on about how they had the best chai lattes, and as a chai feen myself I had to give it a shot. The Coffee Can's chai latte surpased my expectations - I definitely recommend getting one when you stop in Oatman.
When you plan your road trip to Oatman, Arizona, plan to attend the Wild West Shootout! This comedic gun show is completely free, and occurs everyday at 1:30 and 3:30pm in the center of town. Unfortunately we had missed the show, but you don't want to miss out on this classic experience!
Kingman, Arizona
After all of the adventuring you've done so far - you'll probably be starving! Make your way back to Kingman, Arizona and stop for dinner. We stopped at Floyd and Company Real Pit BBQ and ordered their delicious pulled pork sandwiches. Afterwards, stroll through downtown Kingman to fully enjoy all of the history this city has! They have historic museums, parks, and restaurants - a little something for everyone!
This guide is full of adventurous ideas to fill your road trip with, which means you can make your road trip as long or short as you'd like! If you wish to make it longer, I suggest staying in an AirBnb in Kingman. This will allow you to feel less rushed about making it home in time before dark, and this way you can enjoy more of Kingman! In the morning, there is a cute coffee shop right across the street from the giant Route 66 mural that offers breakfast, pasteries and specialty coffee - this is a great spot to fuel your body before the trip home!
---
Roadtripping to Kingman and Oatman, Arizona was an amazing little getaway and I hope you can get the chance to explore these cities for yourself! If you make the trip, be sure to tag @wildjoyexperiences or use #thejoyclub on Instagram so we can see your photos!!