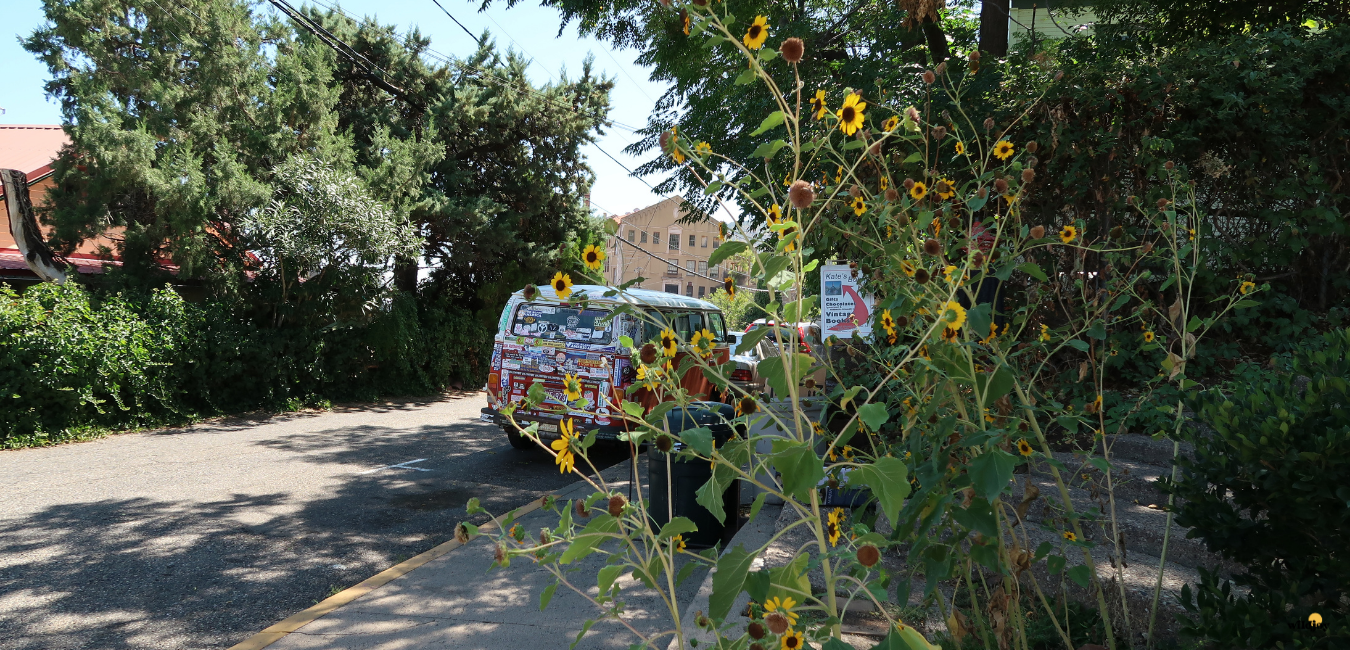 Arizona is home to plenty of ghost towns scattered across the state, but there is no more lively ghost town than Jerome. Located in Verde Valley, you'll find Jerome up on the hilltop with a massive white 'J' painted onto the rocks above. Packed full of history, Jerome has retained its charm and now functions as a lively town consisting of artisans and historical places.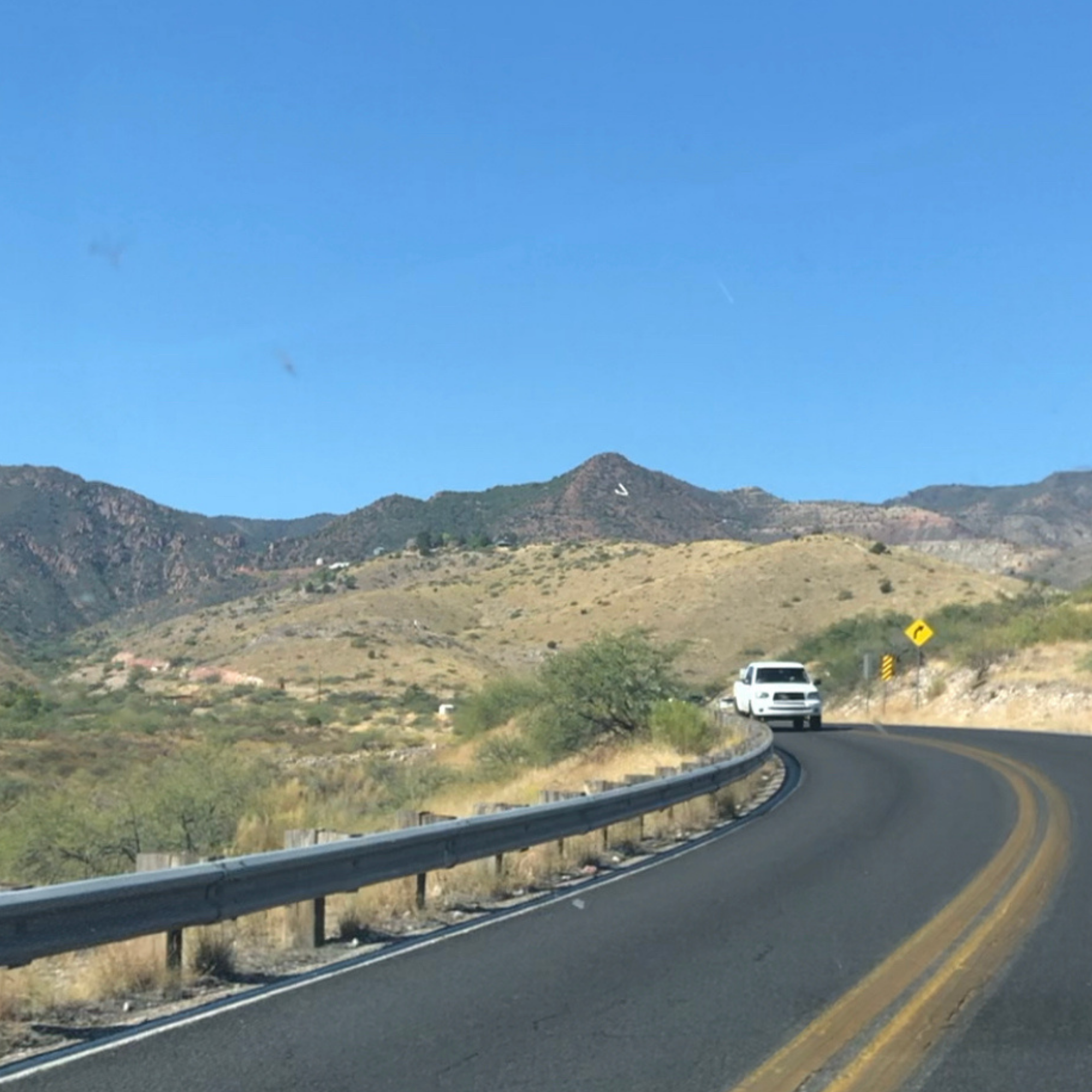 We took a day trip to Jerome from Phoenix this last weekend and I'm DYING to share about our trip. Jerome really is that awesome. In this blog, you'll discover the best hidden gems and impactful experiences in Jerome, Arizona that will inspire you to visit Jerome!
---
Day Trip to Jerome
For your day trip, I would recommend you start EARLY as it gets really hot really quick. We left Phoenix around 7:30 am and made it to Jerome by 10:00 am. When you're arriving into the area, you'll go through the towns of Cottonwood and Clarkville. The landscape will also change significantly from the desert to riparian and mountainous with tall trees and brightly colored wildflowers lining the road. It's so fun to see the transformation along with the eerie abandoned homes you'll notice on the last part of the drive.
Gold King Mine & Ghost Town
To start our day, we headed straight into town on Main Street to the Gold King Mine & Ghost Town. You have to drive on a dirt road for about 1 mile with signs pointing you in the right direction. Gold King Mine & Ghost Town describes themselves as a 'funky stop with dilapidated buildings, an old mine & a large collection of old autos & trucks.' Before you enter. you'll see the vintage rusted cars parked against the gate with signs saying they will shoot if you trespass... spooky.
Park at the free parking area near the entrance. They even have a place to park your RV or oversized vehicle in a side lot! Get ready to step into a ghost town world after you pay your $7 entrance fee to the clerk. There are lots of goodies to grab at the gift shop like apparel and copper on your way in or out.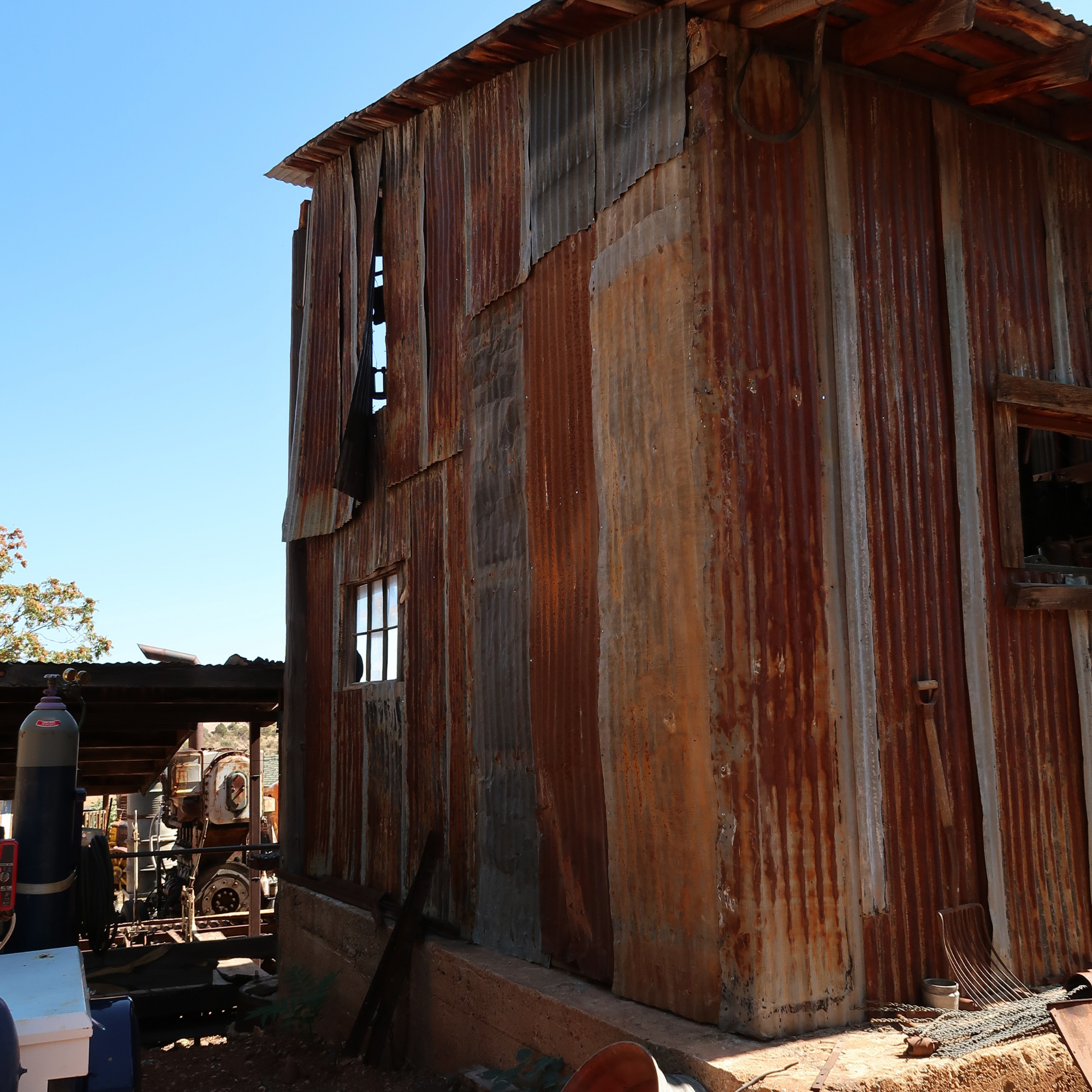 We had lots of fun exploring the abandoned mine shaft, petting the donkeys and goats, learning about the active sawmill from the owner, and taking goofy pictures wherever we could. There was so many incredible collector cars in protected shacks for us to view. My personal favorite 'store' in the Ghost Town to explore was the laundromat or dentist. Right next to it, there is a jail cell you can hangout in and take more photos.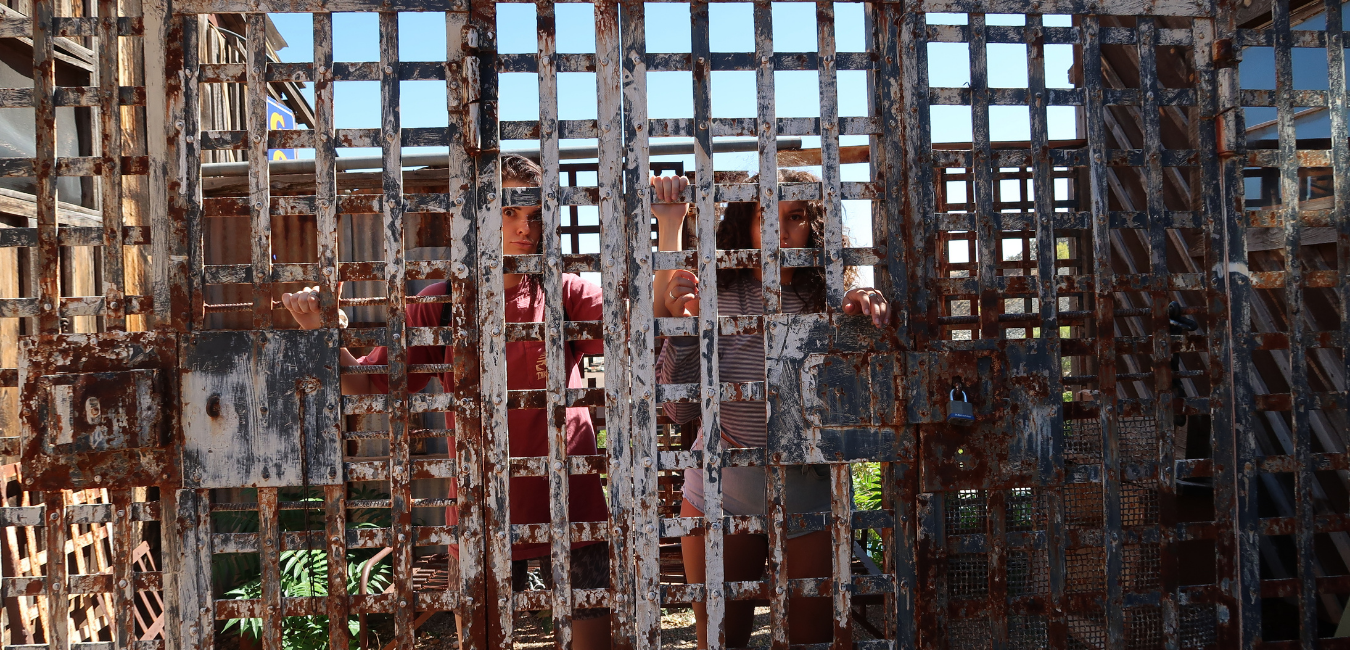 If you go to the top of the ghost town near the petting zoo, you can go into the chicken coop and see the hens on their eggs and the roosters running around. This was super cool and I'm sure kids would freak out in excitement to see the stages of life for the chickens so up close and hands on. You might get lucky to catch the owner working on the saw mill.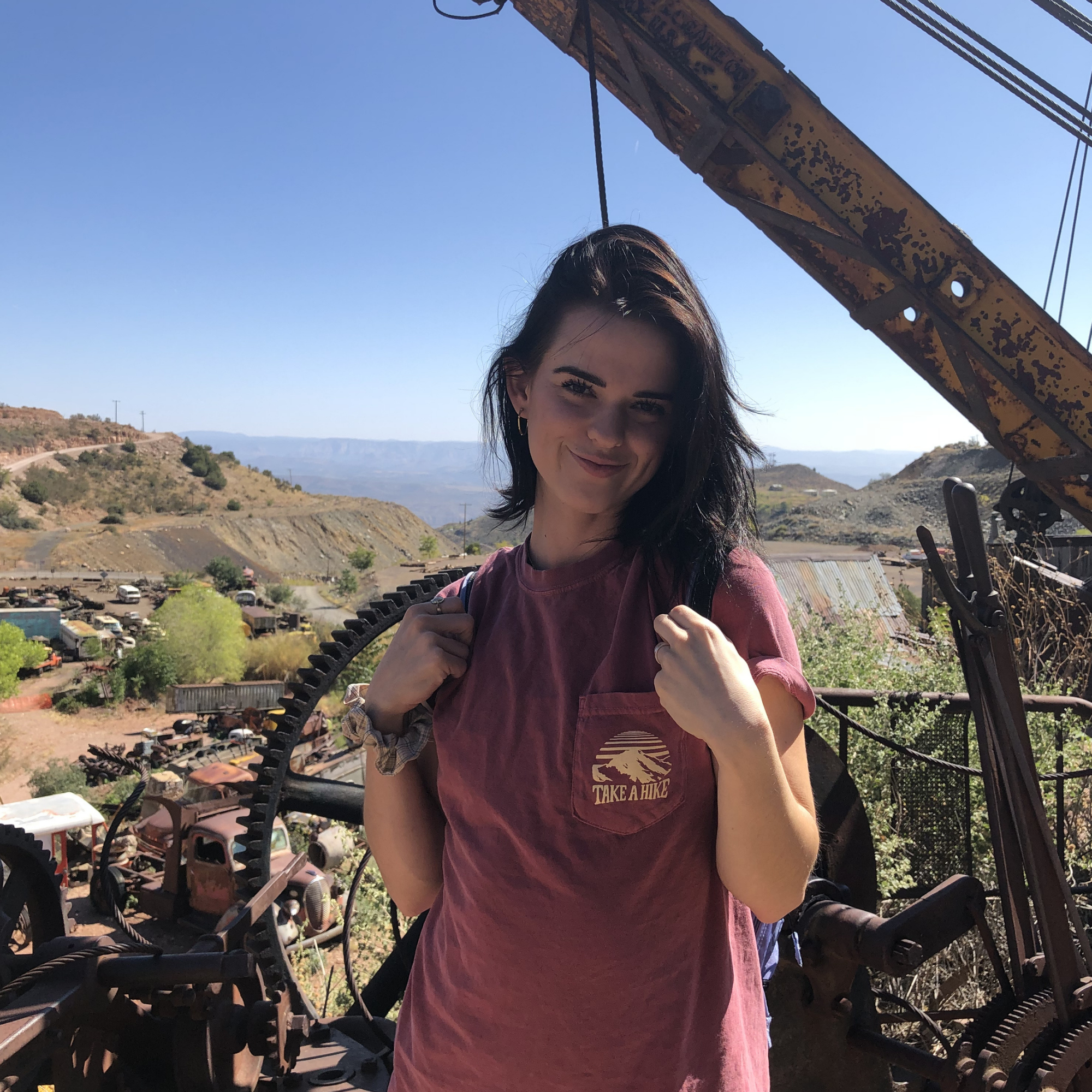 Professional Photography/Photoshoot Location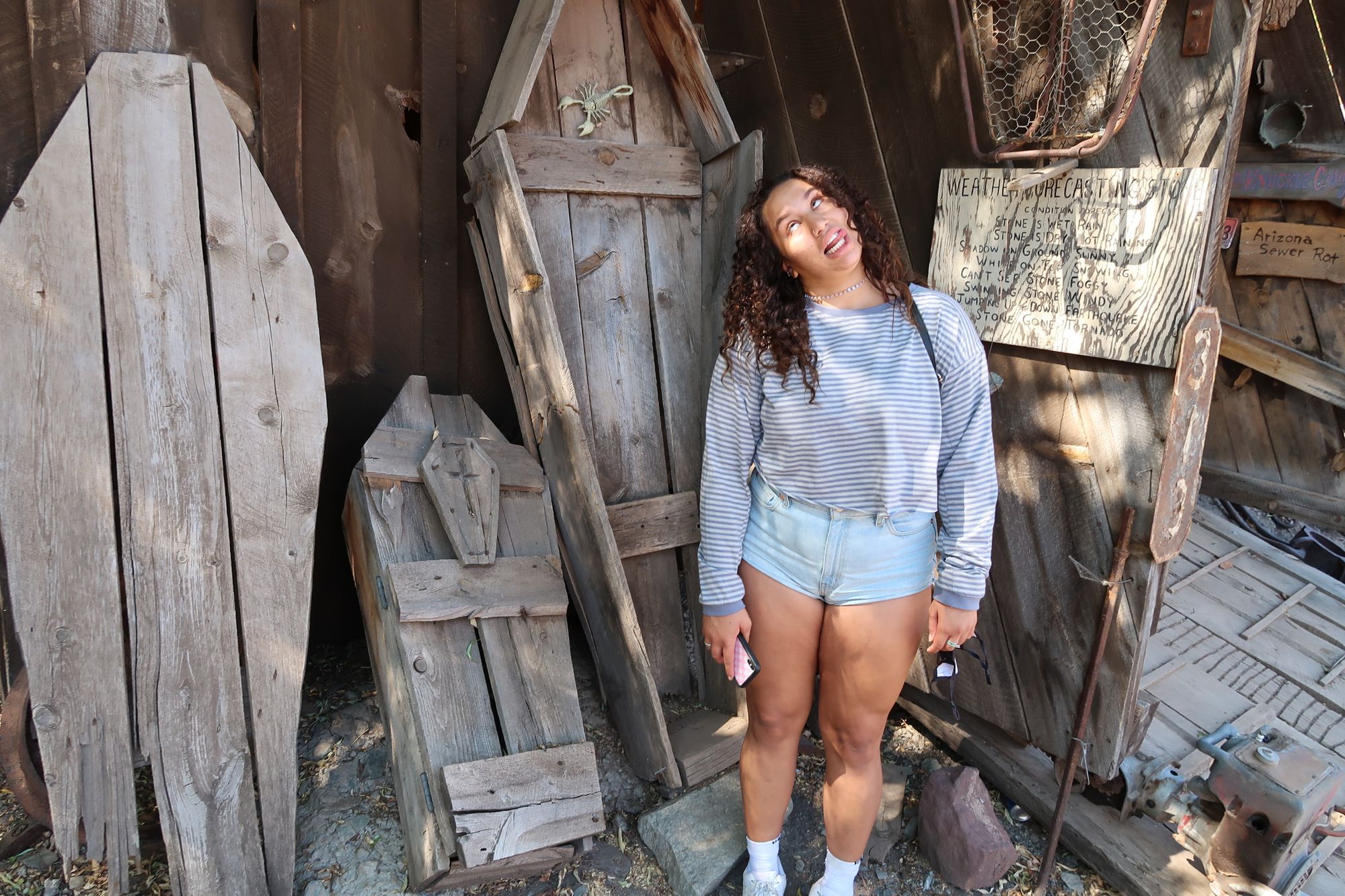 It is important to note that Gold King Mine & Ghost Town won't let you take photos/videos for 'profit' without paying a photo fee.
---
Exploring Main Street in Jerome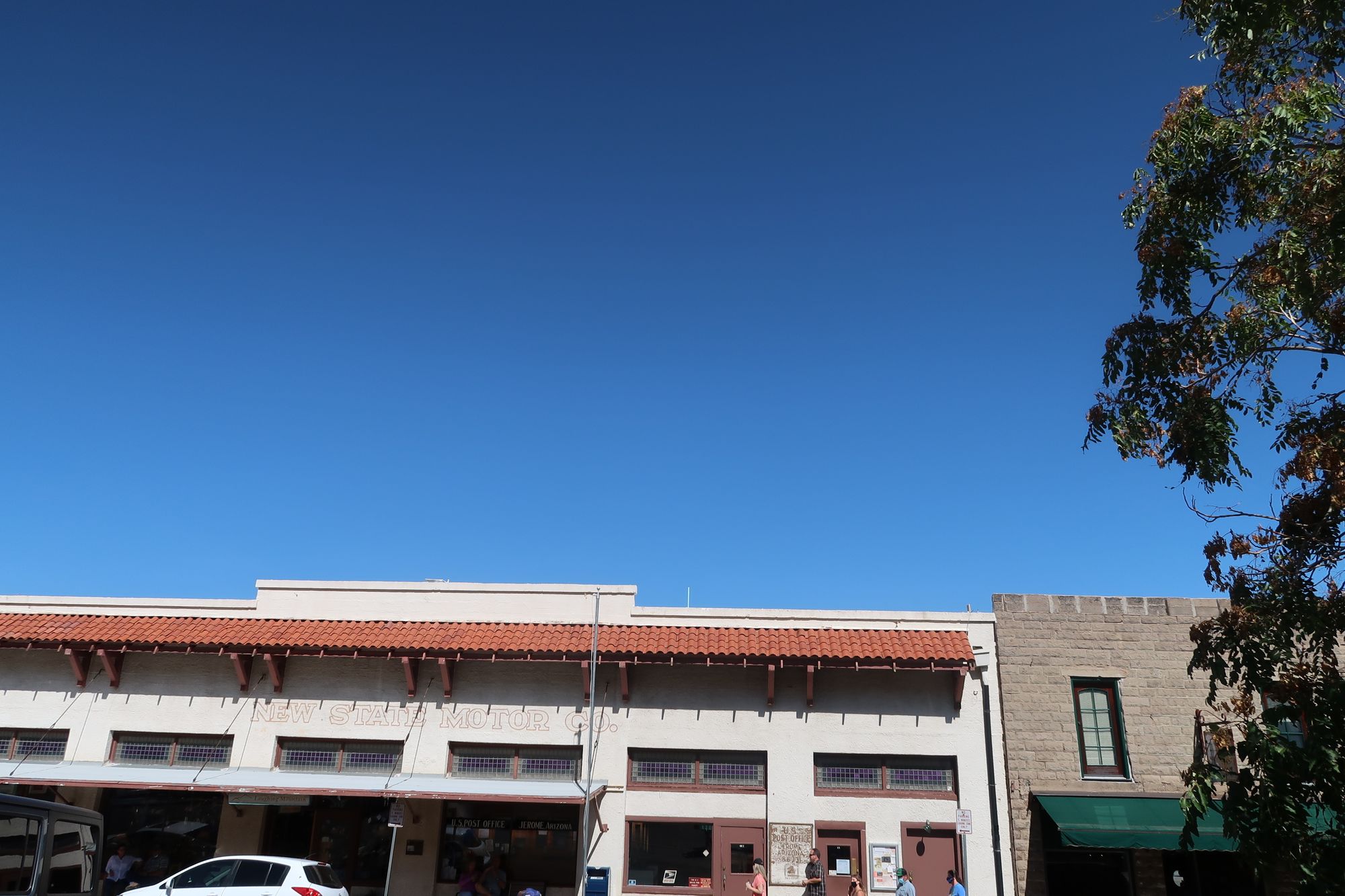 After our amazing time at Gold King Mine & Ghost Town, we headed into town to explore! We found free parking on the street near Main Street and Jerome Avenue. The first thing you notice in Jerome is the iconic storefronts combined with plaques everywhere teaching the history of the city. It really is a trip full of history. Jerome locals proudly will tell you the story of the city and why it didn't completely fall off the map in the 1950's.
The Spirit Room
On my list for my day of 'must-sees', The Spirit Room was on top! It is a ghost-y drinking lounge at the base of Hotel Connor. People claim to see ghosts and the hotel clerk keeps a personal book of all guest/ghost interactions. With COVID precautions, the Spirit Room isn't open for drinking at the moment. You can shop their haunted merchandise or grab a soda and water in the meantime.
If I visited during normal times, the experience would be described as 'old-timey, street-level tavern offering live music & a low-key vibe'.
Glassblowing Studio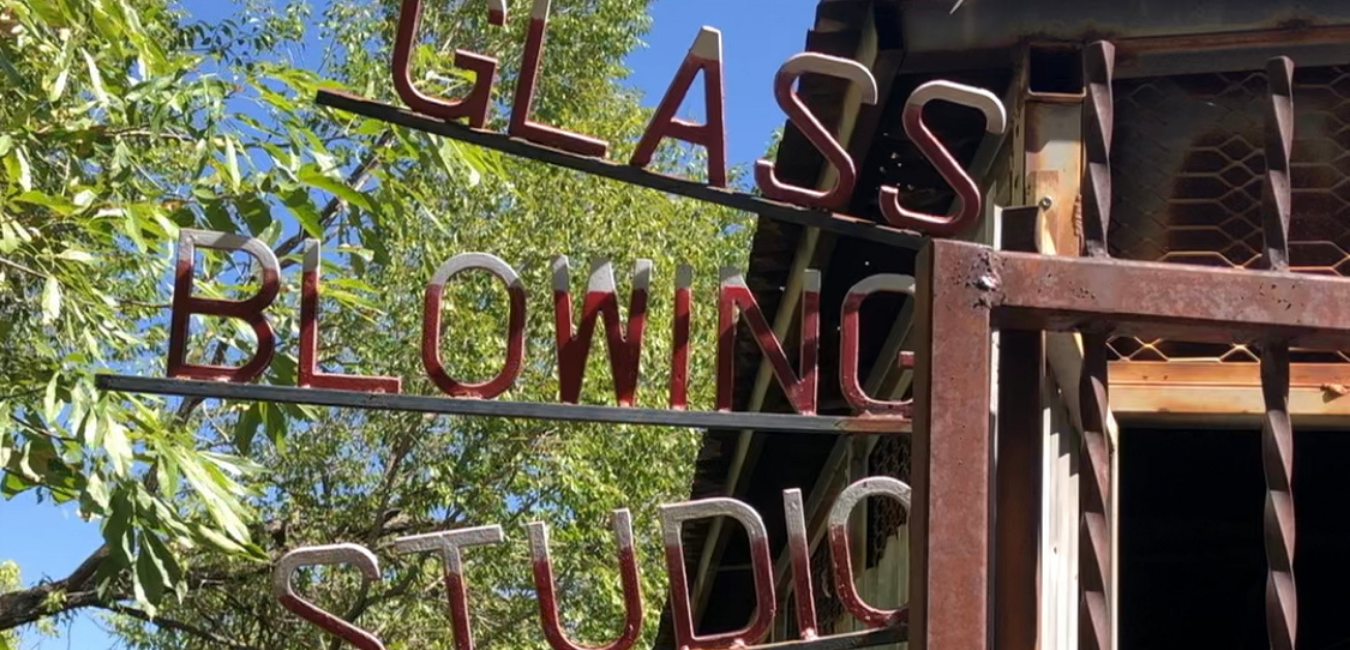 At the very base of the hilltop, Raku Gallery is home to an artist that creates glass blown objects that he shows off in demonstrations! It is really fascinating to talk with the artist about the NASA glass (I really don't know how to explain it, but I'll try). I call it NASA glass because after the artist is finished firing the glass, he pops it into this metal bucket with white fluffy looking stuff in. This white fluffy stuff is glass actually and instantly heats the glass to 2,000+ degrees. NASA uses it on the outside of space shuttles to protect from heat in space!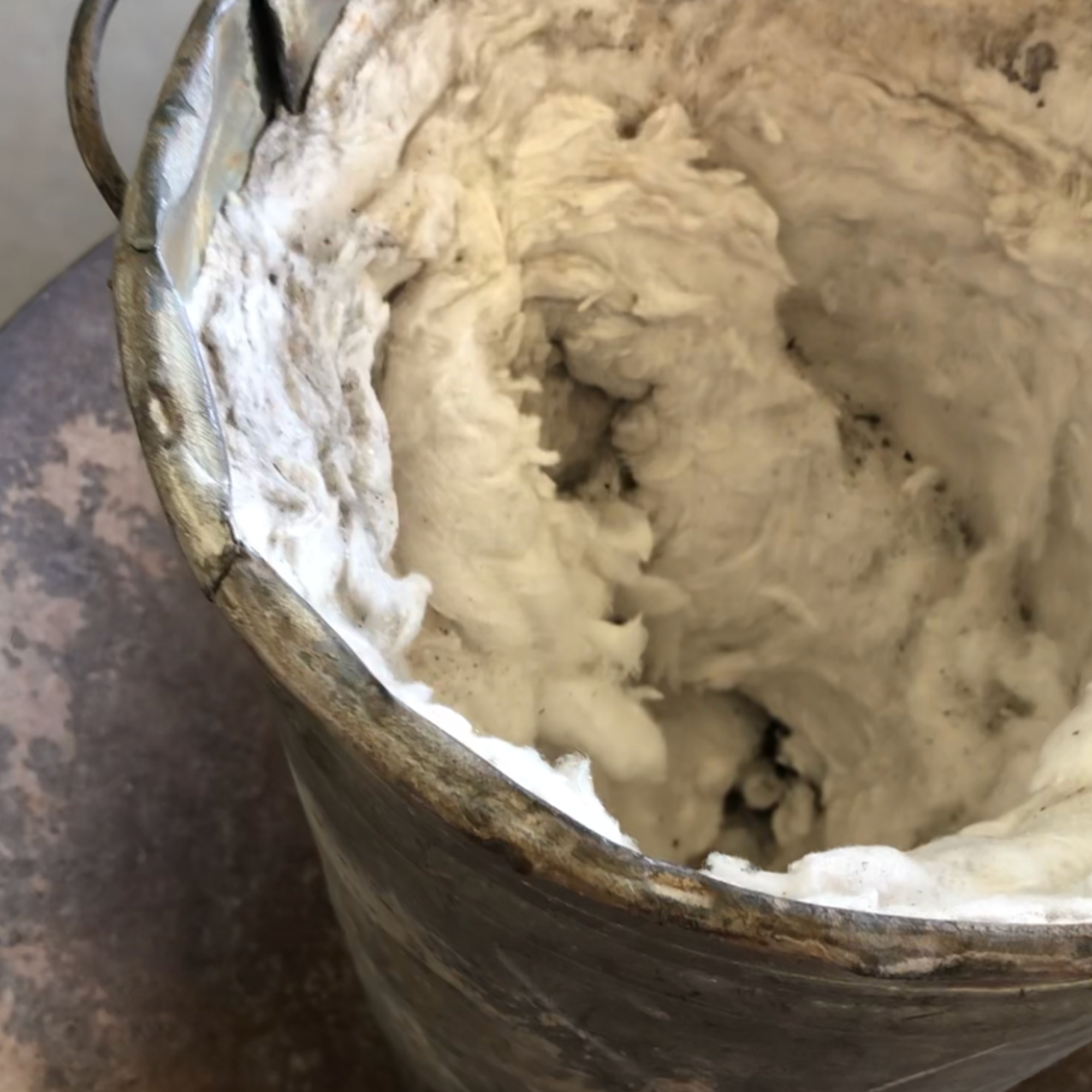 He was really neat but wouldn't tell me his name (haha). So if you have a chance to go and visit with him, it's well worth it and you'll learn something.
Kate's Books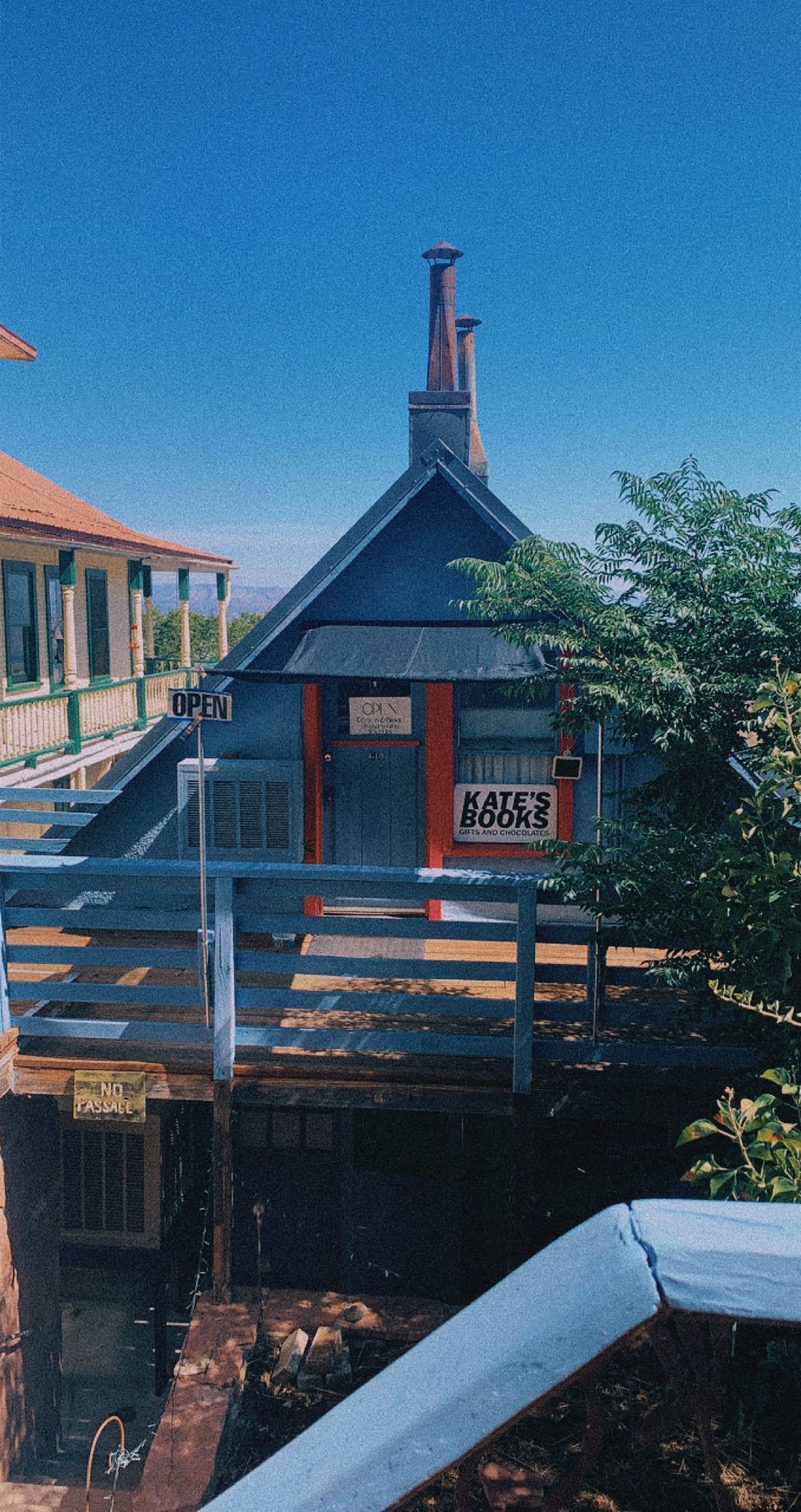 Right in the chaos of bustling tourists, you can climb the hill and find the cutest blue triangle book shop located in the attic called 'Kate's Books'. This was the highlight of my day to find. If the store wasn't charming enough, Kate the owner is one of the most interesting humans I have met. She hand makes jewelry, captures amazing photos of Jerome, and collects the best indie books out there. If you have a chance to speak to her, I wouldn't pass it up.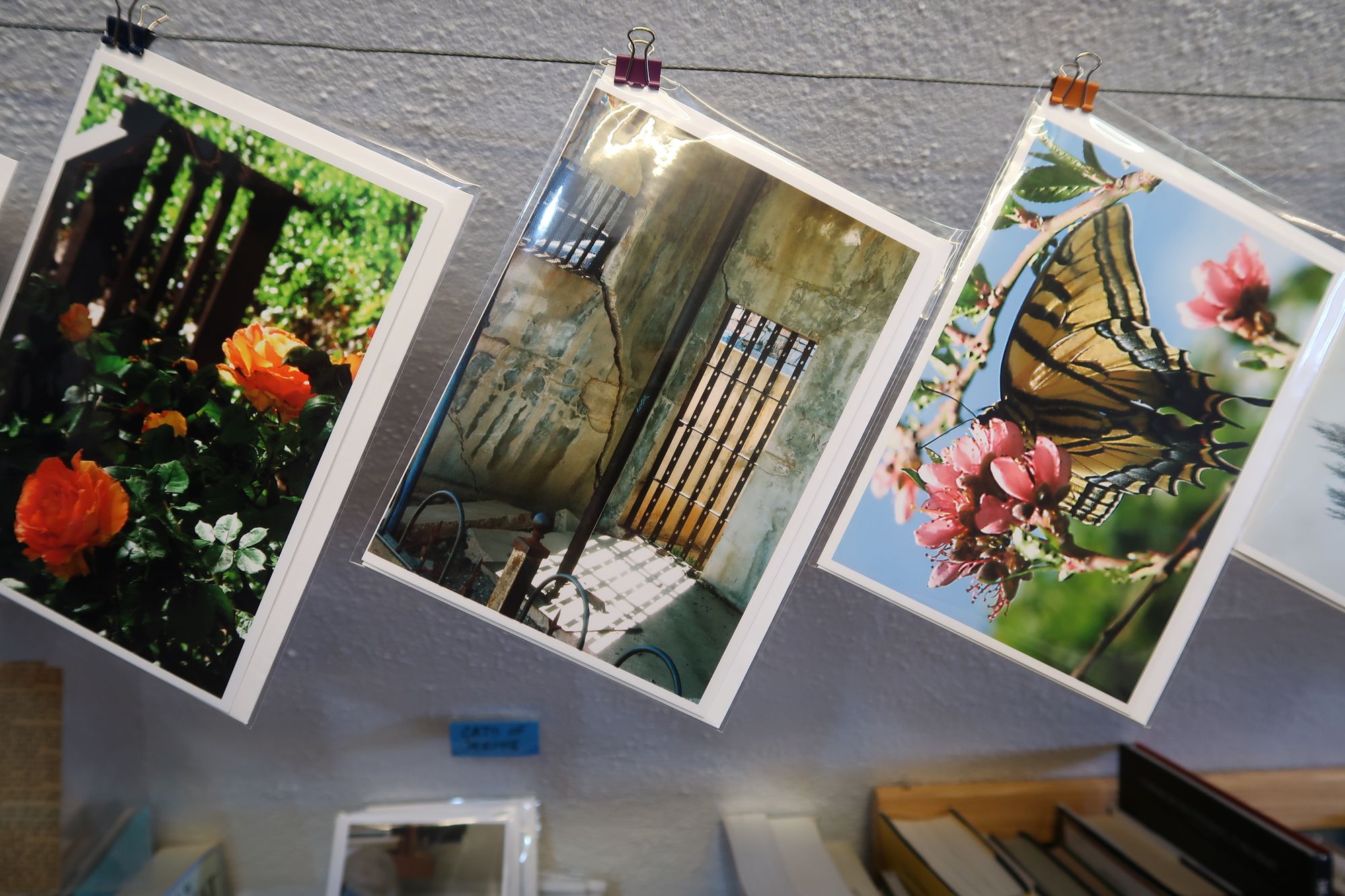 My favorite conversation we had together was her showing me the photos of the Sliding Jail and teaching me the significance of it. In the late 1930's, a huge charge of dynamite was set off and it caused a MASSIVE shift in the land. There are tunnels all over these hills from mining and the tunnels started collapsing causing the entire side of the mountain to slide and fall. It is named the Sliding Jail for this reason! It slid into the road and eventually a bulldozer knocked it to where it is today.
Go visit Kate and buy one of her vintage books by local authors, gourmet & diabetic-friendly chocolates, and other little gifts. Get off the main drag and experience the charm of Jerome's tiniest shop! If you see the sticker covered VMW right in front, you're in luck. You might even see the neighbor's white cat, Mr. Blue! He's very friendly and I had a great time playing with him for a minute.
---
Lunch in Jerome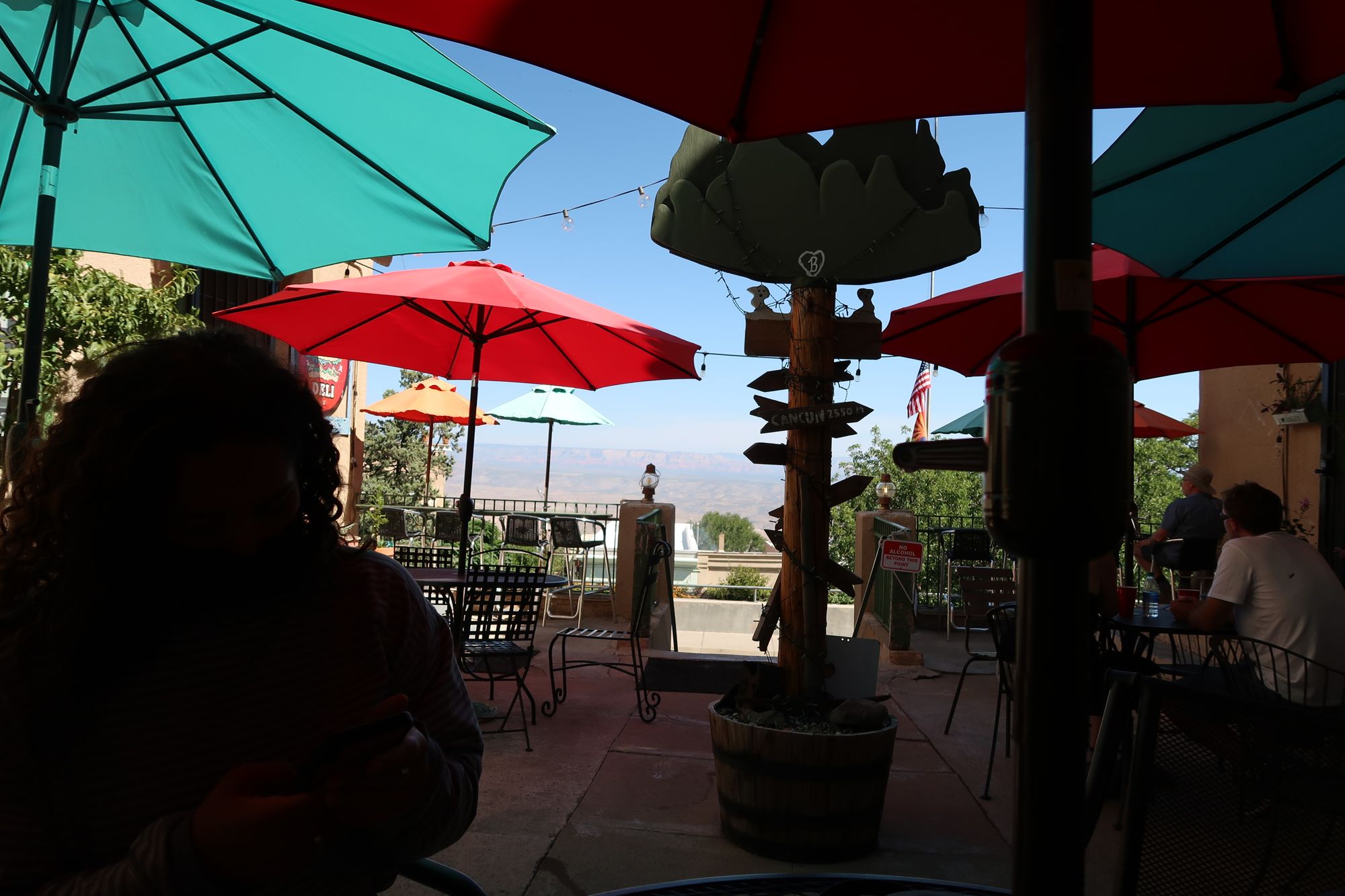 While we were window shopping at Hotel Connor's gift shop and lobby, we spoke with the clerk and asked her favorite place to eat lunch. I thought the famed 'Haunted Hamburger' would be a cool local spot, but it's apparently owned by the Haunted Restaurant Group making it a massive company. I like to support mom-n-pop restaurants over tourist traps.
The Hilltop Deli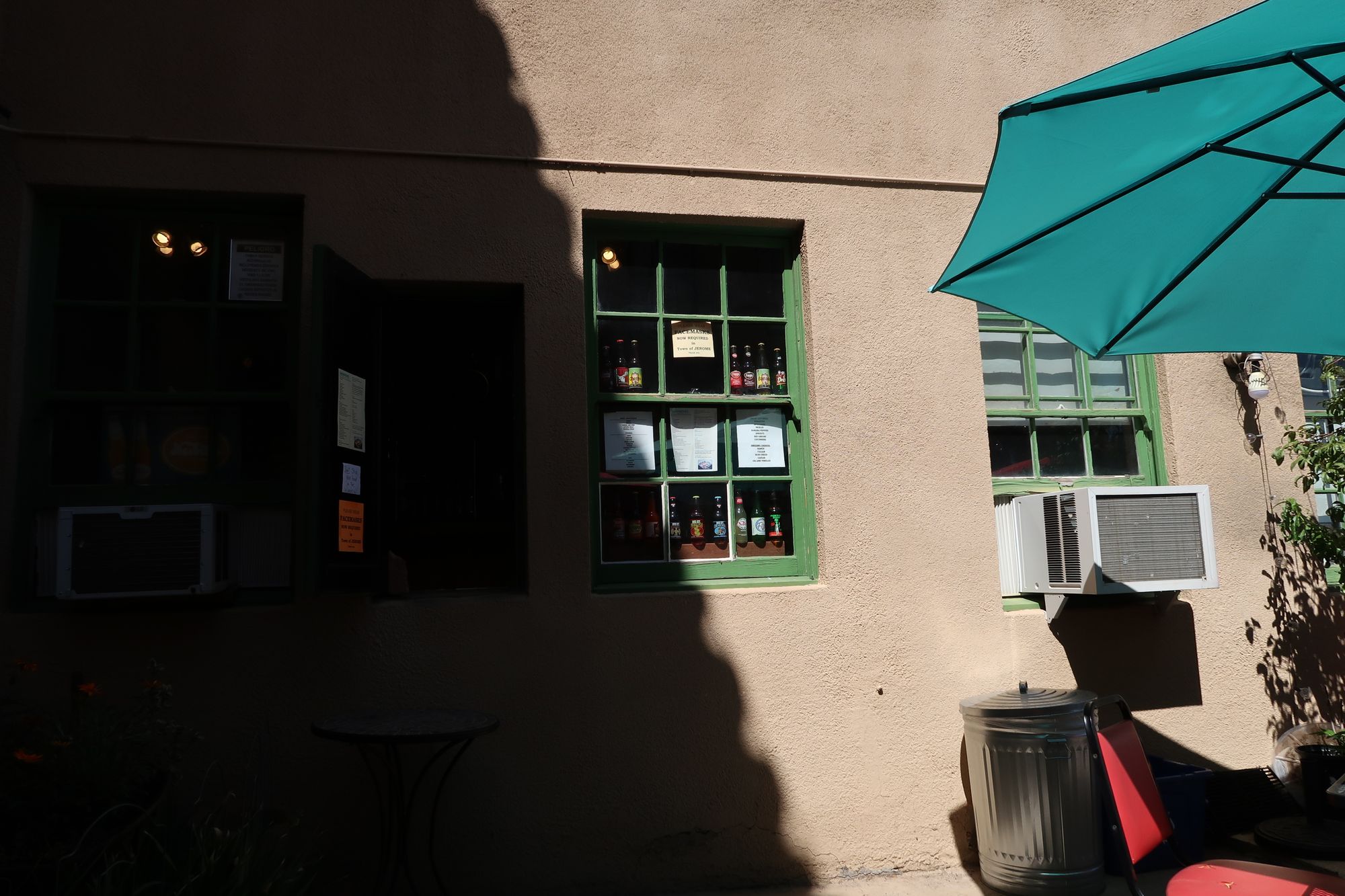 She said her favorite place to eat for lunch in Jerome is at Hilltop Deli. You can see the colorful umbrellas from main street! Hilltop Deli is a sandwich joint that carries local Arizona retailers chosen by the owner every week to guarantee the freshest and highest quality products. It is evident when you bite into your sandwich that the highest quality everything went into it. IT. WAS. SO. GOOD.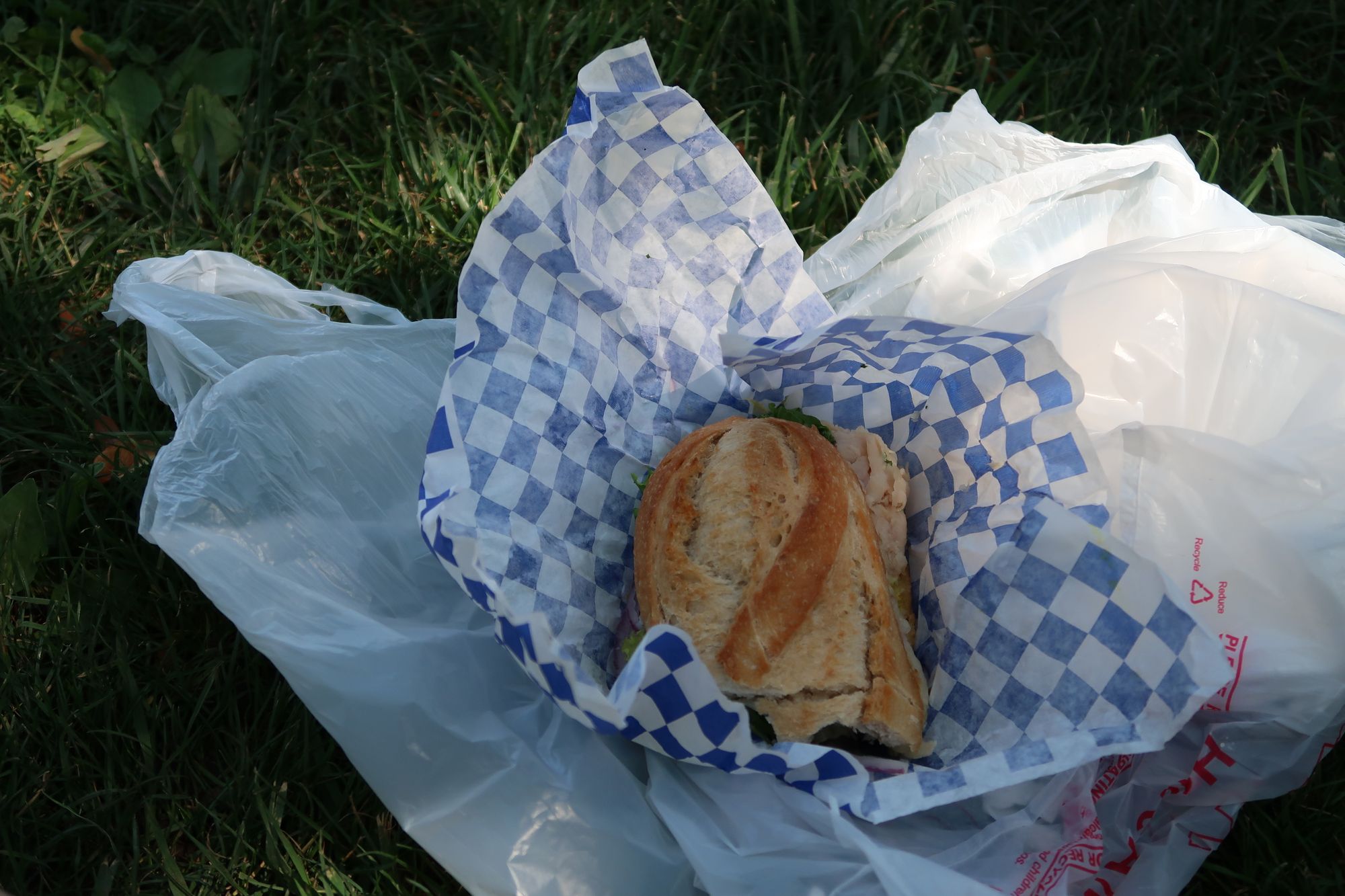 I ordered a 6in. turkey, bacon, and pepper-jack sandwich (the #27 if I remember correctly). It is the perfect size for a quick lunch. The sandwich is thick and packed full of all the toppings you requested. They finely chop up the bacon and turkey to make it super awesome and easy to eat.
Picnicking in Jerome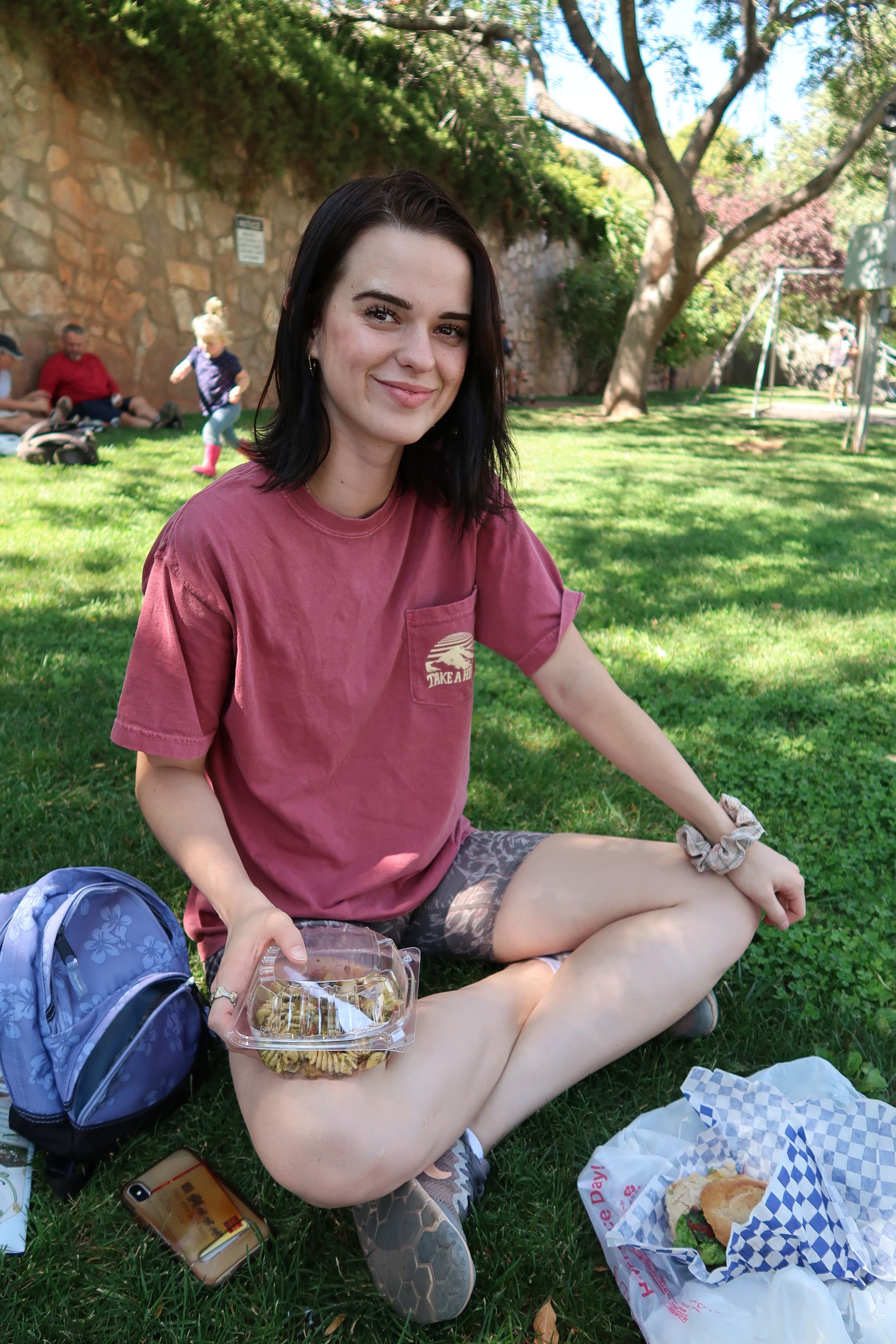 The best lunch spot to sit down and eat your sandwich or takeout is a picnic at 'The Middle Park' or 'Jerome Park' located in the center of town. A grass-filled playground with plenty of space for lots of families makes a fun place to pop a squat and eat. If you wanted a more formal 'seat', down the hill directly below is a stair-lined sitting area. It was popping and full of bikers when I was there. Here is the address of the Jerome Park: 201 Main St, Jerome, AZ 86331.
On the way back to the car, we hit Coppertown Coffee for a little iced latte moment. Not my favorite coffee shop ever, but it seemed to be the only one in town. They are known to have awesome ice cream so maybe grab a scoop instead!
---
I had the best time exploring Jerome with Gina and I hope you are inspired to go check it out for yourselves. As a wrap-up, here are my favorite places that you need to check out in Jerome:
You absolutely NEED to speak with locals and get to know the people behind this unique city. They do a history filled 'art walk' first Saturday of every month from 5 pm to 8 pm that you might want to check out!
Cheers to your next Wildjoy adventure! Make sure to tag @wildjoyexperiences or #thejoyclub so I can see your photos!!!
Lacy