If you're an adrenaline junkie, you're going to want to tune-in for this adventure. This weekend, the Wildjoy team and I headed up to the Verde Valley near Sedona to go do some off-roading. Off-roading is one of the best ways to experience Arizona, especially with the good weather and plenty of OHV trails. OHV stands for 'off-highway vehicle' and there is an entire system developed by national/state to protect the land while providing fun ways for people to get out there!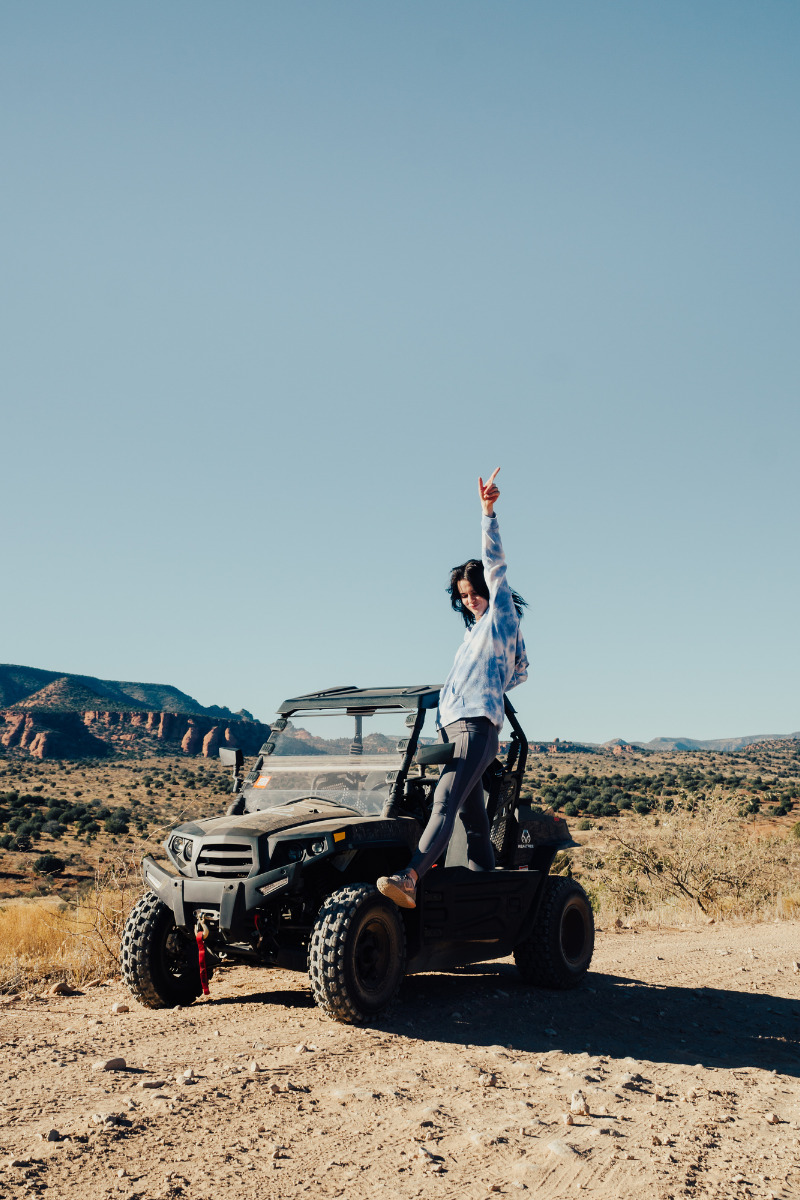 This trip's vibe is enjoying pre-winter in Sedona by taking our mini-bikes and UTV out on some trails with Bonyton Canyon in the distance. Surrounded by Red Rocks, it was bound to be a great time. In this blog, I am going to share with you my experience off-roading in Sedona using my new mini-bikes and UTV from Coleman Powersports.
About Sycamore Pass OHV Area:
This trail is compact red rock with some large boulders throughout the path. You'll pass through wash-like areas with fine sand.
A popular trail in this area is the Loy Canyon Trail at 9.8 miles passing the Palatki Ruins with Bonyton Canyon in the distance
If you don't make it to the Loy Canyon trail, there are plenty of other smaller trails like the Ranch Loop Trail. We wound-up doing this as the Palatki Ruins were closed.

Directions:
We went off-roading in between Sedona and Cottonwood at an area called Sycamore Canyon. It's also nicknamed 'Loy Butte' Road if you see it when you're researching the area. You can arrive at the forest road via the 89A highway. Make a left on Loy Butte Road and continue on it for about 3 miles until you see a pull-out on your left at Sycamore Pass Rd. About half a mile on Sycamore Canyon Road, there is a large dirt parking area for a truck and a trailer to unload your UTVs, ATVs, mini-bikes, or whatever it may be on the left! Pull in and park your equipment.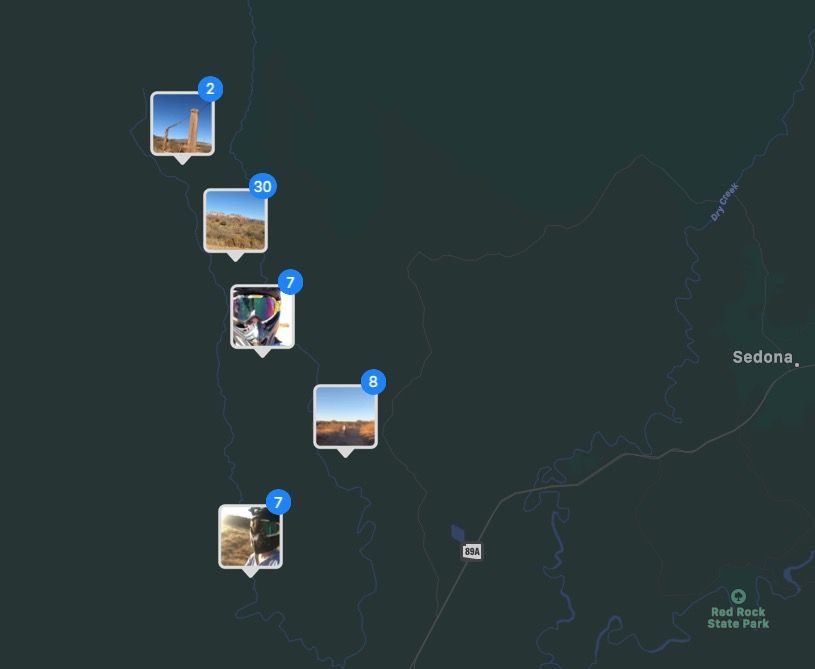 What to Bring:
For this trip, we packed two mini-bikes and one UTV from Coleman Powersports. We bought our mini-bikes at Walmart and the UTV at Tractor Supply. Their products are dependable, FUN, and easy-to-use especially for beginners like us. We fit the mini-bikes into the back of our black Ford F350 truck with a trailer in tow for the UTV. If you're trying this hobby for the first time, you can purchase a tow-hitch and/or rent a trailer from U-Haul.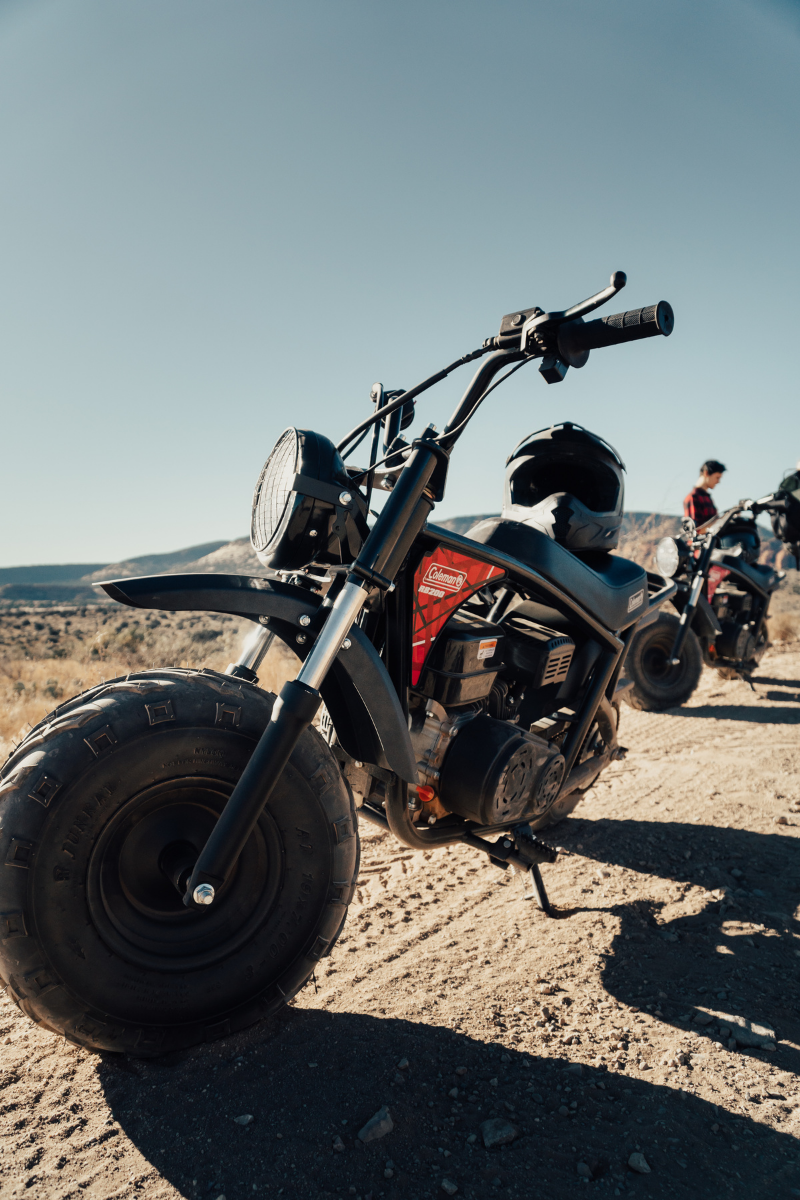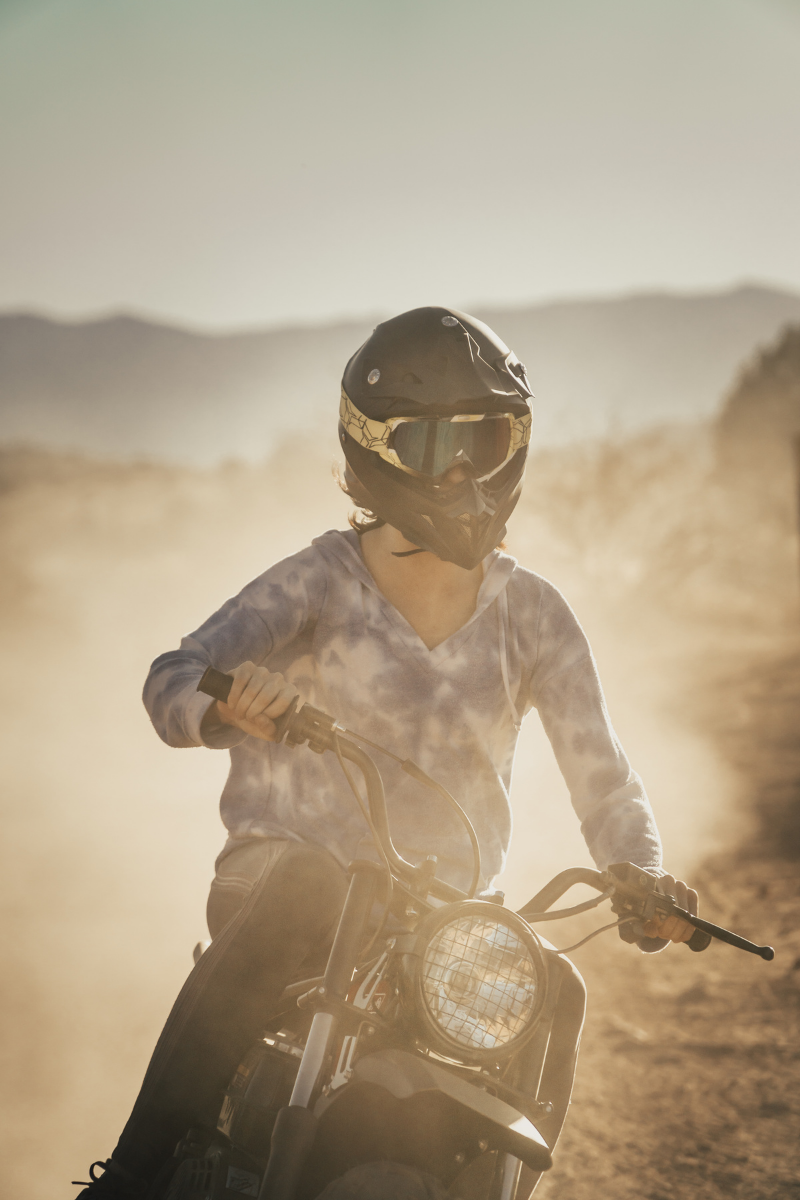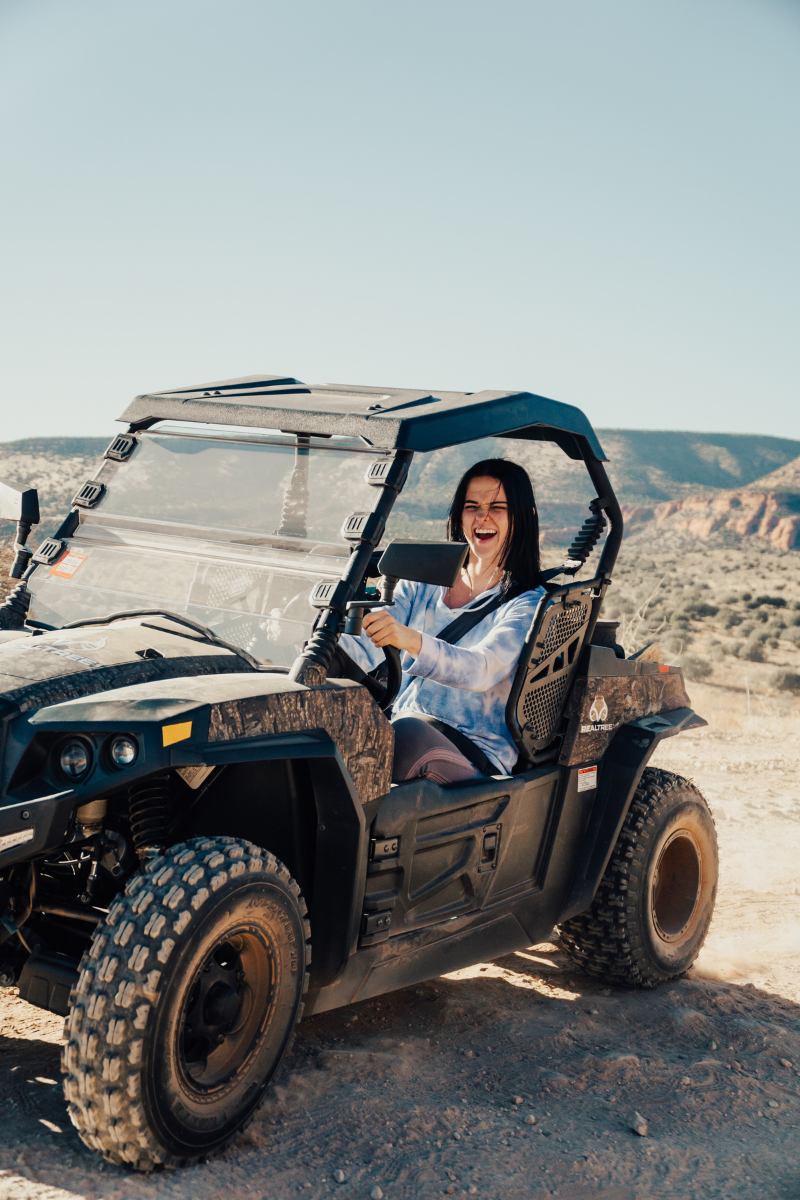 This is forest land so you are not required to purchase any passes to access the area. You'll notice lots of buses, trucks, and campsites set up in this area since it's free forest land. Make sure to leave the area better than you found it. It's important to stay on the trail and not make a small pivot into the non-trail.

Our Experience:
IT WAS SO FUN. I can't express how thrilling and healing it is to cruise on these roads surrounded by the gorgeous red rocks. You can see Bonyton Canyon in the distance which has a strong vortex that can be felt in this area. We started off riding on the main 525C road until we hit an abandoned shack with a gate. Inside the gate, there were some hunting trails and a pond with cows chilling around. It was straight out of a dream for me. We parked our mini-bikes on the side of the dirt road and walked around soaking it all in.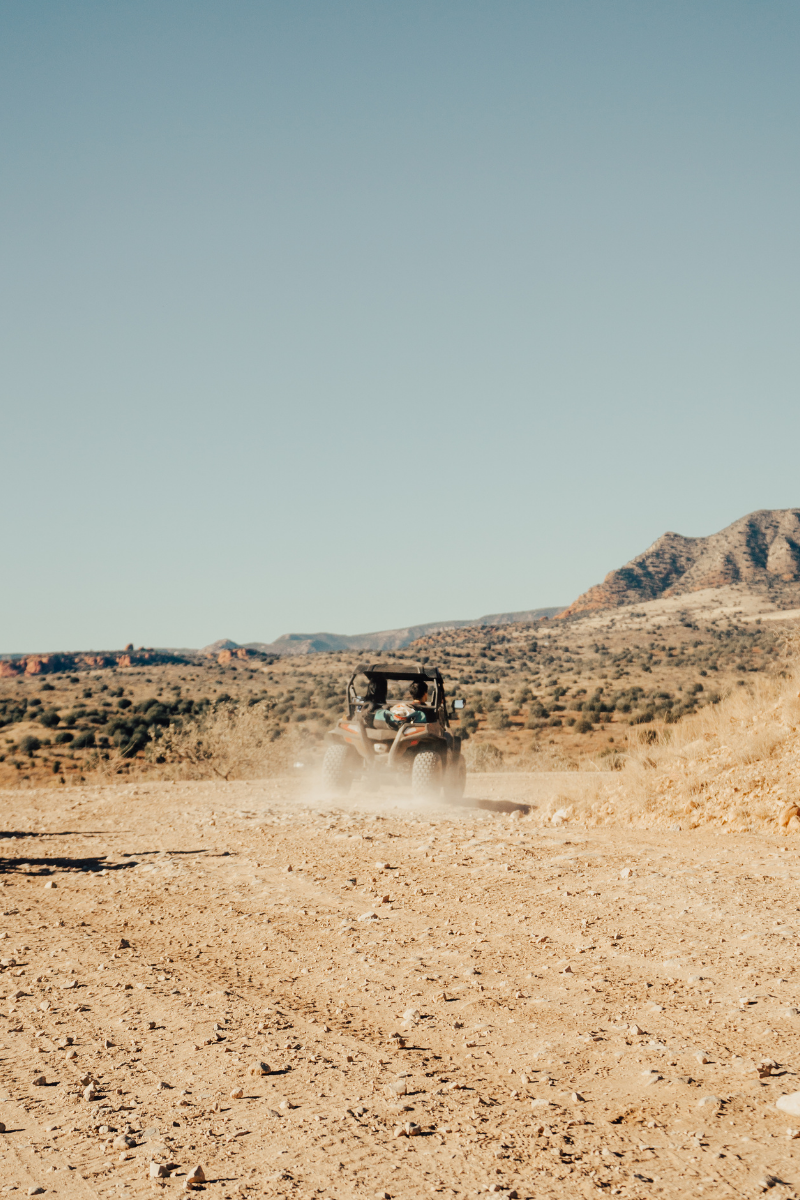 After three miles or so, we decided to turn around and head back to our truck to re-charge and switch out gear. Tanner and Kassidy, our friends, were driving the UTV and they seemed to be having a blast. Once we arrived back at the truck, Kassidy and I decided to take the two mini-bikes out for a spin on the Ranch Loop Trail. Immediately, the trail is WAY more bumpy and rocky than the last one we had driven. The mini-bikes were easy to maneuver through and we decided it would be a blast to go explore this trail with the full group.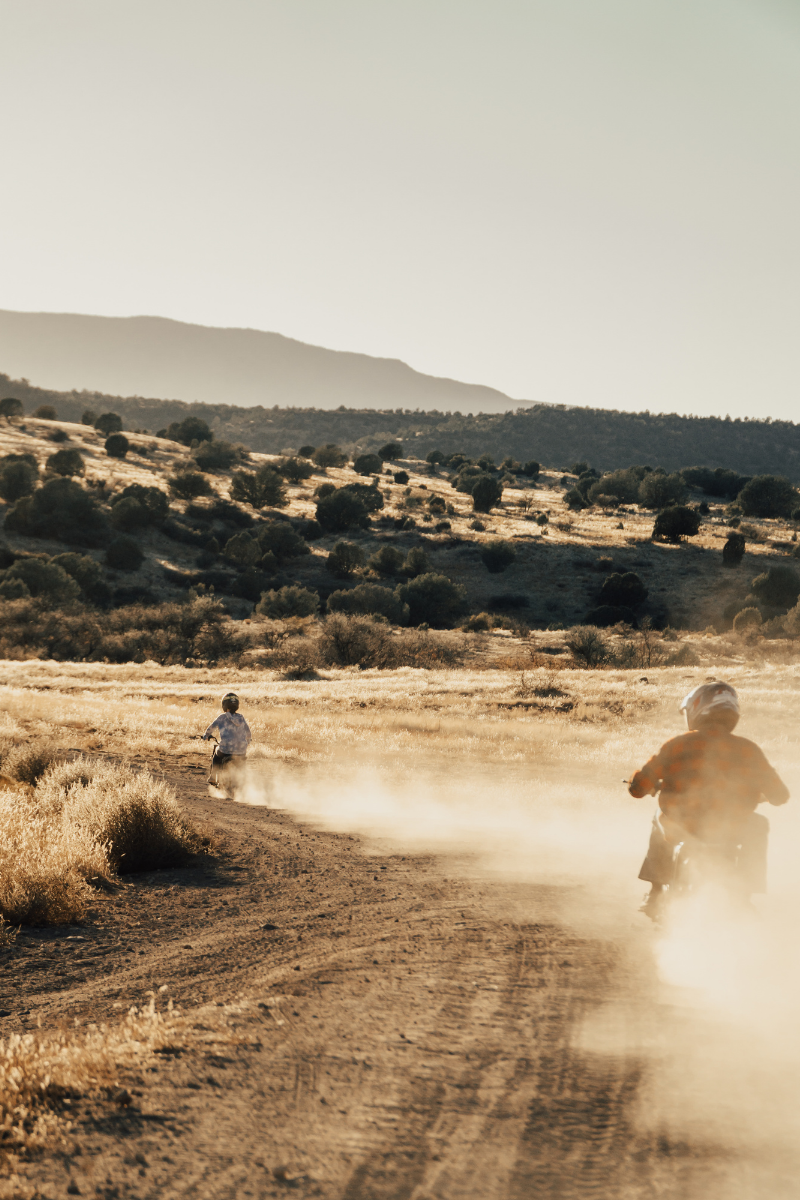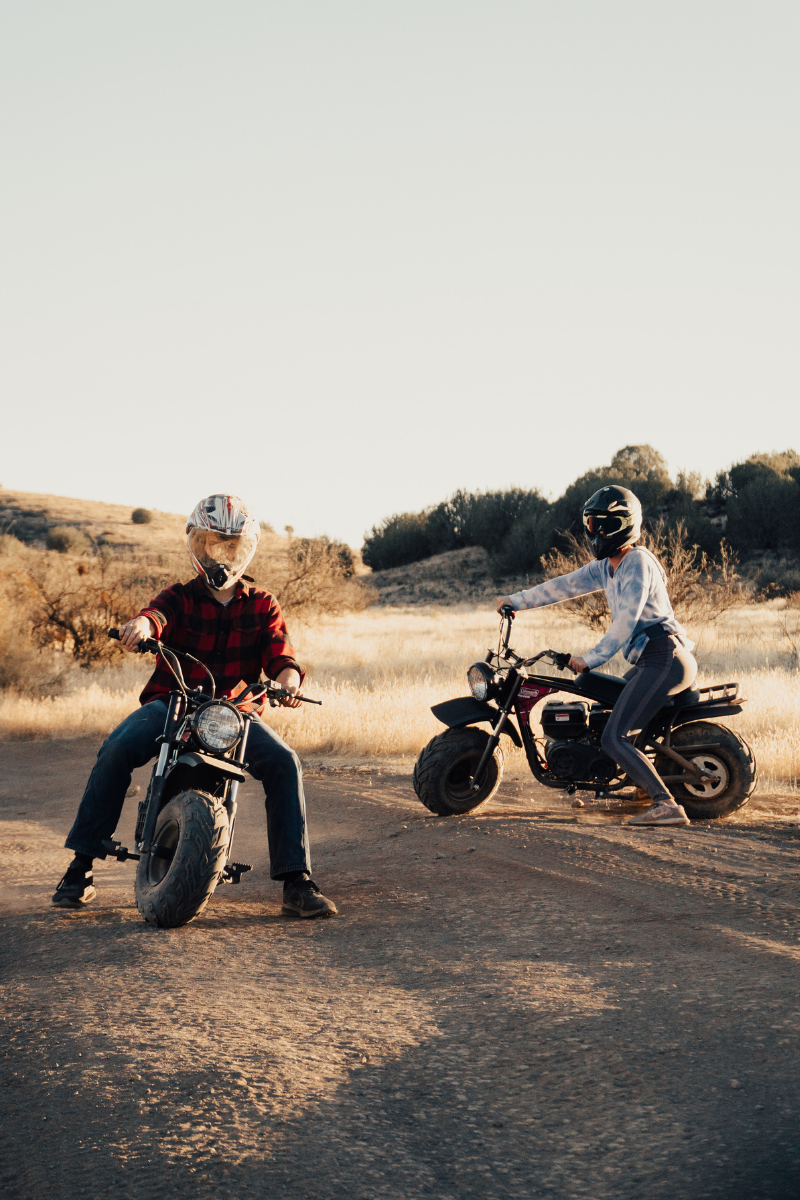 The Ranch Loop Trail is a 4-mile less-traveled OHV single-track trail that crosses over several seasonal springs. With two entrances connected to the 525C road and Loy Butte Road, it's easy to access and chances are you'll be the only one on the trail! If you don't make it to Ranch Loop Trail, you can view other off-roading trail maps in Sedona here.
It was so scenic and fun that I got a little crazy confident… As we zoomed down the trail, I took a big fall on my mini-bike as I went too fast over some rocks. I was so thankful I wore my helmet, long-sleeves, and pants as it shielded me from most of the road rash related injuries! The mini-bike was totally fine and I hopped back on after dusting off my pride. As sunset bounced over the red mountains ahead, it was magic. Best day I've had in a while.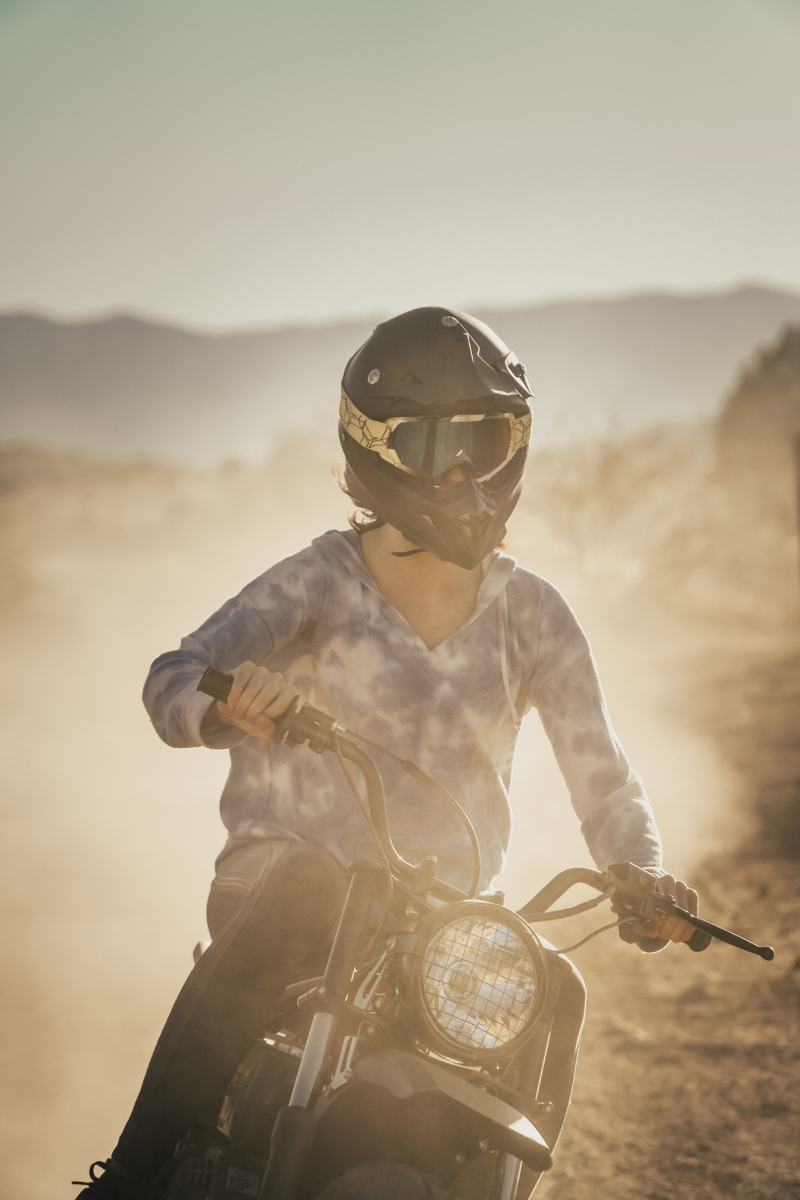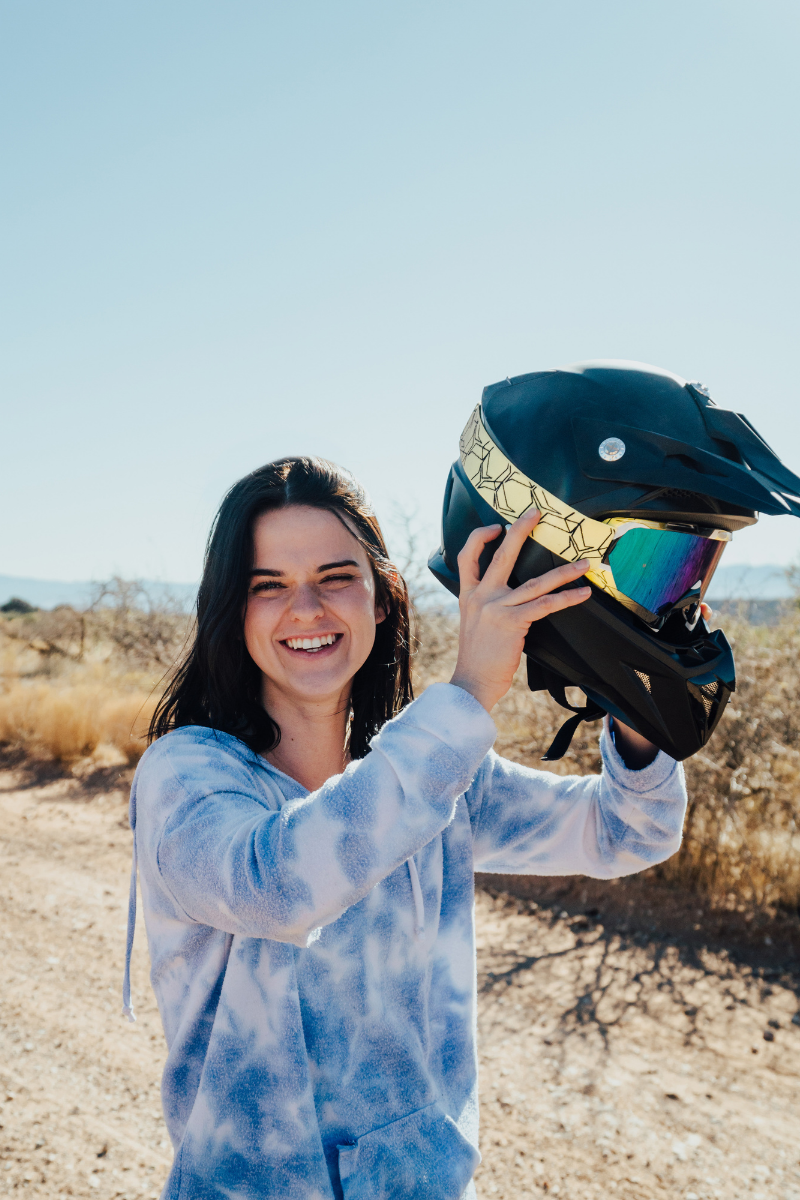 Packing up our stuff took about an hour as we had to 'ratchet-strap' the equipment to the trailer and the trunk. Tip: Tie your equipment down as tight as possible in the dirt. After you are done riding the rocky trail to get back to the main road, you should RE-TIE DOWN the equipment to make sure it doesn't move.
If you try out these off roading adventures, be sure to use #thejoyclub and #wildjoy and tag us @wildjoyexperiences so we can see your adventure!
xx - Lacy