'Tis the season for some scorching hot weather in Arizona! You're all probably trying to craft up some ways to stay cool this summer, so we went ahead and put together a list of our 10 favorite swimming holes up near Payson and Sedona! These swimming holes are perfect for the summer time because they let you briefly escape the 120 degree weather in Phoenix, while exploring some of the most beautiful landscapes that Arizona has!
What to pack: a swim suit, a plastic bag for phone, sunglasses, sunscreen, extra water, snacks, towels, watershoes, a hat, a speaker
P.S. Some of these spots don't have a specific address so plug the coordinates into maps on your phone!
---
1. Midgely Bridge
Midgely Bridge is a very popular spot for locals to take a dip in the summer, so arrive early to ensure you get a parking spot! Here you'll find beautiful clear water and rocks along the creek. This spot is perfect for hanging out, so bring some towels and a speaker and be ready to get your tan on. There is even a natural waterslide at the creek! The water eventually rushes into a deep cove which makes for a great spot to swim.
To reach the creek, start at the trailhead for Huckaby Trail 161 underneath the bridge. This trail will take you to swimming hole and only takes about 15 to 20 minutes.
Address: N State Route 89A, Sedona, AZ 86336
Coordinates: 34.885017, -111.742656
Parking: park on the north side of Midgely Bridge, Red Rock Pass required ($5)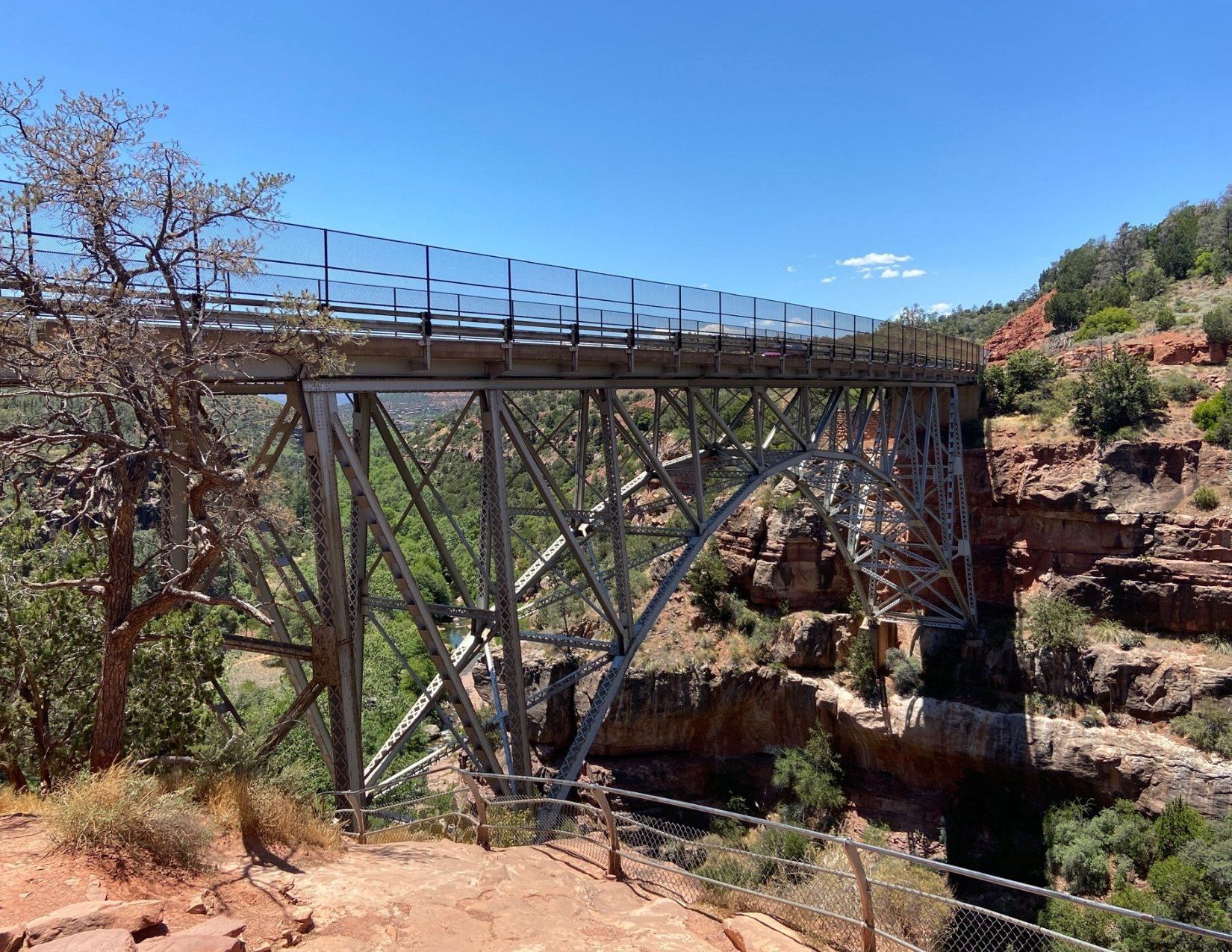 2. Red Rock Crossing
Red Rock Crossing is a scenic swimming hole that features a backdrop of the stunning Cathedral Rock right in Sedona! This swimming hole is great for wading in the water, relaxing on the rocks, and exploring the creek. At Red Rock Crossing, you can feel a strong vortex that is said to provide femine feelings of compassion and softness. This vortex is felt the strongest at the closest point to Cathedral Rock.
To reach Red Rock Crossing, take the .5 mile trail from the Crescent Moon Ranch parking lot.
Address: Crescent Moon Ranch Road, Sedona, AZ 86351
Coordinates: 34.825713, -111.807694
Parking: $11 or the Grand Annual Red Rock pass
Good to Know: Restrooms, picnic tables, and grills are available.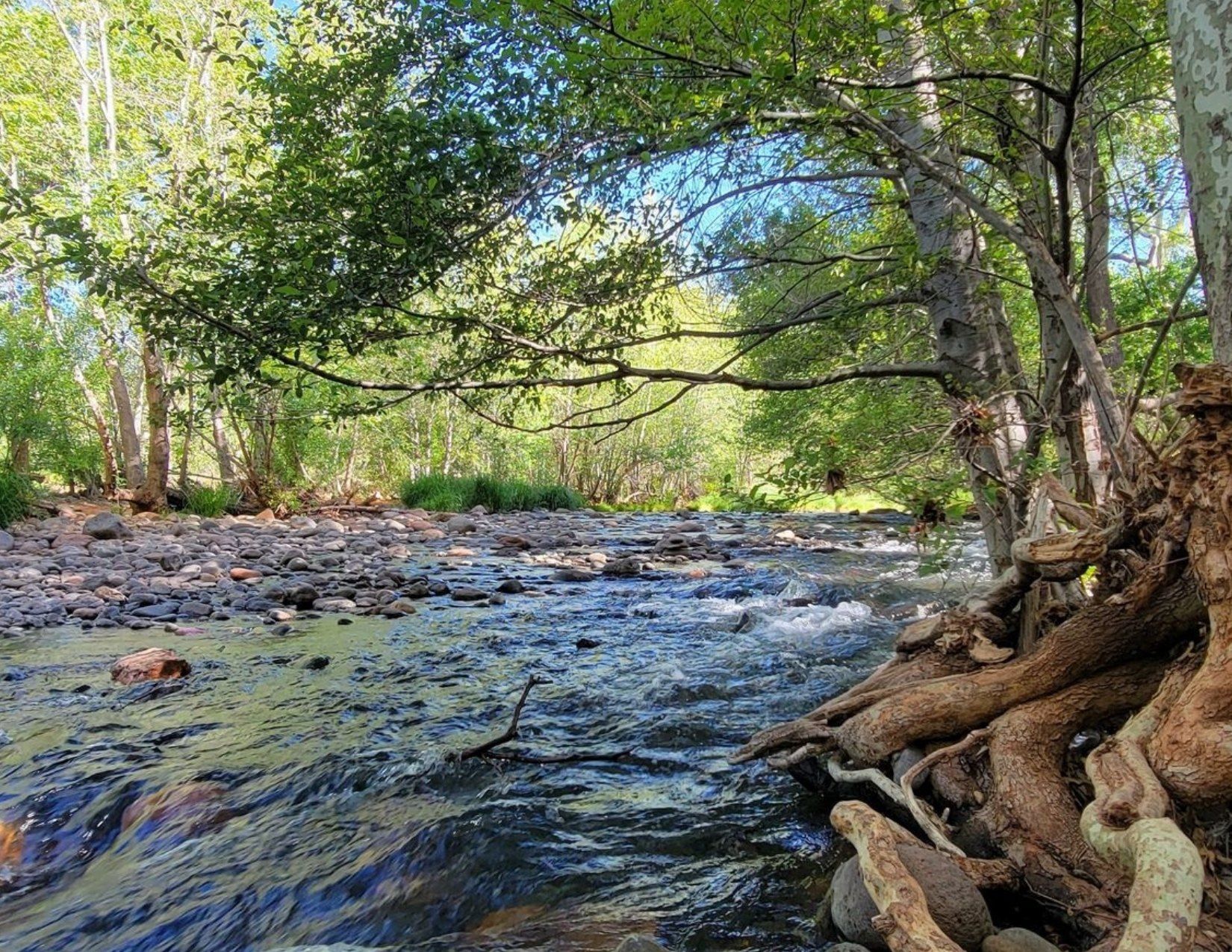 3. Buddha Beach
Buddha Beach a hidden gem located at Crescent Moon Ranch in Sedona. This swimming hole is perfect for the summer because you can walk up and down the creek, tan on the red rocks, and even jump off of some small cliffs! As you explore Buddha Beach, you'll see many piles of balancing stones, called cairns. These structures make Buddha Beach stand out from other swimming holes because there are so many of them and they give off a zen-like vibe!
To find Buddha Beach, park in the parking lot near the end of Chavez Ranch Road. Arrive early in the day to ensure you get a spot! From the parking lot, head south down Chavez Ranch Road for about 3 minutes until you reach a sign that says "Stop, No Entry". At this point you are probably considering turning around, but take a left and this path will lead you to Oak Creek. Once you reach Oak Creek, take a right and continue walking along the creek. Soon you'll come upon a clearing that has a rocky beach and a picnic table, but Buddha Beach is a little bit further down the path! You'll know that you've gone too far if you've hiked more than .5 miles from your car.
Address: Chavez Ranch Rd, Sedona, AZ 86336
Coordinates: 34.823690, -111.797185
Parking: Red Rock Pass required or pay $9 at Crescent Moon Ranch
Good to Know: Picnic tables are available.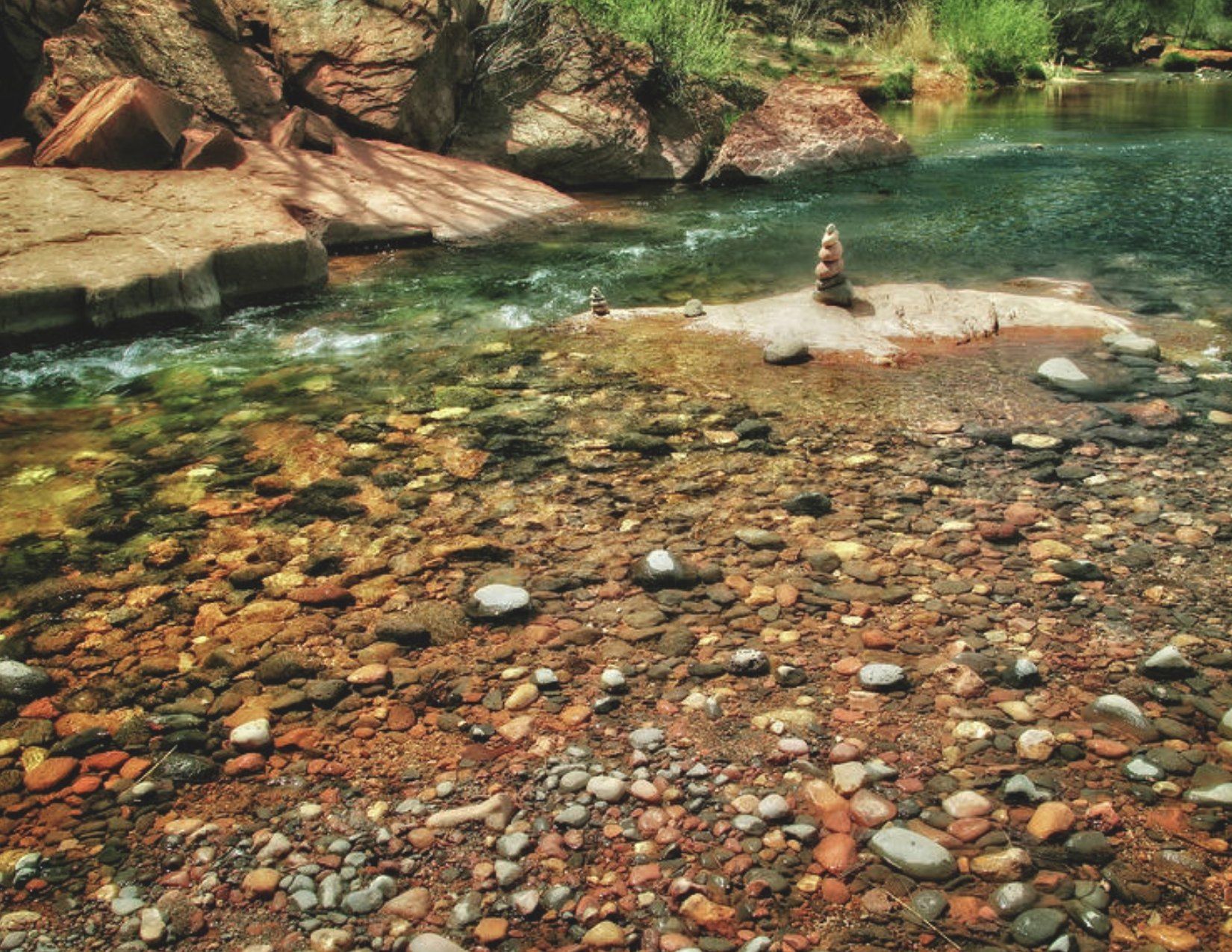 4. Grasshopper Point
Grasshopper Point is a huge swimming hole at the base of Oak Creek Canyon in Sedona that is perfect for cliff jumpers and picknickers! The depth of the water varies which makes this also a great spot for just wading in the water. This swimming hole offers shade and is also good for fishing and watching wildlife.
To reach Grasshopper Point, take the Allen's Bend trail from the parking lot. This will eventually connect you to the Huckaby Trail and Casner Canuon Trail. This is a 1 mile, round trip hike.
Address: Hwy 89A Oak Creek Canyon, Sedona 86431
Coordinates: 34.887045, -111.730906
Parking: $9 per car, $2 per bike. Grand Annual Red Rock Pass accepted
Good to Know: Restrooms and picnic tables available. Dogs are not allowed.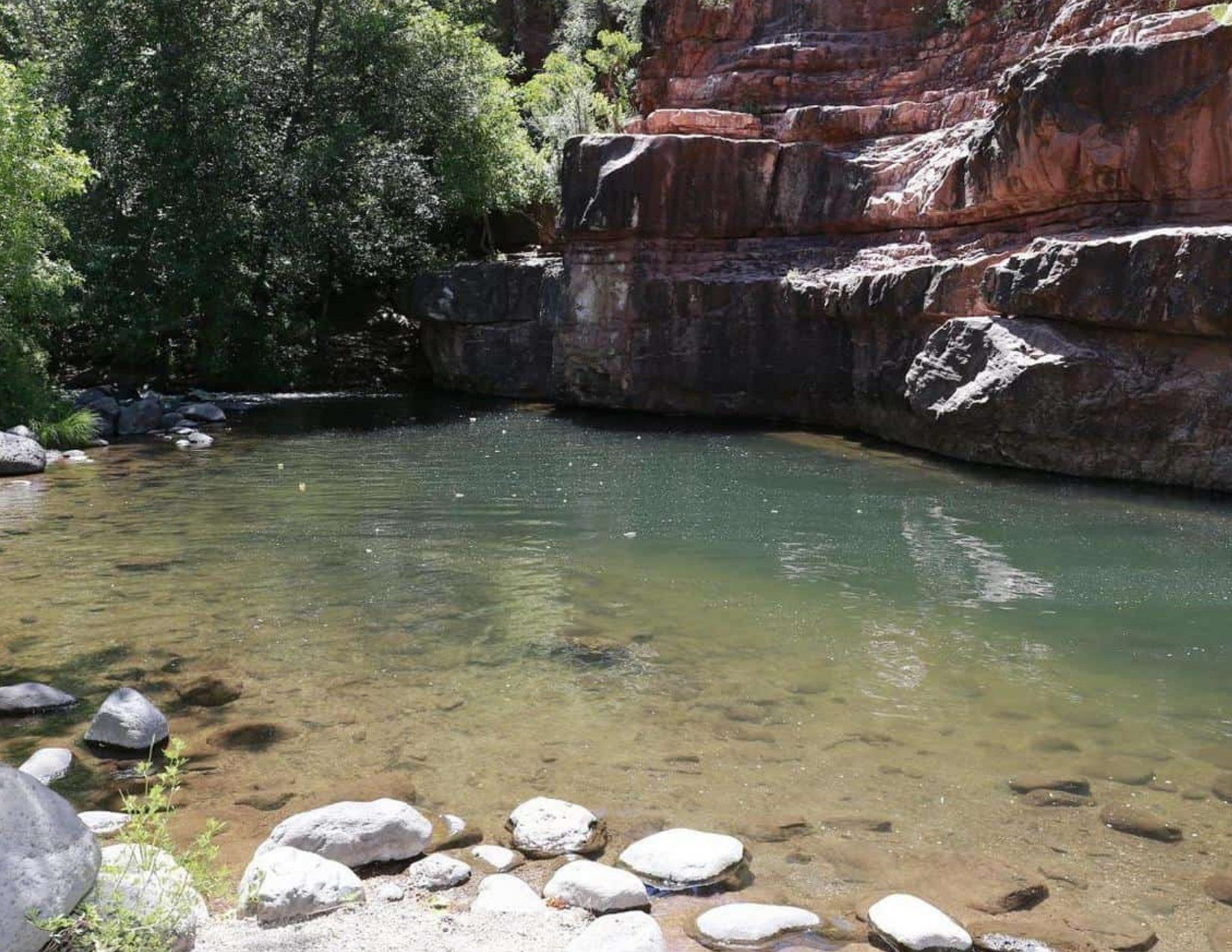 5. Encinoso on Oak Creek
Encinoso on Oak Creek is a more reserved swimming hole near Sedona that is downstream from Slide Rock State Park. Here you'll find a few cliffs to jump from and a quiet spot to wade in the water. This spot is very serene as you'll be engulfed by the lushous green trees and red rocks.
To reach this swimming hole, head past the signs in the parking lot and follow the rocks that lead to the stream. You'll need to do some small bouldering to reach the creek!
Address: SR-89A, Sedona, AZ 86336
Coordinates: 34.925572, -111.735435
Parking: You'll need to obtain a Red Rock Pass or the America the Beautiful pass to park along the creek.
Good to Know: Restrooms, picnic tables, and grills are available. Dogs allowed.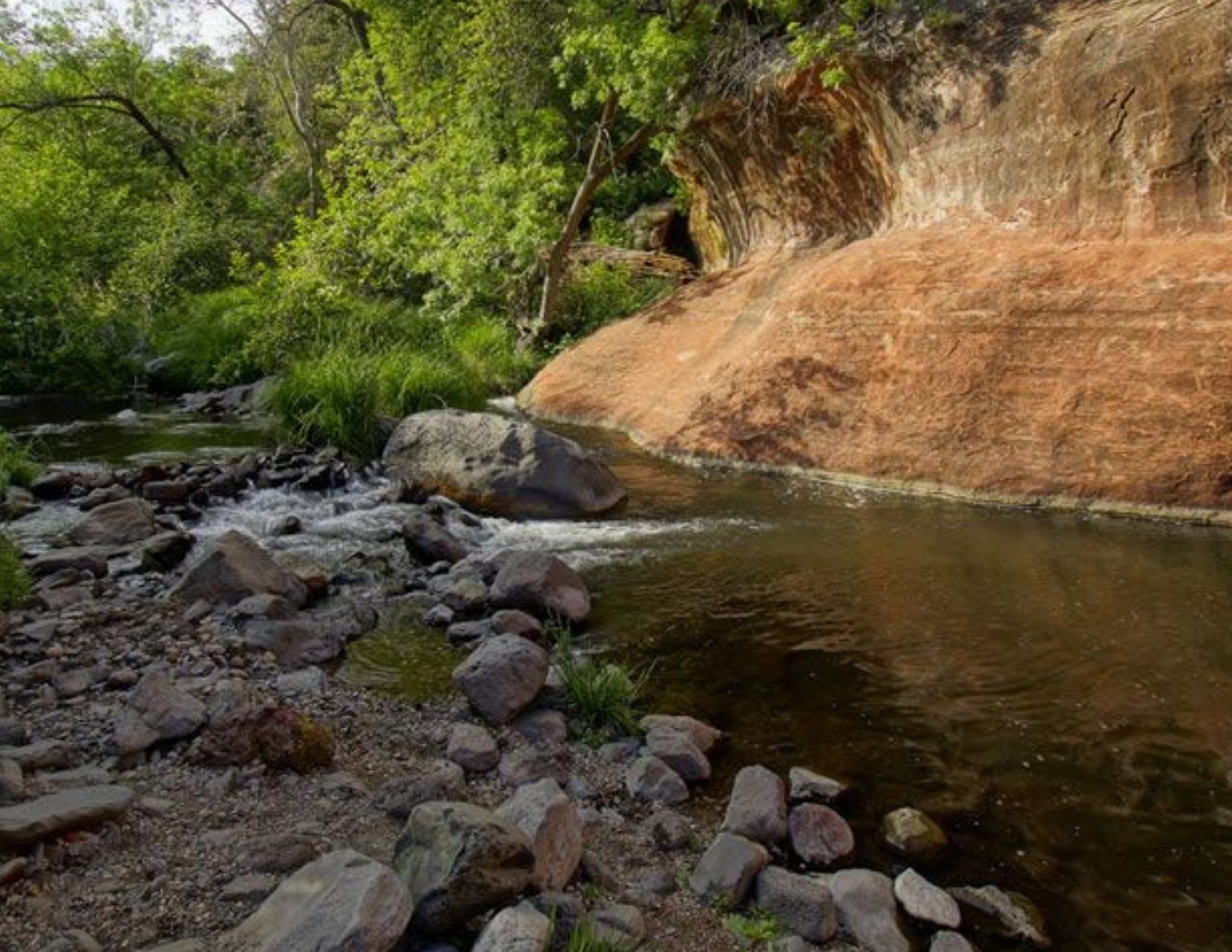 6. Slide Rock State Park
Slide Rock State Park is a must-see classic! Everyone and their mothers will most likely be heading to Slide Rock State Park the same day you decide to go, so leave extra early and get there when the park opens to ensure you get in. Once the parking lot is full, the park rangers won't let anyone wait on the side of the road so you must continue on driving. However, if this happens to you, continue driving north (upstream) and you can find other areas where you can park and explore the creek! There will be designated parking for these little spots where you will need to display a Red Rock Pass.
Address: 6871 N Highway 89A, Sedona, AZ 86336
Coordinates: 34.943868, -111.753584
Parking: $20 memorial day weekend -> labor day weekend, $10 the rest of the year, $3 for bikes/ individual
Good to Know: Restrooms are available, there is a souvenir store, and no dogs are allowed.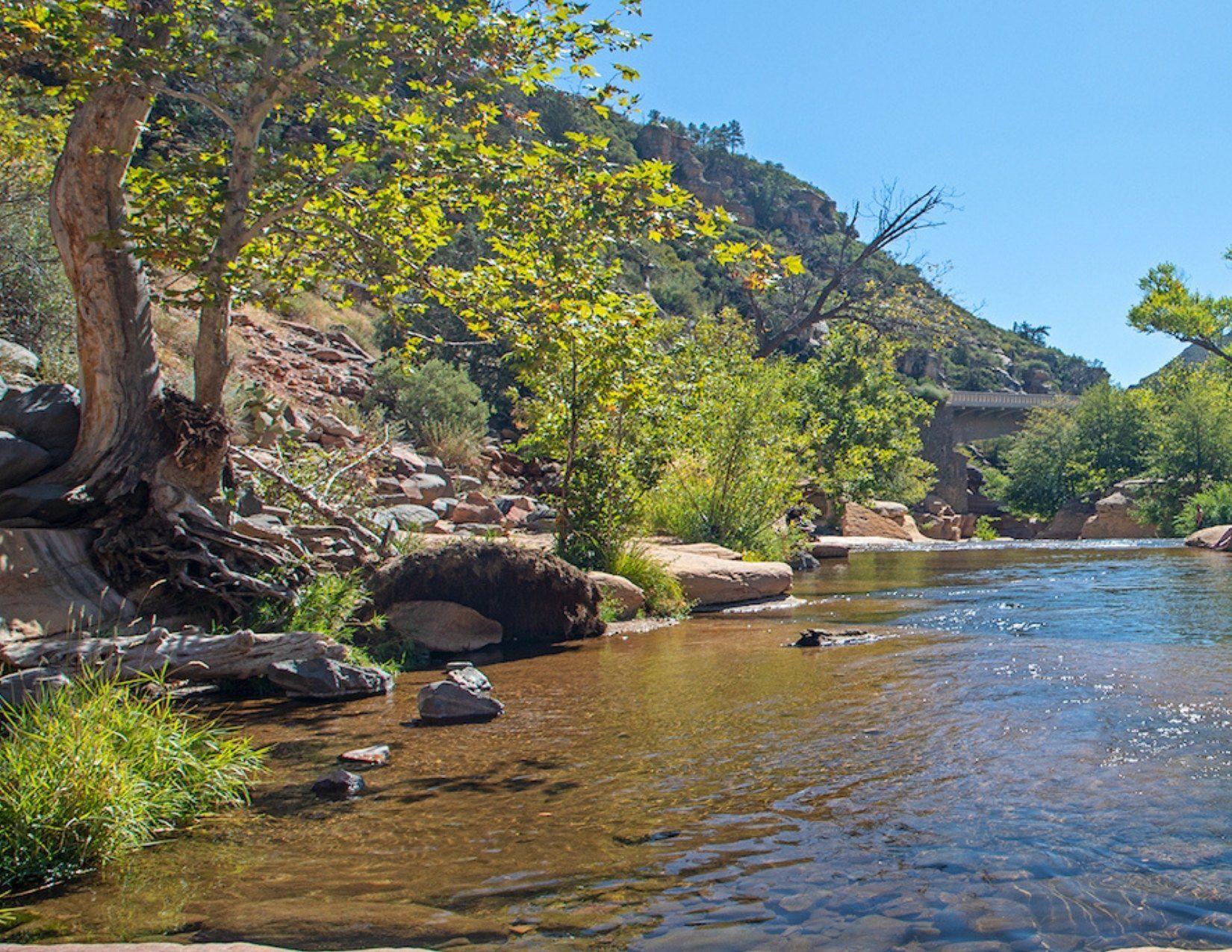 7. The Crack at Wet Beaver Creek
The Crack at Wet Beaver Creek offers a serene swimming hole with perfect cliff jumping conditions! The Crack is about a 45 minute drive from Sedona. The hike to The Crack is 3.5 miles long (7 miles total) and exposed in the sun with little to no shade. This hike is relatively flat and doesn't offer many views of the surrounding area, so feel free to splash your way down the creek to The Crack to make it more fun!
To reach The Crack, take the Bell Trail from either the main or overflow parking lot. There will be two points on the way to The Crack where you will reach a fork in the path. At both instances, keep left. The swimming hole is soon after the second fork!
Address: Forest Service Road 618A, Rimrock AZ 86335
Coordinates: 34.674304, -111.713479
Parking: no fee or permit required to park,
Good to Know: Pit toilets are available at the trailhead and dogs are allowed.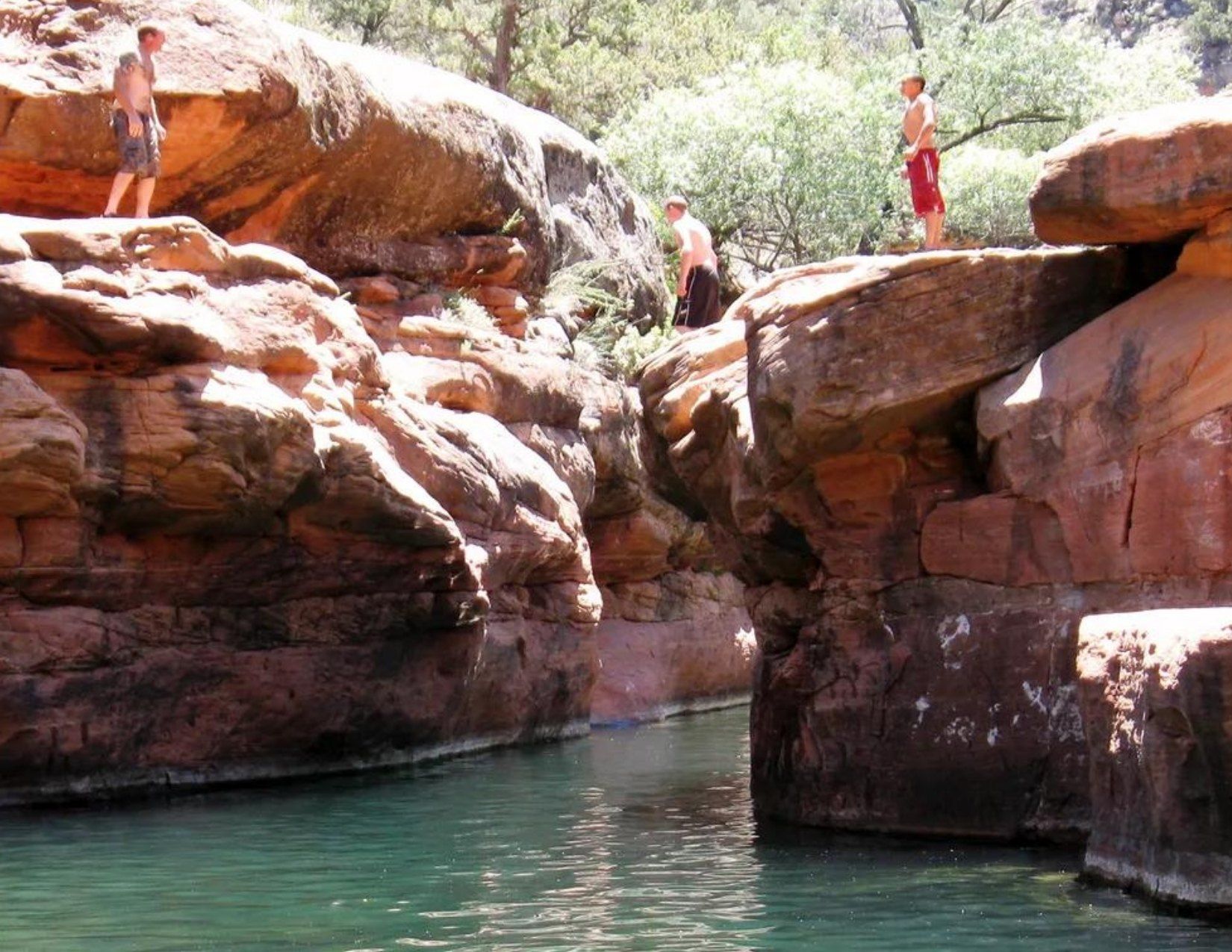 8. Bull Pen at West Clear Creek
Bull Pen is another great spot about an hour from Sedona that offers a natural swimming hole, great cliff jumping and even a rope swing! The pools here range from 3 feet deep to about 10 feet deep, so you can choose between wading in the water and swimming like a fish! Bull Pen is also a great spot for a picnic or fishing.
To reach Bull Pen, you will come upon many forks in the path. After the first fork, go right. Soon after there will be a second fork, go left. The next fork will be accompanied by a low hanging branch, go left here. As you reach the fallen tree, continue on past it. You will eventually reach a clearing with another fork in the path accompanied by a small metal post, go right. Finally, you will descend down some rocks and will see your first view of the creek, you're nearly there! It should take about .6 miles to reach Bull Pen.
Address: Bull Pen Rd, Camp Verde, AZ
Coordinates: 34.540070, -111.704190
Parking: no fee or permit required to park
Good to Know: Restrooms are available and dogs are allowed.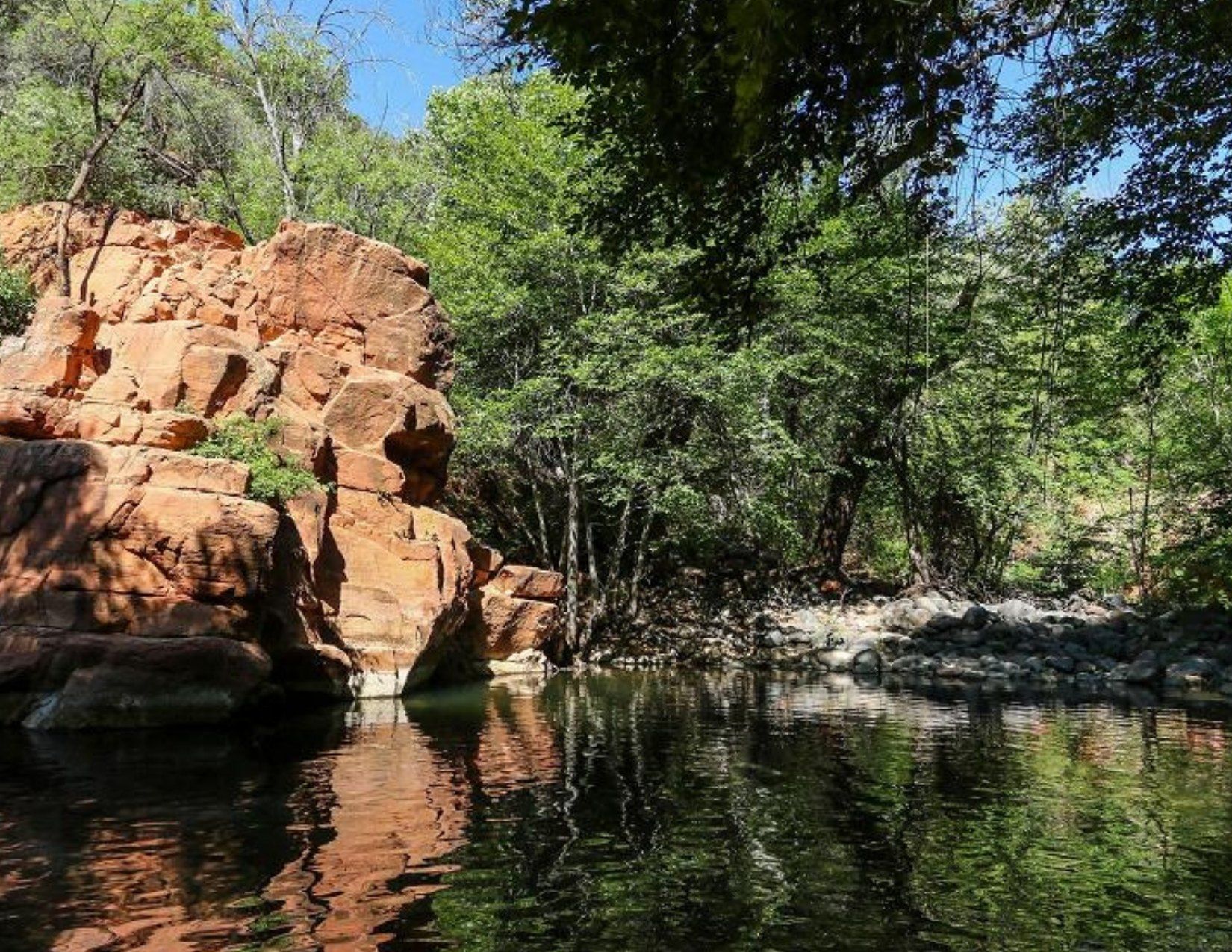 9. Fossil Creek
Fossil Creek has beautiful, crystal clear, turquoise waters and stunning waterfalls located in Pine, about 2 hours south of Sedona. This swimming hole is great for families since it is a shorter hike, and also a great place to spend the whole day. Here you can enjoy a relaxing swim, tan on the rocks, and picnic in the shade!
To reach Fossil Creek, take the Waterfall Trail from the parking lot. Depending on which parking lot you have a permit for, the trail will be about 2.7 miles.
Address: 10590-10644 W Fossil Creek Road, Pine, AZ 85544 (Fossil Creek - Waterfall Trail Parking)
Coordinates: 34.405108, -111.613857
Parking: You will need to reserve a permit from recreation.gov when visiting between April 1st and October 1st. The permit is $6. There are 8 parking lots to choose from, lot 1 will be the closest while lot 8 will be the farthest from the waterfall. All parking lots will lead to Fossil Creek.
Good to Know: Dogs are allowed and port-o-potties are available.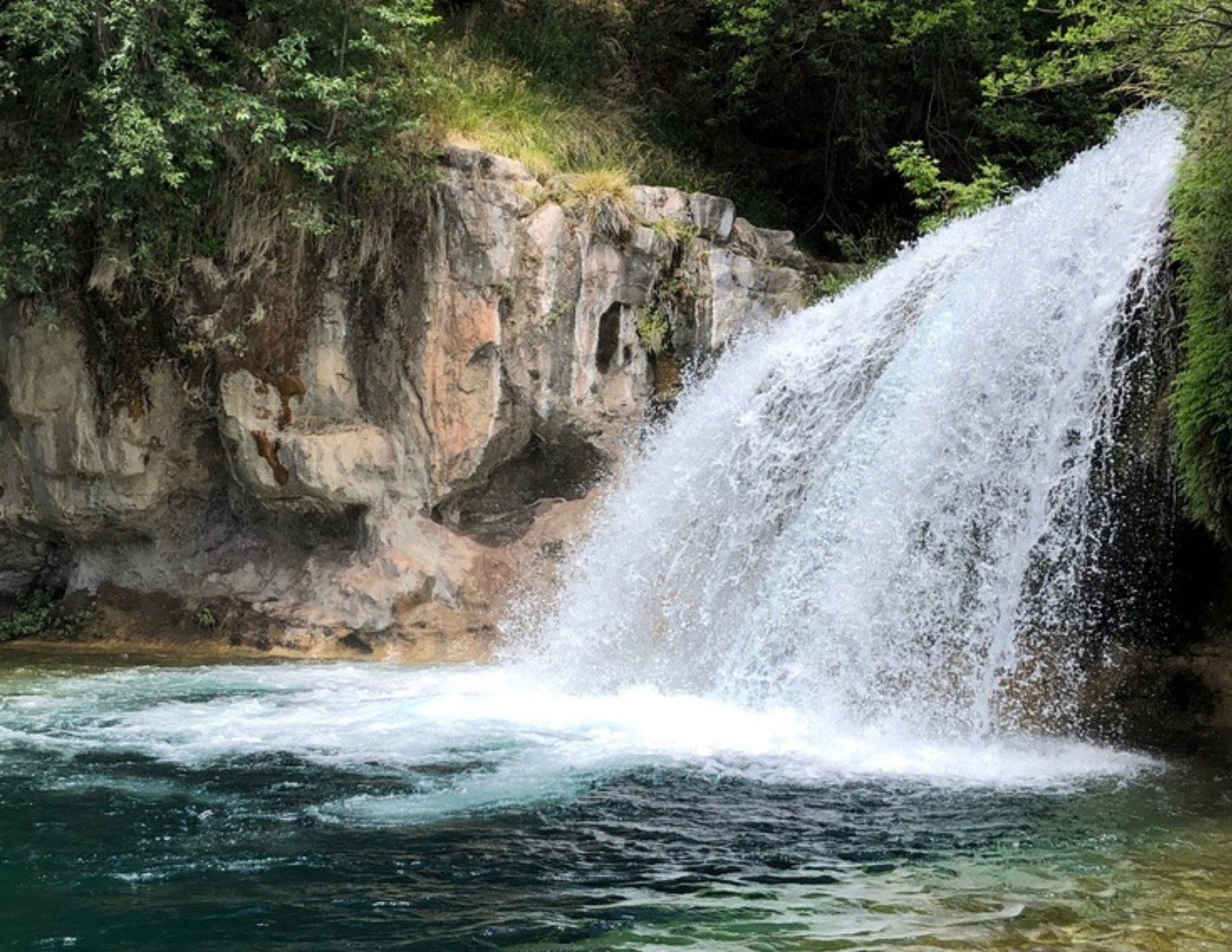 10. Ellison Creek and Water Wheel Falls
If you're looking for a more refreshing swimming hole, make sure you check out Water Wheel Falls on Ellison Creek in Payson! Here, the water is shockingly cold, but this'll feel amazing during our hot summers. This swimming hole is more crowded on the weekends, so if you prefer a quieter scene then visit during the week. There is even a spot for some cliff jumping!
To reach this swimming hole, park in the Second Crossing parking area within the Second Crossing Campground. As you head down Houston Mesa Road, there are three crossings. Between the second and third crossing, there is a gated gravel road that will take you to the waterfall.
Address: Houston Mesa Road, Payson, AZ 85541
Parking: costs $10
Good to Know: Dogs are allowed and restrooms are available.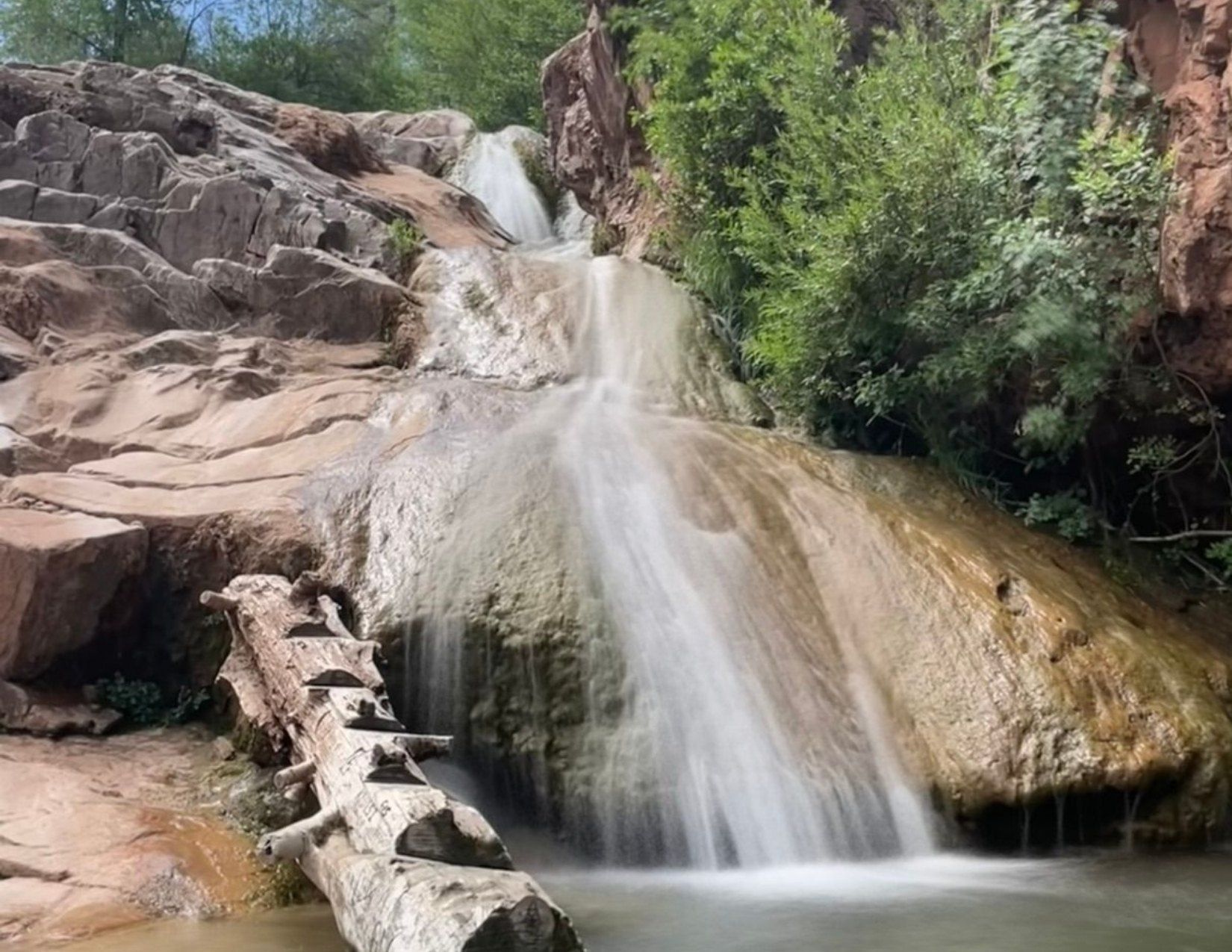 ---
We hope you enjoyed this guide to finding swimming holes near Sedona! Remember to pack out what you pack in and leave no trace. Don't forget to tag us in your adventures so we can follow along - you can find us Instagram or Tiktok at @wildjoyexperiences.
Have fun finding your Wildjoy
-Wildjoy Team