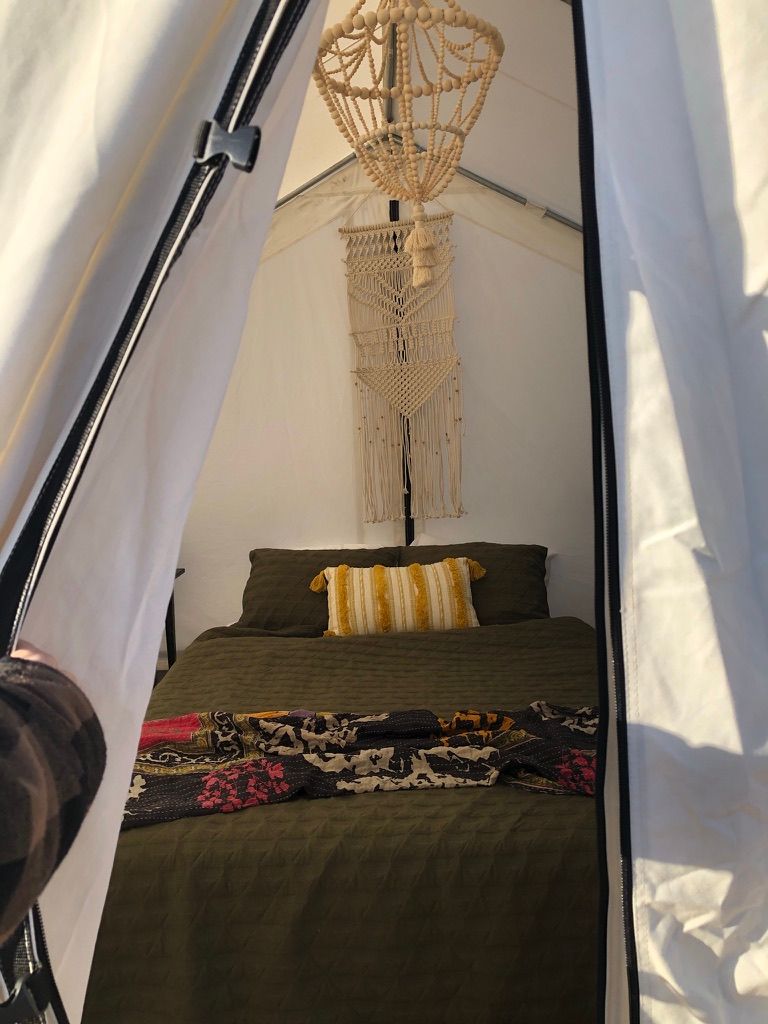 Taking a night to be fully immersed in nature is always on my list of things that will make me feel alive. At Wildjoy, we do ALL the things that make us feel alive so when I learned that there was a brand new 'glamping' village being built near wildlife park, Out of Africa, I knew I wanted to visit so bad. Located in Camp Verde, only 30 minutes from Sedona, it's a solid home base location for a few days of adventure. With an easy to use booking platform and amazing hospitality, this is a win-win for all Arizona adventure lovers.
Ian and I booked a weekday trip to go visit Out of Africa the morning and afternoon leading up to our glamping adventure. Out of Africa is an amazing non-traditional wildlife park in Camp Verde in the Verde Valley near Sedona! In this blog, you'll learn the insider tips to making the most of Waypoint Outpost's Safari Glamping Experience at Out of Africa and what you should do in the Verde Valley while you're there.
How to Book
Let's get into the booking process. Waypoint Outposts makes it easy with an online booking platform that allows you to book specific glamping tents in the safari village. The tents range from double twins to a large queen bed with a capacity of 4 people per tent. If you have extra people that need a place to sleep, you have the option of adding an extra cot for a night for $50 per cot. If you are looking to book our specific suite, you should book the Lion Suite at Waypoint Outposts Out of Africa Glamping village.
You can use code WILDJOY at checkout to save 15% on your glamping overnight experience. :)
Checking In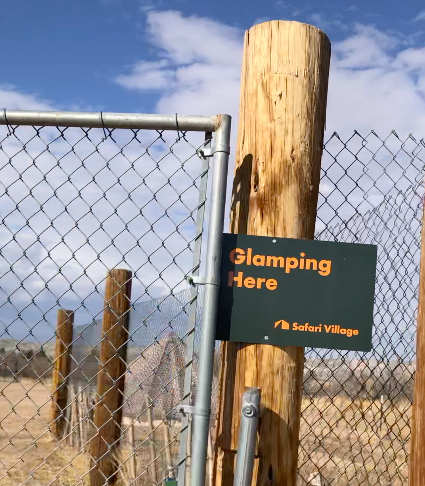 Navigate your way to Out of Africa in Camp Verde near Sedona, Jerome, Cottonwood, and Cornville. Out of Africa is open during the day for people to come explore, watch fun interative shows, and take an African safari! You can check the hours here. We planned our trip to arrive at 12:00pm to go to the park, then check-in at the glamping village around 4pm. When you arrive, you'll drive in the main gates then stick to the right side of the parking lot driving towards the orange arrows.
You will arrive and have instructions prior to the arrival to refer to. You can find the porter's phone number if you need help checking in. Leaving your car on the outside of the village, you open the gate and immediately see the amazing white tents lined up ready for glampers. Refering to our instruction sheet, we knew we had the Lion Suite furthest from the gate. This suite has a private firepit outside and hammocks making it a tad more romantic.
Inside the Tent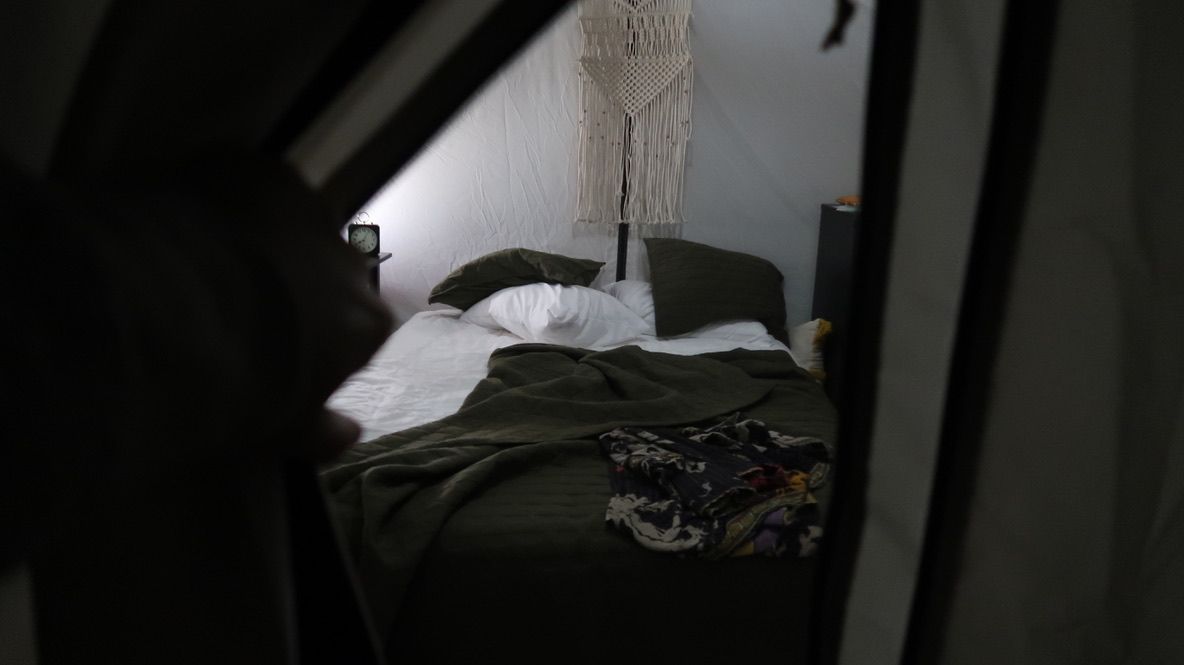 Our jaws dropped when we saw the inside of our Glamping tent. I couldn't believe how nice it was. When you open the double zipper to the tent, you step up onto a platform over a HELLO foot mat onto gorgeous wood with cotton liners. The queen bed is overlaid with white linens and a yellow throw pillow to highlight. Next to the bed there was a dresser for all our things. The chandelier hovering over the queen-sized bed was wooden stringed which was a nice touch to the space!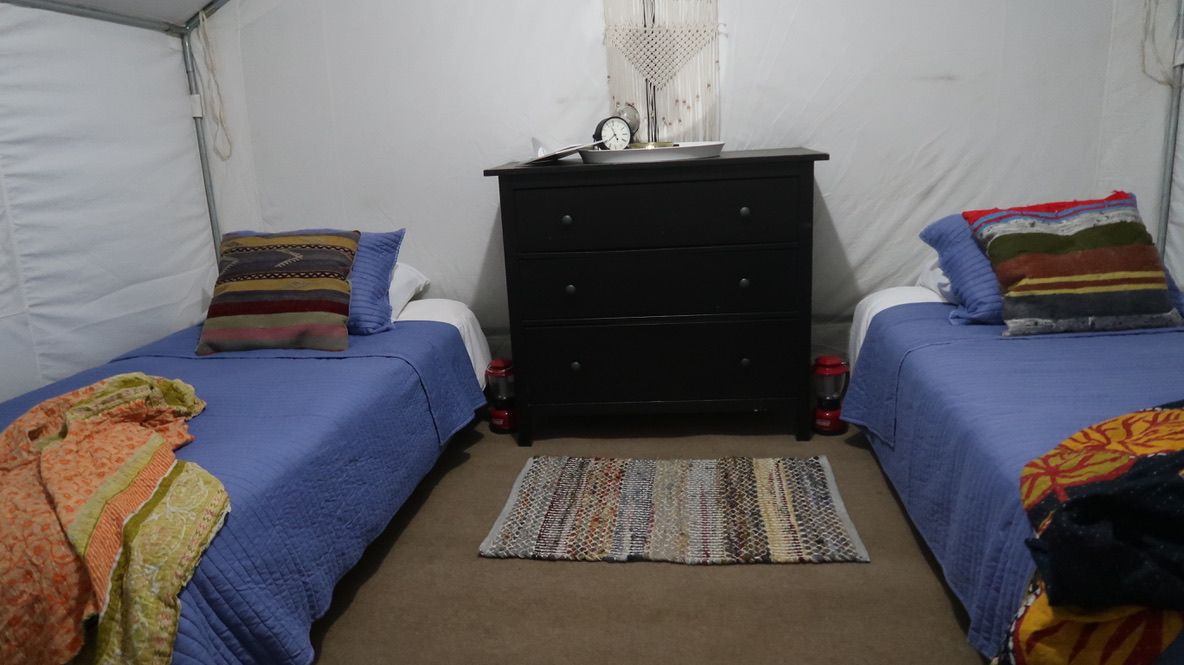 For the sake of practicality, we wanted to identify what we would use for heat and light later in the night. They had thought of everything! There was a remote controlled light in the chandelier, lantern next to the bed, and big heater in the corner. At night, the heater is a MUST! It can get pretty chilly so the thick tent enclosure in combination with the heater on high/medium was perfect.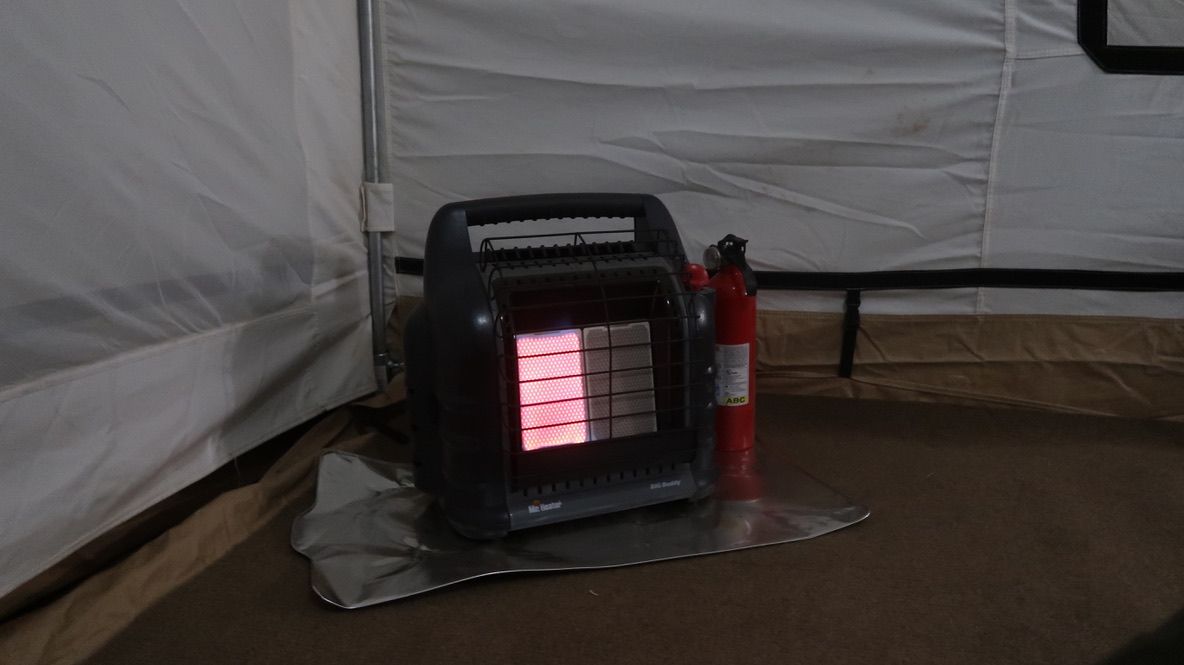 Each person has one white pillow to sleep on with an extra green throw pillow on top. The bed had an extra decorative yellow pillow, too! There are two layers of comforters on top of soft white linen sheets. The sheets were a highlight for us as they were so soft. Bring more pillows if you'd like more.
The Bathroom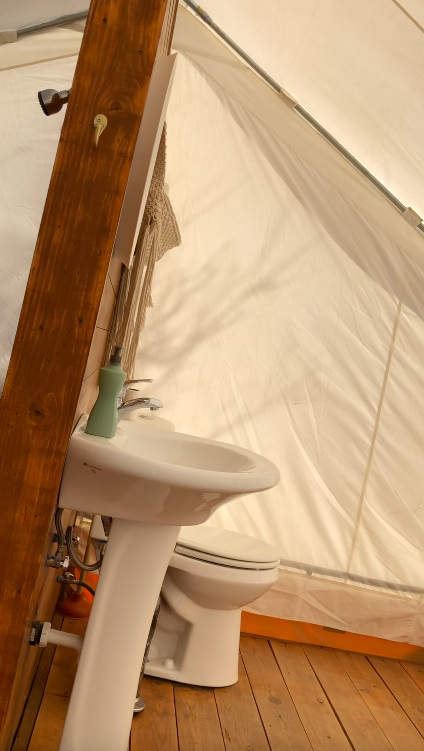 The worst part of camping in my opinion is the lack of plumbing. To hear that our glamping experience would have an actual toilet was a big hit for us. All the glampers share one tent that is split in half for the toilet/sink and the shower on the other. It's right next to the gate and the kitchen tent. We didn't have a problem with sharing the tent with others and didn't have any issues. The wooden floors make the enviroment so warm.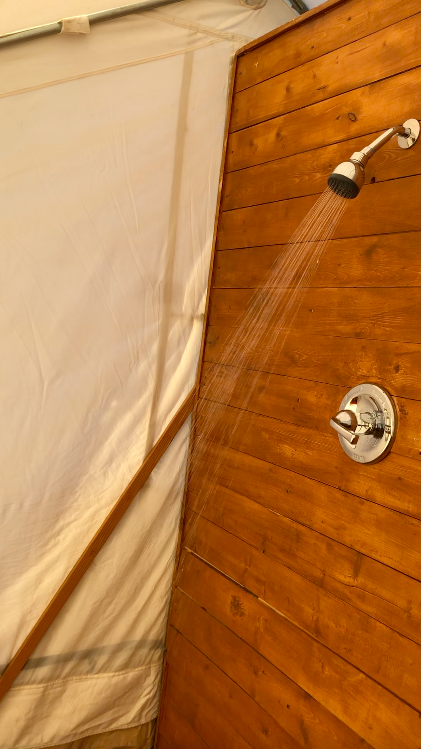 The shower runs smoothly and is lukewarm. They provided some white towels to use for the shower in our room and in the actual bathroom itself too! There is an extra chair in the toilet area for families to use the tent at once. I saw shampoo and conditioner provided in the shower area if you need it which I thought was a nice touch, too!
The Kitchen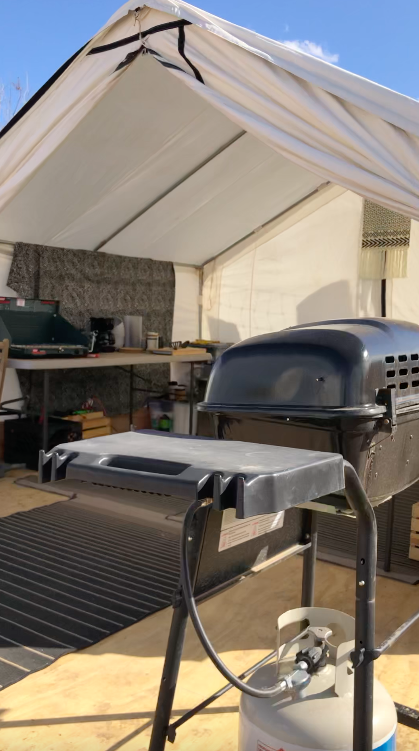 If you have a desire to cook while you're staying at the Safari Village, you definitely can with the kitchen tent. They had a small selection of yummy snacks and breakfast bars to choose from and some coffee/tea beverage options. We didn't use the small grill but observed that for our next trip. It's an open concept and shared with other glampers too!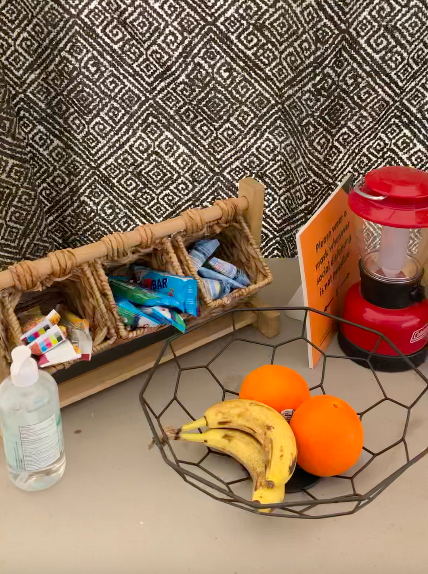 When you have all your food prepped, you can bring it back to your tent and place it in the cooler outside. Each tent has a cooler and lantern outside as well!
Glamping At Night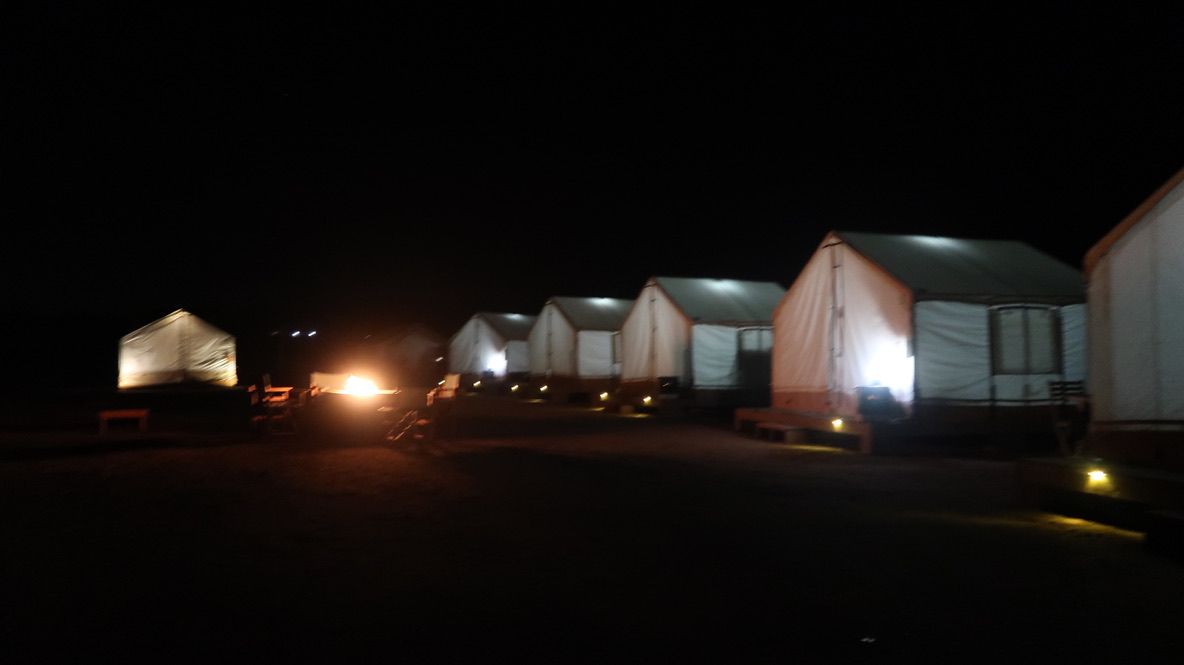 When the Sun goes down, the stars light up in beautiful constellations. Good thing for the firepits and chairs to enjoy a night under the stars. Pro-tip - use the throw blanket from you bed for extra warth! Each firepit is easy to light and adjust.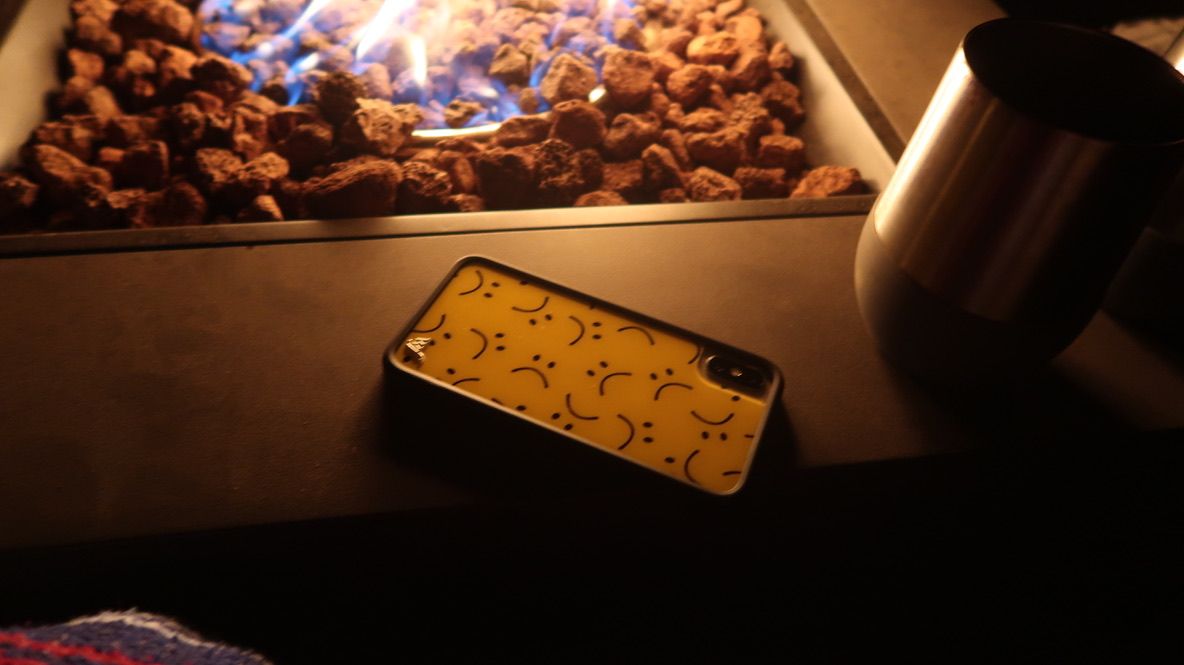 The Morning After Glamping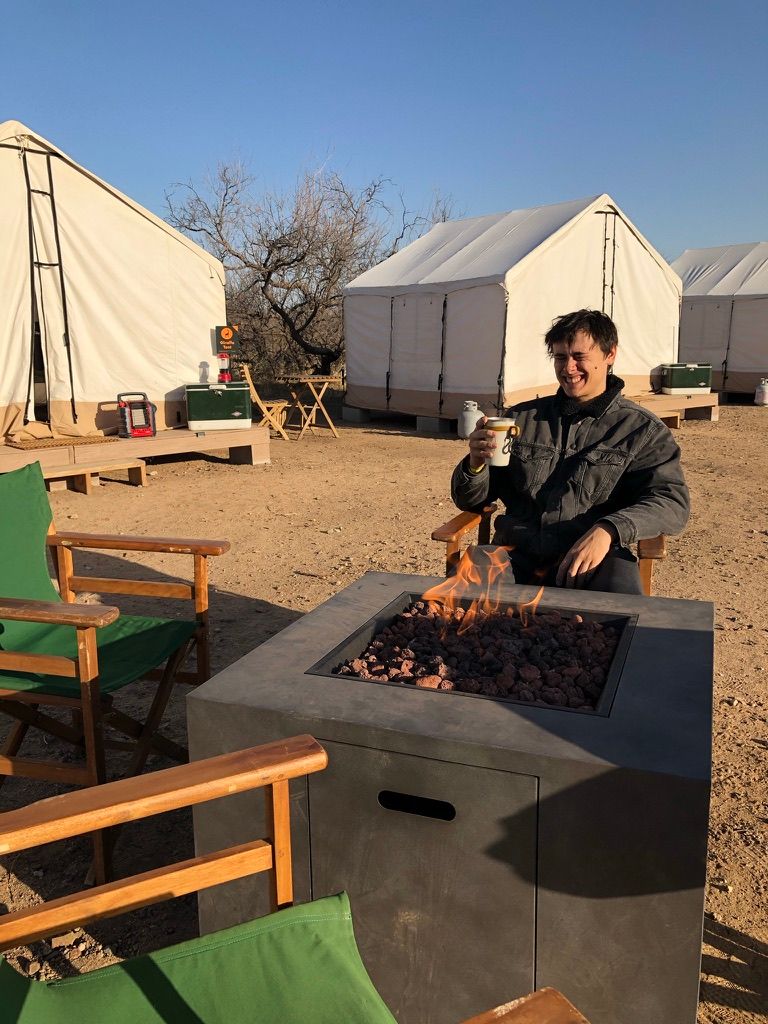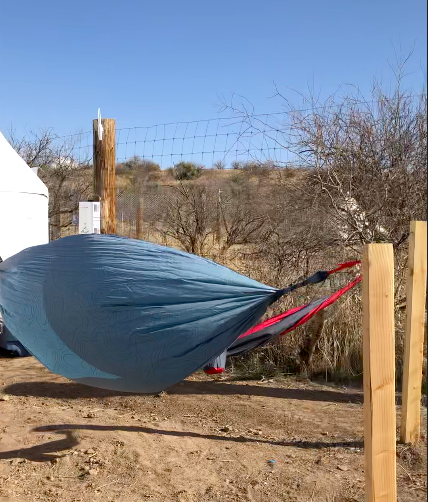 Waking up the next morning to the sounds of animals moving around was very cool. Our tent was super warm and we bundled up to set up a firepit while we used the bathroom tent. If you go to the kitchen tent, there was some coffee to enjoy. Heading out, it was super easy to check out and we started our day trip to explore the rest of Camp Verde.
If you decide to book a trip to Out of Africa's Waypoint Outposts Glamping, make sure to use the code WILDJOY to save 15% at checkout!
xx - Lacy